Filtered By: Lifestyle
Lifestyle
Translator Msgr. Mark Miles helps bring Pope's message to the world
Faith, like love, knows no boundaries, not even language barriers. But no matter how passionately Pope Francis spoke "from the heart" when he consoled the people of Tacloban City or when he comforted a weeping girl at the University of Santo Tomas, his words wouldn't have had as much meaning if they hadn't been accurately translated in a language best understood by his flock.
This is where Monsignor Mark Miles comes in. He is that loyal sidekick always seen trailing the Supreme Pontiff, constantly leaning over the Pope to translate for him throughout Francis' five-day visit to the Philippines.
A native of Gibraltar, Miles works in the English Section of the Secretariat of State in the Vatican. Reports have it that he is "an excellent singer," has a degree in music and is a "keen cyclist."
He currently serves as the official translator of the Holy See, who is conversant in his native Spanish, as well as Latin and Italian. Though he understands and speaks English, he has openly and repeatedly admitted being "poor" at it.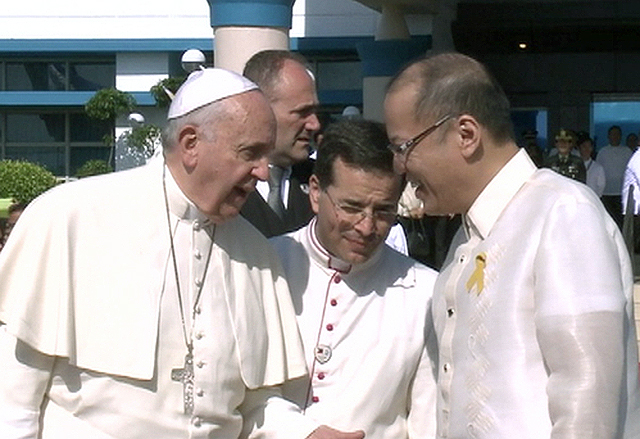 Msgr. Miles (center) translates as Pope Francis bids farewell to President Benigno Aquino III at Villamor Air Base on Monday, January 19, minutes before the pontiff boarded a Philippine Airlines plane back to Rome. RTVM
Miles had translated for the Pope in the latter's past meetings with United Nations Secretary General Ban Ki-Moon
in April 2013
and President Barack Obama
in March 2014.
Even before Filipinos went gaga over the good-looking responsorial psalm reader or the Pope's security team, there was Miles.
As soon as Pope Francis disembarked from the plane that took him from Sri Lanka to Manila last Thursday, netizens
swooned
over
the man behind him.
And as the days went by and as the Pope traveled from Manila to Leyte and back, Miles quickly became
an online favorite
and even
a source of inspiration to some.
But more than his looks, netizens took particular notice of Miles' extreme proficiency and speed in translating, perfectly catching the essence of the Pope's words. And not to mention his impeccable accent.
thank you very much to your translator @Pontifex he's real good conveying not just your words but also (esp.) your/the feelings ????

— Kai Negado (@kainisnegado) January 18, 2015



Pope Francis' translator, Monsignor Mark Gerald Miles, did a good job in translating with feelings and his accent is really good. :)

— Kristeline Suasin (@tel_line) January 18, 2015



Monsignor Mark Gerard Miles, Pope Francis translator, translates his words clearly. ???????????? Adorable! @Pontifex #POPEFRANCIS #POPE #FAITH

— Kate Abitona (@Kates_Abitons) January 18, 2015



Idol ko na yung translator ni pope francis ang bilis niya mag-isip ng translation ah amazeballs ((but job nya yun pero idc))

— Calista (@CalistaCeguera) January 18, 2015



This could be attributed to the fact that Gibraltar's official language is English, being a British overseas territory.
And with Pope Francis' five-day state and apostolic visit officially ending today, netizens bid farewell not only to the Holy See but to one other person as well.
:((( wala na rin yung papi na translator ni pope francis huhuhuhuhuhu

— regina (@reginabuco) January 19, 2015



— Mark Merueñas/BM, GMA News