Filtered By: Lifestyle
Lifestyle
Forever yours: The enduring appeal of the Pinoy romance novel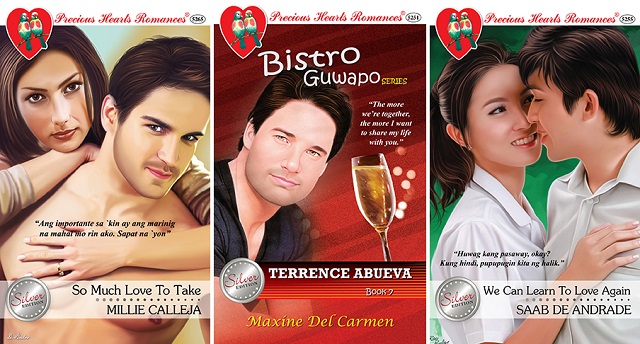 Love stories: Just a few of Precious Hearts Romances' popular titles. Book cover images from phr.com.ph
In the realm of fiction created by popular Filipino romance novel publisher Segundo Matias Jr. and his group of novelists in the last 25 years, love is all that matters.
Through the pages of every Precious Hearts Romances pocketbook, Filipino readers here and abroad vicariously experience the joys of a first crush, the pleasures of puppy love, the ecstasy of true love, enchantment and agony, forgiveness and passion.
This "love conquers all" formula is not new. But it still makes a lot of money.
Perhaps a significant factor in the novels' success is their characters. The heroes and heroines in the novels are ordinary Filipino men and women: a hard-up student, a harassed office worker, a wage-earner, a funeral caretaker, a bored housewife, or a brooding painter. They may or may not be dashing or beautiful, but many if not most readers can identify with them.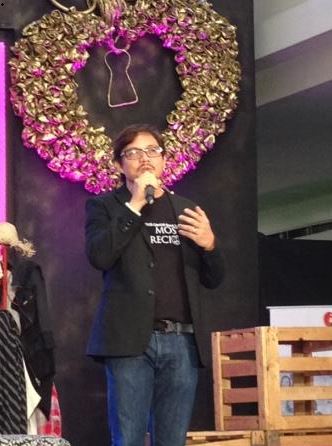 Precious Hearts Romances publisher Segundo Matias, Jr. at the launch of the coffee table book '25 Most Precious'.
To mark a quarter-century of publishing popular love stories, Precious Hearts Romances recently launched the coffee-table book "25 Most Precious," featuring their top 25 bestselling, most prolific, and pioneering writers.
The book lets the readers know more about the authors, their "behind-the-scenes" lives and their inspirations in writing romance novels.
Featured in the coffee-table book are Martha Cecilia, Amanda, Maureen Apilado, Jinky Jamolin, Rose Tan, Vanessa, Elizabeth Mcbride, Camilla, Jasmine Esperanza, Dawn Igloria, Laurice del Rio, Noelle Arroyo, Sheena Rose, Claudia Santiago, Sofia, Sonia Francesca, Heart Yngrid, Victoria Amor, Dream Grace, Angel Bautista, Belle Feliz, Mandie Lee, Aya Myers, Maricar Dizon and Luna King.
Making it big
In an interview, Matias said that when he and his business partners were considering putting up a publishing house in 1990, they did not think they would "go this far and this big."
At the time, Matias was churning out scripts for television and films to support himself and his family.
His film director friend Ralston G. Jover, screenwriter of the award-winning film "Kubrador," patiently egged him to set up a publishing house for Filipino romance novels.
For years, Matias evaded making the tough decision. "Whenever Ralston bugged me, I seriously said: 'I will try.' It took a while for the idea to be realized. Initially, I could not imagine myself in the role of a publisher," he said.
Matias' first major gamble was taking on a then-unknown writer who wrote under the pen name Martha Cecilia. The writer, a low-key housewife, is now considered the "queen of Filipino romance" and was responsible for the "Kristine" and "Sweetheart" series.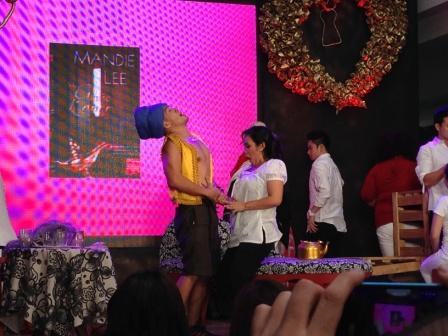 (Above and below) Actors from the Philippine Educational Theater Association (PETA) perform scenes from Precious Hearts Romances novels during the launch of '25 Most Precious.'
Martha Cecilia died recently, but her influence lives on. Her best-selling works opened the doors for other romance writers, many of whom wrote or are now writing for PHR.
"I did not shirk from enlisting new, unheard-of writers to work for us. I did not want to subscribe to the idea that these nameless writers are not bankable," Matias said.
In the early days of his publishing house, it was Matias who solely read and evaluated the submissions. The increase in work load due to the influx of new writers forced him to let go of this sensitive task and form a "creative team" for the job.
The creative team serves as the novels' "initial readers." The team also approves works for publication and deals with the revision and editing processes.
Expanding to Taglish
From the all-Filipino language novels, Matias ventured into accepting submissions written in Taglish.
"My decision to publish in Taglish was one of my biggest gambles and innovations. I know that the purists in the academe will not approve of this. But I did sense that ordinary readers would buy novels in Taglish. They use Taglish in ordinary, daily conversations," Matias said.
"Whether the writers use pure Filipino or Taglish, one thing is non-negotiable: the writing style must be fluid and easily readable for the readers to enjoy," he added.
Each month, Matias and his team publish and release 50 titles under various book imprints and serialized novels.
The team also pioneered the translation into Filipino of titles such as "Fifty Shades of Grey," the "Twilight" series, and the "Harry Potter" series. To date, the company has translated 140 best-selling foreign titles.
"From our initial objective of popularizing Filipino romance novels, we now want more Filipinos to engage in reading. We want more and more Filipinos to nurture the love of reading and we want to encourage them to love reading," Matias said.
Matias is now considering publishing their novels on Internet-based platforms and in foreign languages.
"If these popular Filipino romance novels can be translated to English, it would be a welcome development. With the coming ASEAN integration, if our neighbors will be interested in translating them into their native language, I am open to discussion," Matias said.
— BM, GMA News