Filtered By: Lifestyle
Lifestyle
The wait is over: Robert de Niro, Chef Nobu open luxury hotel in Manila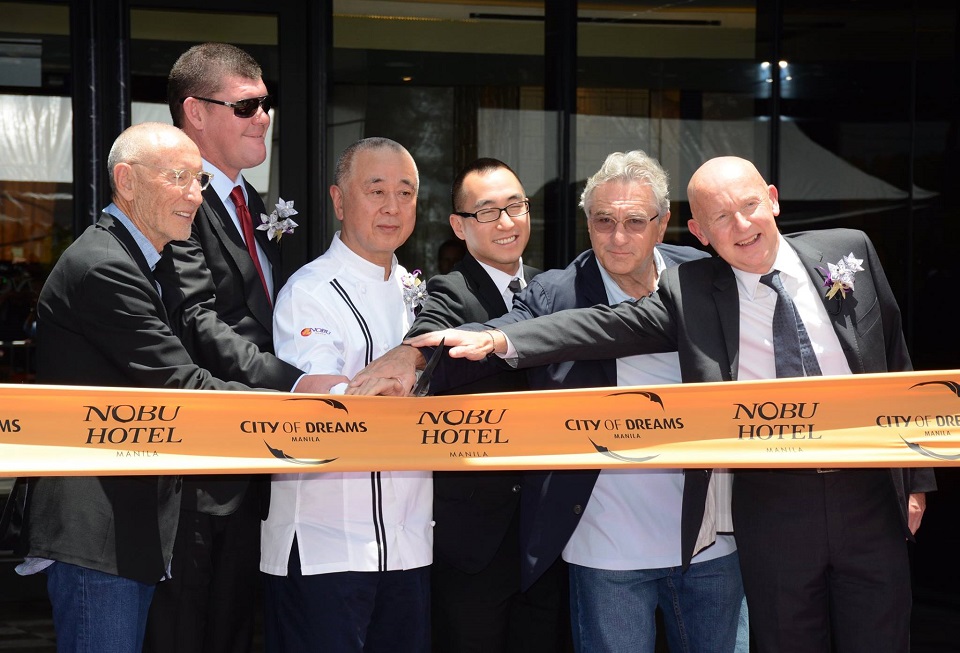 Hollywood icon Robert De Niro (second from right) and business partner and friend Chef Nobu Matsuhisa (third from left) opened Nobu Hotel City of Dreams Manila on May 18, 2015. De Niro is one of the partners of Nobu Hospitality, the team behind the worldwide hotel chain bearing Matsuhisa's name. Nobu Hotel City of Dreams Manila is first Nobu Hotel in Asia. Photos by Riz Pulumbarit
"Robert de Niro's waiting, talking Italian," goes the popular 1980s song by Bananarama.
But in Manila, Filipinos were the ones waiting…for the multi-awarded Hollywood star and celebrity Japanese chef Nobu Matsuhisa to open their latest venture: the luxury Nobu Hotel City of Dreams Manila.
The wait ended on Monday when Nobu Hospitality founding partners De Niro, Matsuhisa, and Hollywood producer Meir Teper officially opened the 321-room boutique hotel, the first Nobu Hotel in Asia.
Nobu Hotel Manila is situated at the City of Dreams resort complex on Asean Avenue and Roxas Boulevard, Entertainment City in Parañaque.
Matsuhisa,
who made an earlier visit to the Philippines to talk to the media about the hotel and his restaurant Nobu
, said he was very happy with the opening of Nobu Hotel Manila because the Philippines is very close to Japan, his home country.
De Niro turns to his friend and business partner Matsuhisa
Matsuhisa is known for his fusion cuisine, adding a touch of South American flavor, particularly Peruvian, to traditional Japanese dishes.
The story of his partnership with De Niro, especially how he made the famous actor "wait" to become his business partner, is quite well-known.
In the 1980s, Matsuhisa had a thriving sushi bar in Beverly Hills that catered to the rich and famous. One day, De Niro walked into his restaurant and liked his food so much that he offered to become the chef's business partner.
Feeling he wasn't ready yet, Matsuhisa turned down De Niro's offer and only agreed to the partnership five years later.
The first Nobu restaurant opened in New York in 1994. Twenty-one years later, there are over 30 Nobu restaurants around the world, including seven in the Asia Pacific, with Manila being one of the newest locations.
During the press briefing in Manila on Monday, Teper said it has been their dream to have Nobu Hotel and Nobu restaurant in the Philippines, one of the fastest growing economies in the world.
"It was a dream that came through and we are very happy with what we have achieved," Teper said.
De Niro also expressed his relief that the hotel is already completed and open for business. "When I came here a little less than a year ago, I was concerned about when it will be ready but suddenly, it is ready, and I'm very happy about it," he said.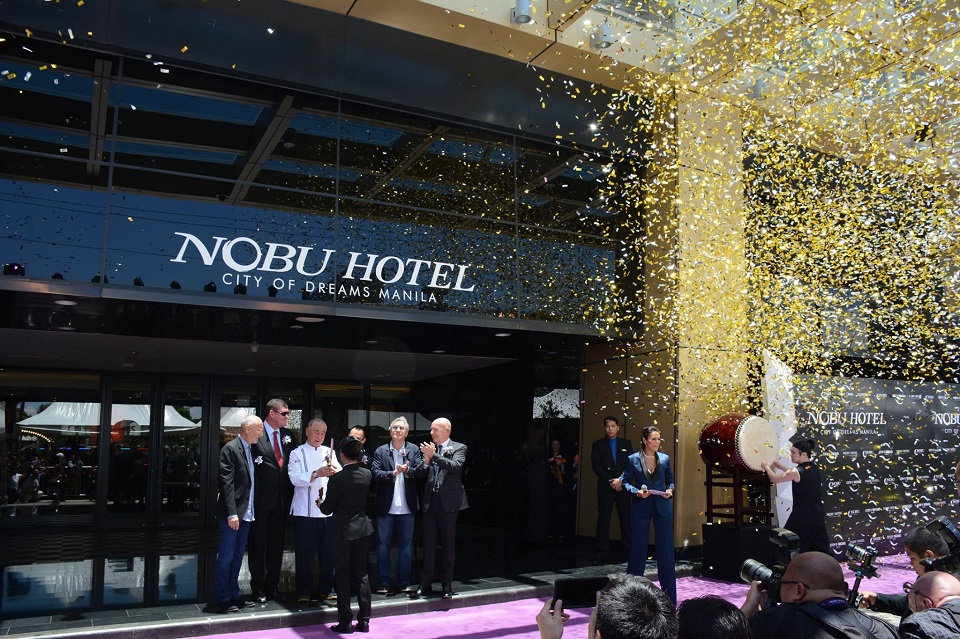 De Niro watches confetti rain down as Nobu Hotel City of Dreams Manila is officially opened.
The partners said the Philippines was a good site for Nobu Hotel because the brand is known for its service and they believe that Filipinos can deliver the world-class service their company is known for.
Nobu Hospitality was recently listed by Robb Report among the world's top 25 Most Innovative Brands.
The first Nobu Hotel opened within Caesar's Palace in Las Vegas in 2013 and was named one of the hottest new hotels by CNN Travel.
Nobu Hotel Manila is Nobu Hospitality's first hotel in Asia. It is also expected to open luxury hotels soon in Chicago, Miami, Bahrain, Riyadh, London and Los Cabos in Mexico.
Nobu Hotel City of Dreams Manila
Nobu Hotels carry the signature "Nobu style," a modern Japanese aesthetic seen in Nobu restaurants worldwide.
Nobu Hotel Manila is part of the casino and integrated resort City of Dreams, which sits on 6.2 hectares in Parañaque. Other hotels in City of Dreams include a Hyatt and a Crown Towers. The complex's other attractions are DreamPlay, the world's first Dreamworks-inspired interactive playspace; CenterPlay, a bar that hosts live performances from local and international artists; and the nightclub Pangaea.
City of Dreams also has 380 gaming tables, 1,700 slot machines, and 1,700 electronic table games.
— BM, GMA News