Filtered By: Lifestyle
Lifestyle
Filipino mariner helps rescue American sailor who was adrift at sea for days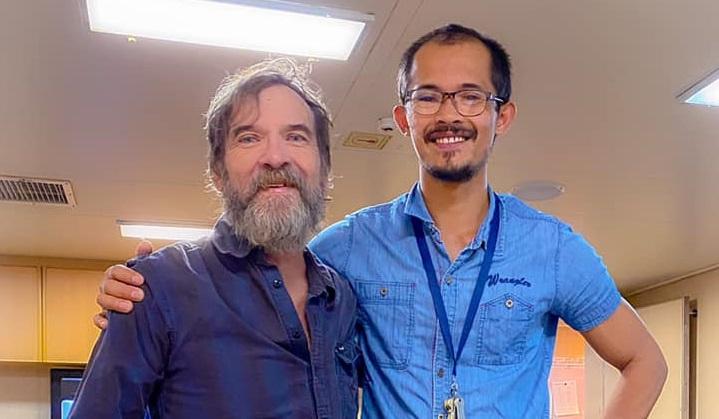 It was a Thanksgiving to remember for Lacruiser Relativo.
The Filipino mariner found himself taking part in the rescue of an American sailor who was adrift in the middle of the Atlantic Ocean last November 29.
Relativo shared the "miracle" that happened that fateful morning in a now viral Facebook post.
Relativo said that a fellow crew member on board their ship "Angeles" spotted 63-year-old Stuart Bee alone in the water just as his boat was sinking.
"Right when [the] duty officer first saw him drifting, and sounded the rescue alarm, we knew a miracle is about happen," Relativo said.
The crew managed to rescue Bee "some 80 miles off the eastern shore." Relativo said they all felt a great amount of relief that they got to him just in time.
He recalled that the first thing Bee had asked him was what day it was, to which he responded "November 29."
"By the look on his face, I saw his teary eyes as he made sign of the cross. He was drifted in the open sea for days, maintaining his stance at the top of his capsized boat, to not make any single move as it may trigger his yacht to sink fully," Relativo shared.
They offered the man dry clothes and hot meals. Relativo offered his "lucky shirt."
"I could give him a new one but this one is my favorite," Relativo said. "I wish him the same comfort this shirt has given me during those tiring job interviews. Just like him, I was lucky to get the job. He was lucky too that our course crossed in the Atlantic,."
For Relativo, Stuart's story was "no different from others who are pleading for help today; in this time of pandemic."
"You don't need to sail out in the ocean to rescue and serve your purpose. There may be too many Stuarts who happen to be your neighbor, a friend, or just like the real Stuart, a random stranger that needs help" Relativo said.
"Help in any way you can, whenever the opportunity to help is present. Above all, my greatest realization is that its important for a person to have faith on something. Something you can hold on to when you are in your lowest low," he added.
Relativo shared a continuation of the story in another post.
He shared photos of himself having coffee with Bee after his night watch, and shared some words that Bee told him.
"My life is beautiful. I go out at sea once every 3 months to move the boat. And never I have imagined that my boat will be flooded with water. But if this will be the last, I go where my heart is. The boat is my home," Relativo quoted Bee as saying.
The mariner said that Bee had impacted him "so many different ways."
"It made me go back to Philosopher Socrates question: what it means to live a good life? It is hard to tell when you are faced with imminent danger. Life may take everything you have, may it be a job, material possessions, a boat—everything you hope for," he said.
"But there's one gratifying truth I believed in: I believe that in the darkness, even there, there will be beauty and there'll be love. And every now and then, it will feel more than enough," he added. —JCB, GMA News