Filtered By: Lifestyle
Lifestyle
PRELIMINARY ROUND
Miss Universe Philippines 2021 candidates wish to add to cart and send these items to all Filipinas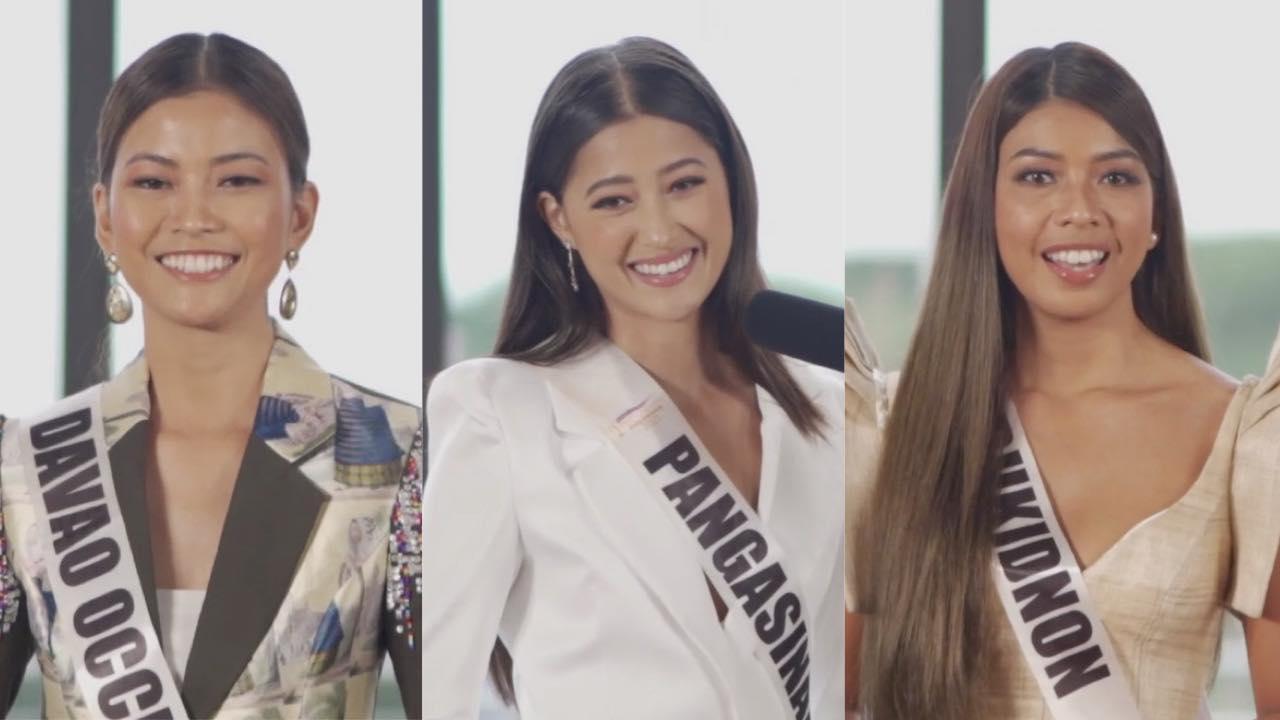 It's not every day beauty queens are asked what they wish to add to their online shopping carts!
During the Miss Universe Philippines 2021's preliminary interview round, the candidates were asked what would they add to their Lazada cart and send to all Filipinas to help inspire them during this time.
Many candidates, such as Miss Isabela Jan Louise Abejero, Miss Marinduque Simone Nadine Bornilla, and Miss Paranaque Ingrid Teresita Santamaria said they wished to send mirrors to remind Filipinas that they were beautiful and should be proud of themselves.
Other candidates said they wanted to buy compact powder, lipstick, sunscreen, and makeup kits to empower their fellow women.
Miss Davao Occidental Krizzaleen Mae Valencia said she would send a water tumbler because "water is life," while Miss Masbate Kisses Delavin wanted to give away rosaries because she herself got one from her mother.
Both Miss Pangasinan Maureen Wroblewitz and Miss Taguig Katrina Dimaranan said they hoped to share motivational and affirmation messages to Filipinas.
Maureen said she wanted to give away motivational materials with quotes to share positive vibes and help people get through the worst of times, while Katrina said affirmation cards inspired her and set her day.
Miss Pasig Princess Kristha Singh and Miss Cagayan de Oro Vincy Labadan Vacalares, meanwhile, wanted to send masks so people could stay protected.
Miss Bukidnon Megan Julia Roa Digal wanted to give away sanitary pads.
"This is something considered as a taboo topic for Filipinas. We are shy about it but it is a reality," she said. The beauty queen added that Filipinas should be proud of their cycles because they could still do many things while "bleeding."
Aside from being asked what they wanted to add to their Lazada cart, the candidates also shared the most important lesson they learned in the past week. Many of them said simply to trust the process and be grateful.
They were also asked the question: if beauty is in the eye of the beholder, in whose eyes are they beautiful? Many answered themselves, their mom, and God.
Another question was, if people truly learn from their mistakes, will they still advise a young person to keep making them?
While many of the candidates said they wouldn't encourage young people to keep making mistakes, they would advise them to learn from their failures.
The candidates were also asked to choose from the following: eliminate poverty and hunger, a government with no graft and corruption, or solve environmental problems.
While some of them chose to eliminate poverty and hunger, many preferred a government with no graft and corruption, saying that with proper leadership and governance, problems on poverty, the environment, and other concerns can be addressed.
After showcasing their vibrant gowns during the Miss Universe Philippines national costume competition on Thursday, the 28 candidates showcased their wit and intelligence during the pageant's preliminary round.
The swimsuit and evening gown competition will be held Sept. 26, while the virtual fan voting is extended until Sept. 29 according to Lazada, the official voting platform.
The grand coronation night will be held Sept. 30 at Henann Resort Convention Center in Panglao, Bohol. – RC, GMA News