Filtered By: Lifestyle
Lifestyle
Siargao after its 'worst hit' with Odette: From the eyes of a typhoon survivor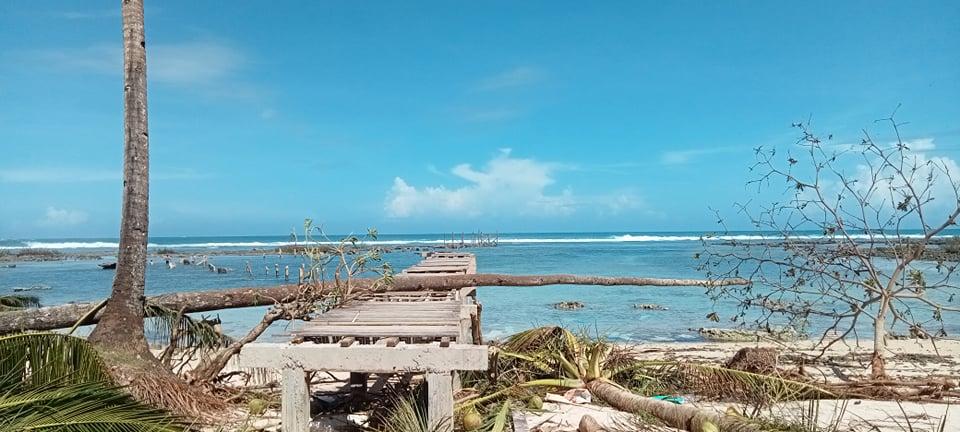 It was a little after noon of Thursday, December 16 when Typhoon Odette made its landfall over Siargao in Surigao del Norte.
At that time, Siargao resident, writer Camille Banzon, was alone in her Catangnan unit, though a few friends were also located in the compound.
Like most Siarganons, Camille had already packed a bag. The weather forecast and talks of storm surges had them prepared, just in case.
When the wind changed directions, Camille said "Everything started to turn for the worst."
"My room was starting to get flooded and at the same time, I could see parts of structures flying off or falling one by one: roofs, windows, walls, doors," she narrated in an online interview.
The strong winds produced a loud, howling sound — "like there were jet planes rushing above us," she recalled.
When she felt a change in pressure, Camille became alarmed and when her place started collapsing as the winds started to die down, she ran as fast as she could to a nearby resort, to take shelter.
While people were able to evacuate before high tide came, nobody was prepared enough for the island's "worst hit," Camille said.
Evacuation centers would've been safe places to stay in during the whole calamity, but even those weren't spared by Odette.
"The roofing of evacuation centers also flew off and glass panels shattered. People were trapped inside trying not to get hit by flying debris and shattered glass. It was horrific," she said.
Thankfully, the people inside survived.
"Everything was destroyed and nothing was left. The aftermath left me without words, really," she said, adding that it was an "overwhelming experience."
She spent the night at the resort she ran to, with nary any telephone signal nor electricity.
Camille spent the next three days shocked at her surroundings, just trying to survive.
"Everywhere you look, you can see houses without roofs, electric poles on the ground, debris everywhere, salvaged items being dried."
"Coconut trees, if not uprooted, looked like ashes have fallen on them. It was a complete wipeout that seemed almost post-apocalyptic," she continued.
"Water was running out, as well as fuel," Camille said.
Along with her partner, she made her way to the airport just to see how she can get rescued. By some stroke of luck, Camille was able to get into a sweeper flight on Monday morning.
She is currently in Manila, still trying to process what happened. The island she'd call home for the last six years has been "wiped out."
"The Cloud 9 Tower is gone, most resorts were wrecked, and restaurants ravaged. It's total catastrophe and it's heartbreaking," she said, thinking about the locals' efforts for Siargao.
"I can't even begin to express how locals might feel now that their fishing boats and other forms of livelihood are gone — on top of hunger and dehydration slowly creeping in day by day."
According to Camille, Northern Siargao needs as much attention as the South. Doctors in the area have been treating wounded individuals with limited supply. She has been in contact with the locals, albeit sparingly, as there has been no signal on the island.
Below are a few things that the locals have asked for, said Camille:
makeshift shelters
building materials
water purifiers or filtration systems
hydration salts
fuel
food including rice and canned goods
and solar lights
The island also needs satellite phones, toiletries, medicine, first aid kits, clean underwear and clothes, industrial power banks, and two-way radios.
Below is a list of places where people can donate:
Lokal Lab:
Paymaya: Kara Rosas | 09178344505
Paypal: lokallab.relief@gmail.com
Gcash: Sophia Arianna | 09178605428
Union Bank: Kara Gianina Rosas | 101900005397
**In-Kind Donations (last call Dec. 22, 6 PM)
Send to APCargo Warehouse directly from 9am-6pm
124D Durian Park, Domestic road, Pasay | 0917 8458596
Marja Abad / Greenhouse Relief Efforts:
BPI: Marja Ana R. Abad | Savings Acct No: 9389227282
Gcash: Marja Ana Abad | 09088646866
Paypal: marja@kudosurf.com
North Siargao Relief Efforts:
Michelle Villarosa and Alessia Kockiel: www.gofundme.com/siargao-relief-aid
Ruth Layson: Gcash | 09175552296
Kimberly Julio: Gcash | 09752029633
Grom Nation
Paypal: gromnationsiargao@gmail.com
BSB 032 050
ACC 387852
Dr. James Nazareth Medical Relief:
GCASH: +639292315366
Landbank of the Philippines: Christian James Nazareth | 1437 1289 91
Email: dr.christianjamesnazareth@gmail.com
TINDOG KITS (shelter rebuilding, construction supplies, essential medicines, water filtration)
Myla Arcena: Gcash | 09568892483
Paypal: suedonghit13@gmail.com
GMA Kapuso Foundation:
Website (Details of Gcash, Credit Card, or Cash Donations are found here)
— LA, GMA News