Filtered By: Lifestyle
Lifestyle
Andi Eigenmann and Philmar Alipayo are engaged!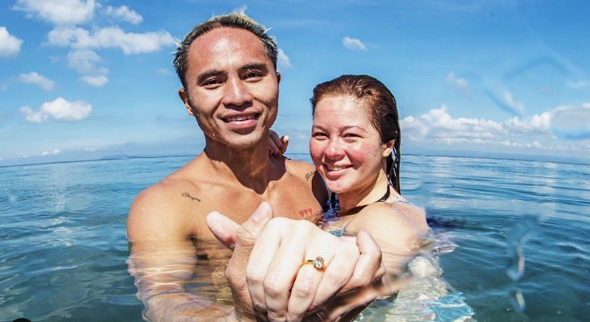 Andi Eigenmann and Philmar Alipayo are engaged!
In the second part of their Happy Island Fam Holiday Getaway vlog which premiered on Sunday, they revealed that Philmar has finally asked Andi's hand in marriage.
The video showed the actual footage of their special moment at the balcony of their hotel room in Batangas.
"This actually happened on our 3rd day, but we want to save the best for last," Andi wrote in the video. "Excuse our footage because it forged up from the rain," she added.
"We'd like to keep the personal conversation just between the two of us, to keep it special, but want to share the moment with you all, anyway," she continued.
According to Andi, Philmar suddenly talked about their life together and their growing family and how he wanted to spend the rest of his life with her. She thought that was unusual of him.
After a few moments Philmar said, "From my whole heart, I am asking you if you will marry me."
She started laughing and crying at the same time after Philmar popped the question and showed her the ring. She gave him her yes and they continued chatting on the floor.
In the latter part of the video, they showed the aqua-colored ring on Andi's finger.
"So stoked to be riding the waves of life with you forever," a text on the video appeared.
On Instagram, Andi announced the news posting a photo of the two of them in the ocean as she showed off the ring on her finger.
"I never thought about how my engagement would go because quite honestly, I didn't think I'd have one," she wrote in the caption.
Andi said "It would've been ok regardless, but it did happen. And it happened the way I wanted it and so much more."
"Nothing grand. Unprompted, simple and oh so sincere. That's us. That's him. That is how I want the rest of my life to be," she added.
"I am over the moon, so stoked to be spending it with you my mahal @chepoxz!"
Last Sunday, Andi revealed that she and Philmar are expecting a baby boy for their second child.
Andi and Philmar's first child, Lilo, turned one year old this year. Her eldest Ellie is her daughter to Jake Ejercito.
Congratulations to the newly engaged couple! — Jannielyn Ann Bigtas/LA, GMA News