Filtered By: Lifestyle
Lifestyle
10 Gourmet pandesal baon treats for your kids
School's back! For moms, this could only mean one thing - a whole new year of facing the biggest challenge all mothers with school-age kids must deal with everyday: what baon to prepare for their growing kids. As for me, the start of school takes me back to the late 70s when opening my fifth grade red and green checkered lunch box meant anticipating what treats could be found inside. However, despite holding my breath before opening it each time, my lunch kit held the same thing everyday: fresh calamansi juice. I don't know what possessed my mom but she made me fresh calamansi juice everyday such that my Thermos jug smelled of freshly-squeezed calamansi even if it only had water in it. And every single day, my daily calamansi juice came with one thing: a
pandesal
with some kind of filling in it. This was the 70's, a time when it was totally uncool to eat
pandesal
in school. The cool kids had sandwiches with different types of
palaman
(fillings) – ham and cheese, hotdogs, burgers, corned beef and luncheon meat. They were the rich kids—the ones who raved about having a taste of pizza pie (yes, it was known to be a pie back then), most likely from 3M. To keep my lowly
pandesal
from my seatmates' condescending eyes, there was only thing I could do—gobble it up in two bites.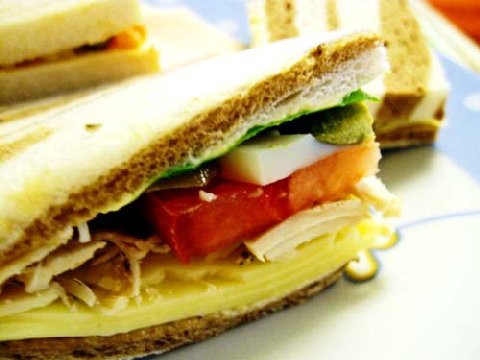 Then and now. The good old sandwich is still the best baon for your kids.
Fast forward some 30 years and I've had just about as much pizza as any grown woman could possibly eat or want. But the age-old question remains: what would your kid's
baon
be today, tomorrow, and the day after that? The quick answer still is: a sandwich. Some bread with some kind of filling in it. The only difference is that today, my
pandesal
and my sassy seatmate's "tasty bread" a.k.a. American white bread could be whole wheat, 5-grain, sugar-free, even a snooty foccacia. And now, the variety of
palaman
to fill them with are just as mind-boggling, and hence, preparing our kids' baon has become more challenging—and fun! What type of bread should go with what type of
palaman
? Would peanut butter and jelly go well on foccacia? And the even bigger dilemma: is a sandwich enough to fill a growing child's daily nutritional needs? Will a sandwich of barely-there ham and mayo sustain your kid through the challenges of the day? Can your kid show off and share his or her sandwich with his or her bestie (bestfriend)? If I were to be a fifth-grader all over again and armed with my now grown-up knowledge of food and all things good and edible, my grubby hands would be reaching for gourmet sandwiches that are packed with flavor and of course, healthy. But even with all the different types of bread out there, my choice for bread still remains to be the humble
pandesal
, which can either be whole wheat or sugar free. It goes well with the calamansi juice that my Nanay Lily used to make and it can hold a motley of spreads and fillings that can take the
pandesal
to a new level of gourmet distinction. Here are 10 Gourmet Pandesal 'Wiches guaranteed to make any kid the toast of the class every recess time – all homemade and with very few processed ingredients: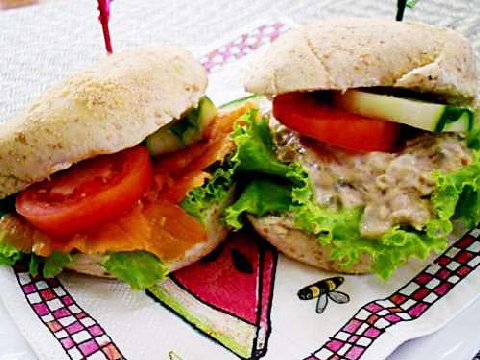 Salmon and Tuna Sandwich
1. CHICKEN ADOBO and KESONG PUTI
Spread some butter on each side of the pandesal and toast. Put a slice of kesong puti on the bottom side and top with shredded chicken adobo.
2. SMOKED SALMON
Whole-wheat pandesal with smoked salmon garnished lettuce, a slice of tomato and cucumber. Use cream cheese spread instead of mayonnaise on the pandesal slices.
3. GRILLED VEGETABLES
Slice a jumbo (oversized) pandesal into half. Mix two cloves of minced garlic into ¼ cup of mayonnaise. Grill some sliced eggplants, tomato, bell peppers and zucchini. Spread the garlic mayonnaise on each Panini slice and layer the grilled veggies on the sandwich.
4. TURKEY HAM
Whole wheat pandesal with turkey ham and low-fat mayo, lettuce, a slice of tomato and cucumber. Just make sure you don't put just one thin slice of turkey ham on the sandwich—three would be just about right.
5. BEEFY BURGER
Make some homemade burger patties with lean ground beef, onions, minced garlic and carrots and season with pepper, salt, a dash of Worcestershire sauce. Top with a slice of low-fat cheese and garnish with lettuce, tomato and cucumber or a pickle.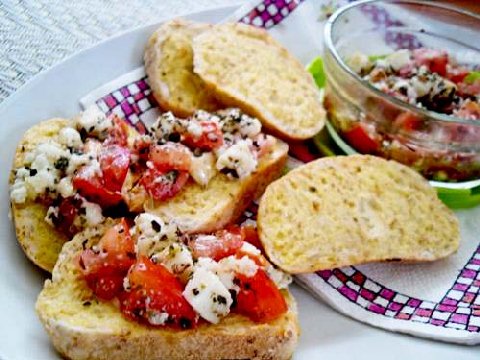 Pinoy Bruschettas
6. PINOY BRUSCHETTA
Cut a pandesal into several ¼-inch thick slices (just like crostini slices). Mix some minced garlic into 2 tbsp of butter. Spread on the crostini-pandesal and toast. Combine cubed kesong puti, chopped tomatoes, minced garlic, ¼ tsp of dried basil, a dash of Italian seasoning and pepper, and 2-3 teaspoons of olive oil. Put the mixture in a small leak-proof plastic container. To eat, spread some of the tomato-kesong puti mixture onto the pandesal.
7. CHUNKY TUNA
Mix some flaked tuna (in water) with low-fat mayo, pickle relish and minced onions (not too much). Spread on the pandesal. May be served with lettuce and a slice of low-fat cheese.
8. CHICKEN GALANTINA
Make your own chicken galantina or embotido using ground chicken breast (500g), 3 tbps minced bell peppers, ¼ cup minced onions, ¼ cup minced carrots, ¼ cup grated cheese, 2 tbsps catsup, ¼ cup breadcrumbs, 2 tbps. flour and an egg. Season with salt and pepper. Shape mixture into an embotido on aluminum foil. Seal both ends well. Steam over boiling water for 40 minutes and let it cool. You may do this before hand and keep in the chiller until you are ready to make your sandwich. Slice your pandesal in half, spread some low-fat mayo on each side and put a ½ -inch slice of chicken galantina.
9. SPANISH SARDINES
Saute two tablespoons of chopped onions then put in the Spanish sardines. Spread low-fat mayonnaise on pandesal slices and put just enough of the Spanish sardines-onion mixture. Add a pickle slice or two if you like. You may serve with scrambled eggs on the side and tomato and cucumber slices.
10. CHICKEN PESTO
Of course, you can always just buy a bottle of pesto sauce in a grocery but it's better to make your homemade pesto using chopped cashew nuts, basil, parmesan cheese, minced garlic and some olive oil. Put everything in a food processor, pulse and reduce to a spreadable mixture. Flake some cooked chicken breast. Spread homemade pesto on each slice of the pandesal and top with the flaked chicken. The varieties of healthy baon treats for your kids are endless. Of course, it's always easier to just make a corned beef or hotdog sandwich but it's a good way to start them young on good eating habits. Train your kid to be a little gourmet eater and while you're at it, put in a fruit cup, a banana, a bunch of grapes or sliced mangoes, papaya or melons in his or her lunch box. It's a healthy way to sweeten your kids' day and trust me, they'll remember and love you more for it.
- GMANews.TV