Filtered By: Lifestyle
Lifestyle
Converting carnivores at Corner Tree Cafe
Corner Tree Cafe had me at hello. Despite being tucked away behind a large tree, the tiny restaurant stands out among the larger establishments that line busy Jupiter Street in Makati. Unlike its neighbors, it has no brightly-lit signage. Nor does it have a lot of space to park - but that's only fitting, since it can only accommodate a few tables at a time. "Uh oh," was what I thought when I first entered the cafe with my family in tow. The tables were set with tealight candles and flowers, and the lights were turned down low. I realized Corner Tree Cafe would be perfect - if I were on a date. We took a corner table, where we could be the noisy family that we were without bothering the couples quietly enjoying their candle-lit dinner. The thing about small restaurants with low ceilings is that even the most hushed of conversations can be overheard, so we did our best to whisper to each other.
At Corner Tree Cafe, no animals are harmed in creating your candle-lit dinner.
This was back when I was still trying to convert my family to become vegetarian, and I eyed them nervously as they inspected the menu. Over at the next table, a couple peered at the long list of choices. "It's too hard. Can I have everything?" the guy said to his date, who had already chosen the bowl of chili. Not bothering to ask about the serving sizes, we proceeded to choose one item each. As a family, we knew to coordinate our choices so our meal wouldn't be redundant. We knew we would all be tasting from each other's plates, anyway. We ended up with Pasta e Fagioli, Spinach Feta Croquettes, Spinach & Mushroom Lasagna, Baked Tofu Walnut Burger, Arroz ala Cubana and Dilled Egg Salad Sandwich. Harmony was not really a consideration when we chose the dishes. We also realized that dessert would not be a problem. While the Cream Cheese and Chocolate Brownie looked as appetizing as the Banoffee Pie, we knew there probably wouldn't be any room for dessert. Just looking at the menu was filling. We wondered if we should have tried the Veg Nut Roast, or the Teriyaki Tofu, or the North African Veg Stew. If anything, Corner Tree Cafe is proof that vegetarian dining is far from limited.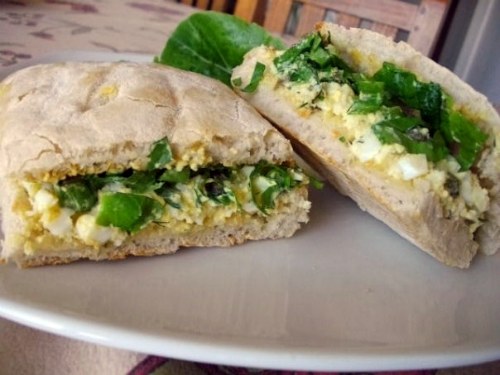 Leaving room for dessert is easier said than done when the Dilled Egg Salad sandwich is this big.
And as if their regular menu isn't enough, they have weekly specials like Gazpacho and Veg Paella, Borsch, Koshari, and Watermelon and Feta Soup. For less adventurous taste buds, they also have familiar dishes like Tortang Talong, Adobong Tokwa and Tinolang Vegetables. To keep from making additional orders, we busied ourselves by looking at the bookshelf, which had works by Leo Tolstoy. There was also The English Patient and Persepolis. It was the kind of shelf I wouldn't mind borrowing from, but since it was placed pretty high up, I got the feeling I should stick to reading the announcements posted on the corkboard by the door. The food arrived and we knew for sure that if we wanted to try any dessert, we would have to come back another time. Although the servings weren't for hungry families, they were more than enough to be shared by two. I made a mental note to recommend the place to couples before I began eating. The Spinach Feta Croquettes crunched nicely before you could taste the soft filling. I was pleasantly surprised by a little bit of spice, and the soup went very well with the appetizer. My sister eyed the Arroz Ala Cubana suspiciously as she halved the Baked Tofu Walnut Burger. She sampled the meatless burger, and apparently liked it, because she then distributed not-so-equal parts to the rest of us. Named the Philippine's Healthiest Burger by the People for the Ethical Treatment of Animals, Corner Tree Cafe's burger is a satisfying alternative to the usual oily fast food fare. It also comes with sweet potato fries or a salad.
Three cheers for this three-cheese Spinach and Mushroom Lasagna.
The Spinach and Mushroom Lasagna has roasted red bell pepper and a slightly creamy, slightly sharp blend of cheese melts in your mouth. Fresh vegetables are great, but it's the cheese that makes this dish, and there's no vegan option available for the Spinach and Mushroom Lasagna. A lot of the other dishes can be made vegan, though, like the burger, the Arroz Ala Cubana, and the Spaghettini with Broccoli and Toasted Nuts. The Arroz Ala Cubana was made with minced tofu, tomatoes, green olives, and raisins with fried bananas and egg. As far as it looked, it could fool anyone into thinking they were eating the usual meat dish. It also tasted very good, and was consumed in no time. "I know it isn't meat, but I don't mind. It's even better," said my sister, who is a self-proclaimed carnivore.
No meat? No problem. This Arroz Ala Cubana is even better than the original.
By the time we had finished eating, the restaurant was fully occupied. Most of the couples had been replaced with larger groups of families and friends, and everyone looked happy with their meat-free food. We spent around three hundred pesos each - not exactly affordable, but we felt it was worth it. I knew that converting my family to the greener side would take more than a delicious meal at a cozy vegetarian restaurant, but it was definitely a good start. -
YA, GMA News
Corner Tree Cafe is at 150 Jupiter Street corner Saturn, Bel-Air, Makati. Restaurant hours are from Tuesday to Sunday, 11 am to 10 pm. Photos courtesy of Corner Tree Cafe.