Filtered By: Lifestyle
Lifestyle
From Meatless Lunch to meatless forever
For people who don't eat their veggies, the idea of Meatless Monday, or even just World Meatless Lunch, can be daunting. But vegetarians couldn't be happier.
Eduardo Enriquez jokes that he will observe World Meatless Lunch by "filling an inflatable kiddie pool with lettuce leaves, sliced tomatoes, and julienned carrots, dousing my naked body with vinaigrette, and tossing the salad while pretending that my arms and legs are giant tongs."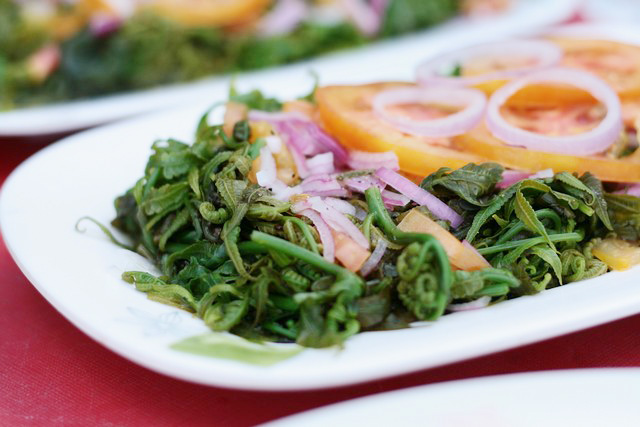 Healthy and delicious: Pako salad. Roehl Niño Bautista
Enriquez won't actually do anything this extreme, but he and other Filipino vegetarians are definitely excited about the first-ever World Meatless Lunch, a non-profit activity initiated by scientists, nutritionists, cause-oriented groups and concerned individuals that will be held on October 1, which is also World Vegetarian Day.
There will be a program at the Quezon City Circle from 10 a.m. to 1 p.m., where 300 student chefs will take an oath to offer more vegan dishes. Also set to attend are three vegan beauty queens, street children, vegetarian-environment advocates, Kalikasan party list and proponents of Meatless Monday Philippines.
Meanwhile, Enriquez organized a pre-World Meatless Lunch lunch and World Vegetarian Day celebration at Corner Tree Café on Sunday, to allow people who have work on Monday to "meet-and-eat" their way to a better world.
World Meatless Lunch is an
initiative
of Luntiang Lunes (Meatless Monday-Philippines) founder Dr. Custer Deocaris, a molecular biologist and vegetarian. The idea is inspired by Meatless Mondays, which began at the United States at Johns Hopkins University, with the goal to reduce cardiovascular diseases and curb the negative effects of climate change.
Like Meatless Mondays, World Meatless Lunch promotes considering meat-free alternatives for positive health and environmental impact. World Meatless Lunch starts with just one meal, so that people may find it easier to participate.
"I believe in baby steps. In fact, that's what Meatless Monday is all about—showing that just one day can make a huge difference," Enriquez said.
Citing data from the United Nation's Food and Agricultural Organization, organizers of World Meatless Lunch say lessening our meat consumption is a crucial way to
reduce excess greenhouse gas emissions
.
Just last month, The Guardian reported that "the world's population may have to switch almost completely to a vegetarian diet over the next 40 years to avoid catastrophic shortages."
"There will not be enough water available on current croplands to produce food for the expected 9 billion population in 2050 if we follow current trends and changes towards diets common in western nations," The Guardian
quoted
a report by Malik Falkenmark and colleagues at the Stockholm International Water Institute (SIWI).
Deocaris, a DOST Balik Scientist, came up with local calculations based on figures from the International Energy Agency. He estimated that the amount of water used by 101 million Filipinos every lunch time based on the per capita meat intake would be around 40,622,913,794 liters – approximately equivalent to 5.2 Ipo Dams (the water capacity of the dam is pegged at 7.5 million cubic meters).
Enriquez shared he first thought being vegetarian was too extreme. But after finding out "how great the meat industry's role in environmental degradation was/is," his love of animals was the deciding factor. "I've had pets—all kinds—ever since I was a kid. The fact that animals feel pain and value their lives were truths I could no longer ignore. If I sincerely loved animals, it would be hypocritical to eat them and contribute to their suffering," he said.
Enriquez noted that apart from animal rights, going meatless is important in addressing the global food crisis, and environmental degradation. He believes Meatless Monday can result in "awareness in terms of health, animal welfare, compassion, and other issues that are directly related to the consumption of animal flesh will create a new generation of Filipinos who see the big picture—how our actions, no matter how small, affect our lives, as well as the lives of those around us—up to a global level."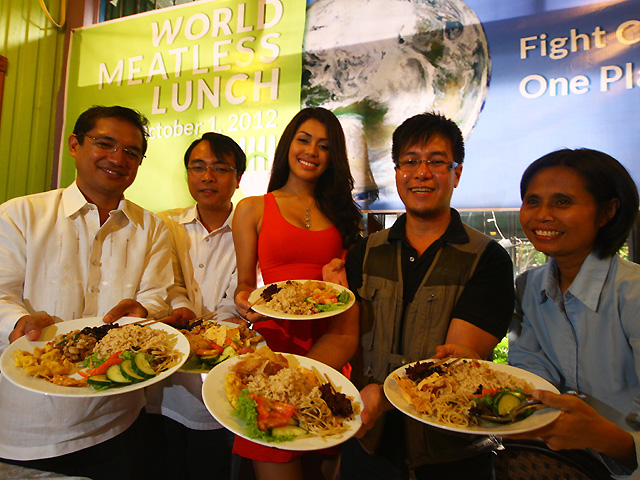 Bayan Muna Rep. Teddy Casiño, Climate Change Commissioner Naderev Saño, beauty queen MJ Lastimosa, Luntiang Lunes founder Custer Deocaris and breastfeeding advocate Nona Andaya-Castillo kick off the World Meatless Lunch recently in Quezon City. Asti Flores
Celebrating Meatless Monday
Bianca Antonio decided to go vegan when she realized animal cruelty can go as far as genetic mutation. "We do not eat meat nor consume any animal products and by-products such as dairy, honey, eggs, whey, leather, silk and etc.," she explained.
Antonio plans to celebrate Meatless Monday with Thy Covenant Montessori School, which has agreed to participate in the World Meatless Lunch. "I will go from room to room and explain to the students what Meatless Monday is all about. At home, I will cook some vegan dishes for the whole family to enjoy," she said.
"Everyone in school will eat no meat and the canteen will serve meat free foods only. Everyone agreed, luckily for us," shared Amy Estella, CEO and owner of Thy Covenant Montessori School.
"The school is committed to do great things for God's glory, whatever opportunity to do good whether it be for the environment or mankind would surely be supported," said Estella, who believes this is a chance to educate their students on being vegetarian.
To prepare the students and teachers, Estella said they posted articles about World Meatless lunch, including questions and answers about it. They also integrated discussions about vegetarianism, nutrition and proper diet in their Science and Health classes.
"In support of Meatless Monday, we simply just want to be heroes too in our own little ways even for a day," she said.
For Grego Abaya Raymundo III, becoming vegetarian began in a class on mathematical logic. "I asked myself, 'if we're not eating dogs or cats, why don't we extend the same treatment to all sentient beings?' Of course it is not mathematical to ask such question. But it was clearly a way for me to apply logic in my life. Ika nga, 'practice what you preach,'" he said.
Raymundo plans to celebrate Meatless Monday in the company of fellow vegetarians at The Vegetarian Kitchen in Quezon City, which will be open to celebrate the occasion. Raymundo said it was difficult when he started being vegetarian in 2008. "I was only 21 back then and was totally clueless of any vegetarian cuisines. I had no one to look up to, my family was not supportive of this lifestyle, and I wasn't a Facebook user until 2009, so there were no other vegetarians I could talk with," he shared. Raymundo, Enriquez, and Antonio are members of a Facebook group called Pinoyvegs, where they share recipes, research, and restaurant finds.
Raymundo said that Meatless Monday is an opportunity for Filipinos to be healthier, and to be creative in the kitchen. "It would be difficult at first. But it's not a reason for someone to give up," he said. Raymundo added that Earth Hour can also be observed in celebrating Meatless Monday, "since both have the same objective of preserving our planet. Hopefully, Meatless Mondays would become Meatless Forever soon," he said.
Although some restaurants are usually closed on Mondays, some vegetarian-friendly places will be open for World Meatless Lunch, such as
The Vegetarian Kitchen
at 62-B Mother Ignacia Avenue, Quezon City.
–KG, GMA News