Filtered By: Lifestyle
Lifestyle
Taste of the north: Ilocano cuisine beyond bagnet and pinakbet
If in search of good food, go north. This is my new mantra, fresh from an unforgettable three day trip to Ilocos while doing research for a book.
Heading toward Ilocos for the first time in my life, I came prepared with a list of must-eats. On top of it, the quintessential but deadly bagnet (deep-fried pork belly) followed by some standard Ilocano fare: orange-hued Batac empanadas, garlicky Vigan longganisas, authentic pinakbet with bagoong isda and without kalabasa, and the papaitan.
Little did I know that my list barely skimmed the surface of what Ilocandia had to offer. After stepping down in Laoag, I soon confirmed that Ilocos was a giant melting pot of great food, with traditional as well as nouvelle native cuisine.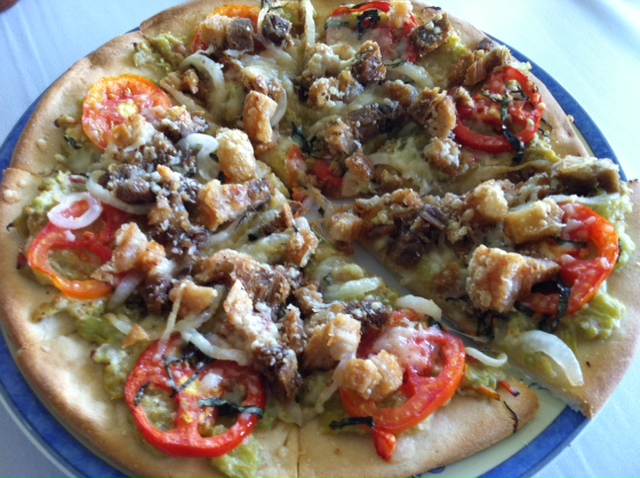 Dishes with naughty names abound. Like this poqui-poqui with bagnet pizza at La Preciosa restaurant.
Dishes with naughty names
Why on earth is a grilled eggplant that is sautéed in lots of onions and tomatoes and then cooked with beaten eggs named "poqui-poqui?" Or sitaw (string beans) adobo be christened "utong?" The dishes look innocent enough but why name them after women's private parts? Well, trust the Ilocanos to titillate you even with just the names of their dishes.
We had a serving of the poqui-poqui at the famed Ilocano restaurant, La Preciosa, along Rizal Avenue in Laoag. You couldn't even order the dish without snickering or blushing. I survived the ordeal by a slight twist in pronunciation, elongating my "o's" and calling it "pokey-pokey" (as in hokey-pokey). The unmentionable dish was wonderfully surprising with its freshness, the smoky taste of grilled eggplants mingling with the sautéed ripe tomatoes, soft onions moistened with the scrambled eggs.
We continued to sample La Preciosa's authentic and exotic (not erotic) dishes: the gamet salad, with seaweed that tastes like Japanese nori and lots of ripe red tomatoes and onions. It was fresh, salty and tasty, good with lots of hot steamed rice. Our guide said this was quite a treat here and rare, thus it's priced a little higher than other meals.
A revelation here was the insarabasab – roasted pork liempo that's sliced thinly and tossed with onions in a mixture of vinegar, calamansi juice, salt and pepper.
Ilocano versions of pizza
This was the strangest among our discoveries. Ilocanos were so crazy over pizza that they put pinakbet, bagnet, poqui-poqui and even their crispy dinuguan (called dinardaraan) on them! And guess what? Despite the initial "eewws", we loved these pizzas on first bite.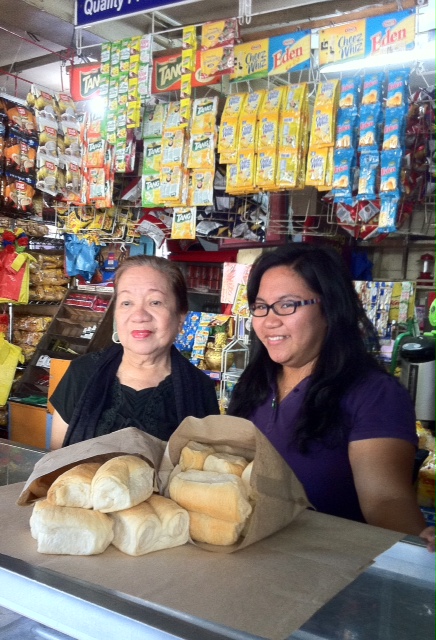 Pasuquin Bakery's proprietors and their popular "soft biscochos."
The pinakbet pizza at Saramsam (owned by Sam Blas who let us peek into his beautiful new branch at Balay da Blas this June) was our first encounter with the strange "Ilocanized" Italian staple. Slices of sibuyas, kamatis, talong, sitaw and ampalaya (the usual veggies in your pakbet) were daintily topped on the pizza. Curiously, it looked just like any other vegetarian pizza in an Italian joint. But when drizzled with the bagoong isda, the vegetables came alive, as anchovies do on a pizza.
The Poqui-Poqui Pizza with Bagnet was a gourmet offering we had in Bistro Candon, a three-hour drive from Laoag. It tasted very Mediterranean with the grilled eggplants and tomatoes, onions and basil. The bagnet on top plus the moravia cheese made the pizza so indulgent. The bistro is owned by Chef Nic Rodriguez whose dishes are so refined, owing to his eduation at Les Roches in Switzerland and training at the Culinary Institute of America.
He let us try another Ilocano pizza creation, his Sunny Vigan Longganisa Pizza. He teased us and asked us to guess why it is called "sunny." One look at the pizza and you see little bursts of sunshine on them, in the form of quail egg yolks. The pizza looked like it was topped with tiny smiley faces. The vigan longganisa gave it a garlicky taste and of course, you can't miss the addition of peppers and other vegetables, the mark of a true Ilocano dish.
There's also meat galore
A number of dishes on the menu used pork and innards and less with chicken or fish. From the crunchy bagnet served with KBL (kamatis, bagoong and lasona or shallots) to the crispy dinuguan to the sinanglaw (a dish that uses innards, tripe and liver, simmered like papaitan, but without the bitter intestine juice).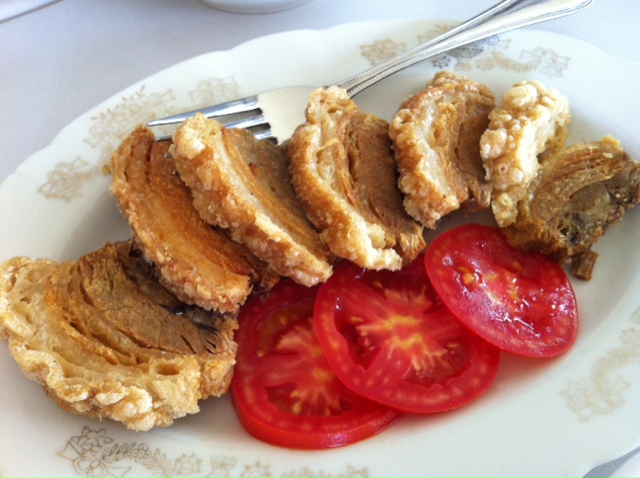 Nothing beats a classic. The crispy bagnet at Bistro Candon.
Even their famous empanadas, which you can't miss in their crispy bright orange pastry wrapper made of rice flour, was packed with crumbled longganisa and stuffed with a whole egg (or two), some papaya and mongo sprouts. We had this in Glomy's in Batac (P35 for the special) from a family of empanada makers which has been making these iconic Ilocano delicacies since 1983.
And of course, in this pork-loving province, everything is happily sprinkled and topped with bagnet and chicharon for a delightful crunch. The amazing green chilis we had were surprisingly not spicy, a special variety is grown here and called "siling duwag". Perhaps because it does not have the ultra-spicy kick you expect from the regular kind? They're the variety made for the faint of heart, hence the moniker.
Bring it on home
Want to bring home a taste of Ilocandia? Here are the recommended "pasalubong stops."
Pasuquin Bakery: home of the famous "soft biscocho", which you can smell a good couple of meters away because of the anise-laden breads. You can have both the soft and crispy, toasted biscochos that are unique to this province.
Laoag Public Market: has your haul of crunchy cornicks, butong pakwan, green peas and other "kutkutin" or snacks. While here, you can also try their garlic camote chips which is quite a treat. Make the stop worthwhile by buying some colorful Ilocano woven blankets or inabel.
San Nicolas Public Market: is best for bagnet by the kilo which goes for only P360. Throw in some of their famous longganisas for P240 per kilo. – KDM, GMA News