Filtered By: Lifestyle
Lifestyle
Home(made) for the holidays
'Tis the season to throw our skinny jeans to the wind as the holidays ring in rounds of partying and gift-giving. While we honor the real reason for the season, the fact is, holiday food—and lots of it—defines the season itself.
A Christmas party without lechon is just an assembly. A Noche Buena spread without ensaymada and hot tsokolate is just a midnight snack. Christmas lunch is just another family gathering without plates piled high with paella, lengua, callos, roast beef, and other rich dishes that make their once a year appearance all together on our tables. And then beyond the round-robin fruitcakes, there are pies, cakes, cookies, jams, candies and a host of delectable delights from well-meaning friends.
The good news is, there's no shortage of purveyors of superb holiday food. In fact, their breed has grown, thanks to bazaars that champion artisanal food and the social media that spread the word about the best of them.
We certainly have choices a-plenty but we've narrowed them down to some tried-and-tested ones that still exude that down-home holiday charm and taste.
Cochinillo Del Cielo
Food photographer Tinee de Guzman's absolute love of food led him to go where no one in his family went—the backyard, where he installed his own brick oven so he can slow-roast herb-stuffed suckling pigs to crisp perfection. Tinee chooses the babes in the city himself, breastfed for barely a month (weighing 3-6 kilos), making for the juiciest and tenderest cochinillo (P5,500/regular size) that you can cut with a plate like they do in Spain.
Tinee now has six charcoal-fed brick ovens and has expanded his repertoire of heavenly roasts to lechon de leche, Indonesia's famed babi guling, German spanferkel and recently, organic wild boar. The babes are wrapped in a native palm woven tampipi to keep them covered and crisp.
Call (0999) 881-0810; (02) 633-0043 or email cochinillodelcielo@gmail.com for orders.
Bronuts
Hands down, the croughnut is THE food discovery of 2013. Dominique Ansel's creation spun long queues outside his SoHo store and reached Manila where bakers scampered to one-up each other with their versions of the croissant-donut hybrid.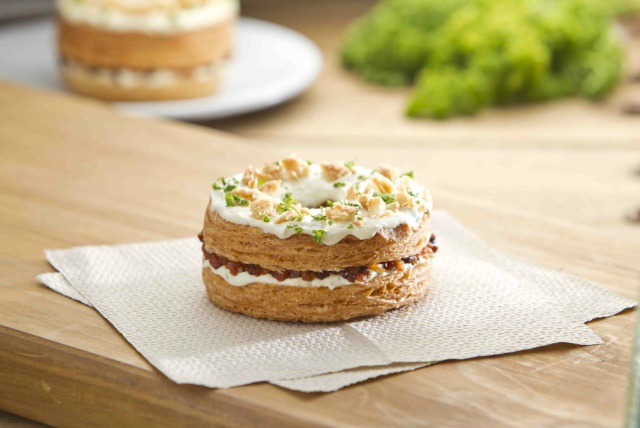 Bronuts' Cream Cheese and Bacon croughnut
But the one that took Manila by storm is Bronuts. Folks lined up for hours to covet a box of their top flavors: Belgian Chocolate with Salted Caramel, Cream Cheese and Bacon, Super Floss, Strawberry Yogurt, Blueberries & Cream, and their recent additions, Hijo de Leche (ensaimada with pastel filling), Pylones (strawberry jam and buttercream) and PMS (Toblerone and cream cheese).
Bronuts' flavors are undeniably bold in an in-your-face sort of way. But that seemed exactly how we liked our croughnuts—the flaky dough crispy-rough and the flavors intensely rich, unexpected and unique.
To celebrate with a box of Bronuts (P330 for a box of 3 and P600 for a box of 6), catch them at SM Aura on all weekends of December, at the Port 88 Bazaar in Libis (Dec. 7-8) and Ronac Art Center in Greenhills (Dec. 8). Or message them at info@bronutsph.com or on Facebook.
Vargas Kitchen
For over 20 years now, the Vargas home in Forbes Park has been turning out Buttercake that's soft as cotton and light as air. Now their kitchen is also one of Manila's best go-to's for delicious dishes.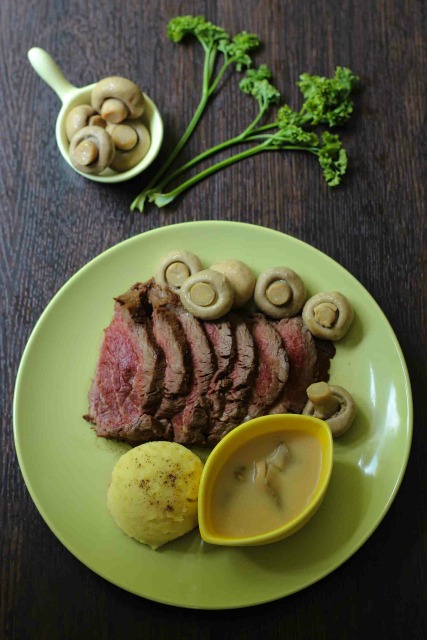 Vargas Kitchen's Tenderloin Steak
And what better season is there for your tables to be laden with festive dishes that chef Inez Vargas Gamboa expertly whips up from heirloom recipes: Tenderloin Steak with Mushrooms and Mashed Potatoes (P2,170), Lengua with Creamy Mushroom Sauce (P1,280), Baked Lapu-Lapu with Capers and Lemon Butter Sauce (P2,900), Chicken-Pork Adobo (P1,390), Paella (P1,530), and more, all good for a party of 8.
Of course, for dessert there's the famous Buttercake (P600) which we love sliced, lightly toasted, then topped with vanilla ice cream, and their Brazo de Mercedes (P395) that you can serve at home or as a gift to your best neighbors and friends.
Call (02) 810-7529; (0917) 811-0712 or visit their stores in Rustan's Supermarket Makati and Power Plant Mall and South Supermarket in Filinvest Alabang.
Baby Pat Breads And Pastries
If traditions must endure, then we should have the obligatory ensaimada with hot tsokalate during Noche Buena. This Christmas, the ensaimada that will surely brighten up the faces of those lucky enough to get a box is that of Baby Pat of Sta. Rosa, Laguna. Home baker Pearl de Guzman is this year's breakout ensaimada purveyor with her fabulous flavors, all of which changed the way we ate and looked at this all-time favorite pastry.
Pearl's creations come with generous fillings and toppings: a generous layer of Speculoos or Nutella spread, or slathered with gooey Tablea on top. And then there are the premium and exotic Latik, Ube with Queso de Bola, and even a Vigan Longanisa ensaimada. A box of her Most Wanted Four is priced at P500 and an assorted dozen at P1,500. All wrapped in colorful papel de hapon making those boxes an absolute delight to give and to receive.
Call (0923) 975-9777 or (02) 7751231 for orders.
Baby Pat's Nutella Ensaymada
There are cookies and then there are these specialty cookies: delicate alfajores (two round shortbread cookies with creamy dulce de leche in between) and florentines (thin biscuits that meld chewy caramel, honey, bits of almond and dried mango, and a fine bottom layer of chocolate, P350/150g).

Jenny Silayan of Sugarbee has been making these cookies that evoke Old World elegance and packs them in shimmery silver tin cans and cartons. They are a sight to behold and a joy to savor as you welcome guests to your homes this Christmas.
The alfajores also comes coated with cacao and while you're dreaming of these cookies, you must also get some of Sugarbee's cashew-flavored meringue-like sans rival chips (P150/canister) with a dip of rich vanilla buttercream.
Call (02) 852-0557 or (0905) 378-4774 for orders. Pick up is at Magallanes Village, Makati.
The Noodle Bakes
Cupcakes are a dime a dozen in Manila but few make the grade. This year, French Culinary Institute NY-trained Sam Ty's creations surprised us with unique twists, with odd names to match.

Take "Tosi," a butterscotch-filled cupcake inspired by Momofuku Milk Bar's famous crack pie created by fellow FCI grad Christina Tosi. Or Garth Vader, a perfect marriage of chocolate ganache and peanut butter in three varying textures. Or Chaz, a classic red velvet with cream cheese frosting but sports a fudgy bottom.
But if that's not enough to pique your curiosity, there's more: Drunken Gingy (rum gingerbread), Jim's Breakfast (bourbon chocolate) and the Sel (salted caramel truffle). But what's in a name when you're certain to be taking a bite into some of the most inspired cupcake creations there are? (P70/cupcake)
Call (0920) 920-7266 or email thenoodlebakes.com for orders. Pick up is at Greenmeadows Subdivision, Quezon City.
Heart2Hearth
Vegan, nut-free, egg-less and gluten-free desserts help us stay the course in this season of indulgence. Thanks to Meeta Nanda who has been making healthy sweet treats for her daughter, Maya, after she was diagnosed with food allergies.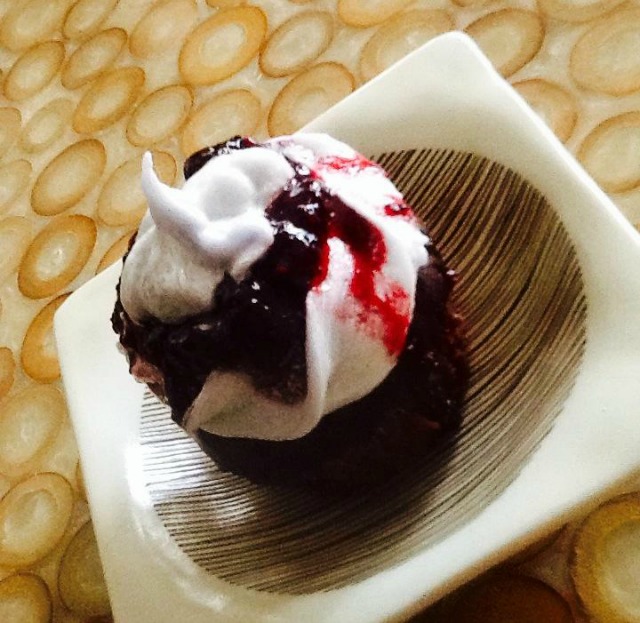 Vanilla Lavender Mixed Berries Cupcake of Heart2Hearth
Your vegan and vegetarian friends will appreciate the thoughtful gesture of a box of Meeta's Apple Oatmeal Raisin Cookies (P360/dozen), Moist Belgian Dark Choco Chip Cookies (P480/dozen), or her Carrot Orange Raisin Cupcakes (P480/dozen) and Banana Dark Choco Cupcakes (P480 /dozen).
For those watching their sugar intake, there's Apple Zucchini Poppy Seed Cupcakes (P480/dozen) and Oatmeal Cookies (P360/dozen) all sweetened with agave nectar. And just for the season, her Flax & Pumpkin Seed Spiced Rum Fruitcake (P300/mini-loaf) and Vanilla Lavender Mixed Berries Cupcakes (P300/dozen) are enough reasons to rejoice.
Call (0917) 805-3865 for orders or visit Heart2Hearth's stall at the Salcedo Market.
Baked By Anita
Anita Li's mini-cupcakes catapulted her to the ranks of bazaar favorites, with interesting flavors like Roasted Strawberry, Matcha Green Tea, Lemon and Lavender and a personal favorite which I consider the bomb of all cupcakes, Truffled Honey Parmigiano.
But what really made her stand out are her savory bite-sized pies called Bocaditos. Warm rounded flaky, buttery pie crusts burst with a variety of gourmet fillings inside: Wild Mushroom with Gruyere and White Truffle Oil, Chicken and Mushroom in Marsala Cream, Spanish Chorizo with Mozzarella and more. The flavors are solid and you'll swoon as you bite into each one.
The Bocaditos (P65/piece) are frozen and sealed in an aluminum pack, just like a box of Royce chocolates, and come with ice packs to keep them chilled. Simply warm them in the oven for a few minutes before serving. Perfect for when guests drop in on you.
Call (0917) 527-9749, (0939) 920-9838, (02) 736-2877, or email bakedbyanita@yahoo.com for orders.
Joyce Aragon's Homemade Foods
Joyce Aragon's jars of homemade dips, Dulong in Olive Oil (P280) and Portabello Mushroom (P350) are every domestic diva's must-haves for party appetizers and pasta dishes. Serve with Whole Wheat Melba Toasts (P90/pack) to guests while waiting for the main feast. Or simply sauté in oil with garlic, sun-dried tomatoes and capers, and toss with some warm pasta to go with your entrees.
For Christmas, the dips come with a pack of melba toasts and are beautifully packaged in red mesh bags to gift your foodie friends (P470/gift pack). And while at Joyce's, you can get deeper into the holiday spirit by getting yourself a jar of Queso de Bola Spread (P350) to go with hot pan de sal and jamon or Queso de Bola crisps (P190) to munch on with cups of tea.
Call (02) 403-1971 or (0917) 523-2913 or email joyceiaragon@yahoo.com for orders.
Sweet Picks Cheesecakes
Instead of a regular cake or fruit salad, why not a cheesecake to share with the family?
Enterprising mom Cecile Clemente took some time off from her day job to create a line of frozen (not baked) cheesecakes that can turn any meal into a special occasion. Trays of her best-selling Mango Cheesecake (P675), Cookies and Cream (P550), Apple Cinnamon (P600), S'mores (P625), Blueberry (P675) and Strawberry (P625) make for a cool and refreshing change to your usual Christmas desserts. You're sure that each of her creations use quality ingredients so even non-cheesecake lovers become devoted converts.
To give as gifts, the cheesecake trays come in festive wraps and ribbons while you can also choose an assortment of solo cheesecakes in individual holiday boxes.
Call (02) 794-9274 or email sweetpickscheesecakes@yahoo.com for orders.
—KG, GMA News

Photos courtesy of Bronuts, Vargas Kitchen, Baby Pat, and Heart2Hearth