Filtered By: Lifestyle
Lifestyle
Sisig: Where did this gastronomic sizzler come from?
The sisig, a delicious Pampanga dish that is now popular nationwide—and abroad.
It is an extremely popular dish, with variations to be found in every region and a growing number of fans abroad. But not everybody knows where sisig originated.
The word can be traced to as early as 1732, in a Kapampangan dictionary compiled by Agustinian Fray Diego Bergaño. He defines sisig as a "salad, including green papaya, or green guava eaten with a dressing of salt, pepper, garlic and vinegar."
In my travels around the different towns in the Kapampangan region, I have come to realize that the method of cooking a certain dish varies depending on the recipe inherited by the ancestors of the one who cooks or by the influence of other regions that fused into Kapampangan sensibilities.
For instance, when I posted my personal adobu recipe, many messaged me on Facebook saying that their versions of Kapampangan adobu are quite different from mine.
One poster, Malou from Santa Rita, said that according to her grandfather, the real Kapampangan adobu (adobung malangi, she calls it) does not use soy sauce, only vinegar and black pepper.
Another respondent was from Candaba and said that my type of adobu—which uses soy sauce, vinegar and a laurel leaf—comes close to their jumba, a sweet dish made with boiled and dried pig's feet. The only difference, she said, is that my recipe does not include sugar to caramelize the dish.
Making sisig
I grew up helping my Indu prepare sisig. It is made by boiling the pig's head and ears, eliminating hairs and other residue.
Next, the meat is chopped up into tiny bits and soaked in a large bowl of aslam sasa (palm vinegar), which I would buy in Tinajero, Bacolor—she would not let any vinegar to be used in the sisig other than aslam sasa keng Tinajero. Add onions and pepper, and let the sisig marinate for more than an hour before serving. We call this sisig mabuktut.
Recently I went to the famous
Aling Lucing Sisig in Angeles
, owned by the Cunanans, to see how they prepare what they call "the celebrity dish in the Crossing". At first the manager, Zeny Cunanan, denied my request, thinking I was trying to get hold of her recipe. Ms. Zeny, 50, is a daughter of the late Apung Lucing, the founder of the original carinderia.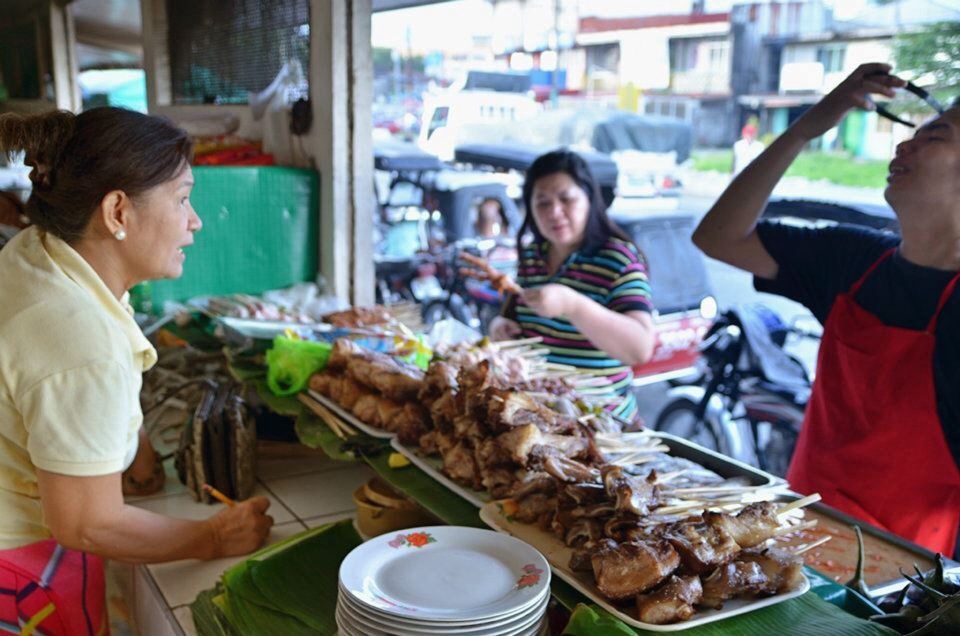 Business is booming at Aling Lucing Sisig.
The story of Aling Lucing Sisig dates back to the 1970s, when the Cunanan family installed their gariton along the crossing to cater to the Filipino workers and American servicemen in Clark. Ms. Zeny remembers that she and her mother would go there during lunchtime to assemble foldable chairs and tables for their customers while maintaining their permanent carinderia in the palengki (wet market) in Angeles. "Atin ke talagang pwestu keng palengki. Oneng nyang ma diskaril ya ing riles keng crossing anyang Martial Law, dacal la ding merkanung pupunta crossing para mu mangan. [Meron talaga kaming puwesto sa palengke. Kaso nang nadiskaril 'yung riles sa crossing noong Martial Law, dumami ang mga Amerikano na pumupunta sa crossing para lang kumain]," she said.
The locals called Mrs. Cunanan Dang Lucing, but many of the Clark workers were Tagalog speakers, and soon she also became fondly known as Aling Lucing—hence the eatery's name, explained Ms. Zeny.
That was the time when sisig started to become in-demand. According to Ms. Zeny, her family can lay claim to the creation of sisig, because her mother created the dish by accident.
One time, she said, her mother was boiling a pig's head to soften it. But she forgot about it, only realizing her error when she smelled something burning in the kitchen. So as not to waste the meat, she came up with the idea of chopping it up into small pieces and mixing it with vinegar and onions.
After creating the new dish, Aling Lucing said, "Magumpisa ngeni, ing awaus kanini, sisig [Simula ngayon, tatawagin ko itong sisig]."
"When she displayed the food for the customers, we never expected that they would love it. The rest is history," added Ms. Zeny.
Aling Lucing's recipe
The Cunanans' method of preparing sisig starts with the usual boiling of the pig's head. Their secret to making their particular sisig lies in the mix of the water used for boiling, which helps create the delicious flavor the carinderia is known for.
When the meat is tender, it is grilled until it becomes golden brown in color and crisp in texture. It is then chopped up and several other ingredients are added to it: grilled liver, soy sauce, vinegar, calamansi, black and red pepper and a bit of salt.
"Our recipe is the same as that of other sisig makers. But one thing that makes it different is the original mix of spices and seasonings that I put in which can never be revealed. In fact, only a few of my siblings know the exact recipe," said Ms. Zeny.
"Isn't it that sometimes, secrets are best to be kept as secrets? This is because when revealed, it may end everything. In our case, the secret ingredient is what makes our sisig go on. And it will be kept as long as people still want us to do it."
— BM, GMA News