Filtered By: Lifestyle
Lifestyle
Davao-made chocolate wins another award in Germany
A product from Davao City was once again given an international award.
Malagos 65% Dark Chocolate won a Silver award at the 2015
International Chocolate Awards'
World Drinking Chocolate Competition in the Dark Drinking Chocolate Category, specifically drinks made with milk.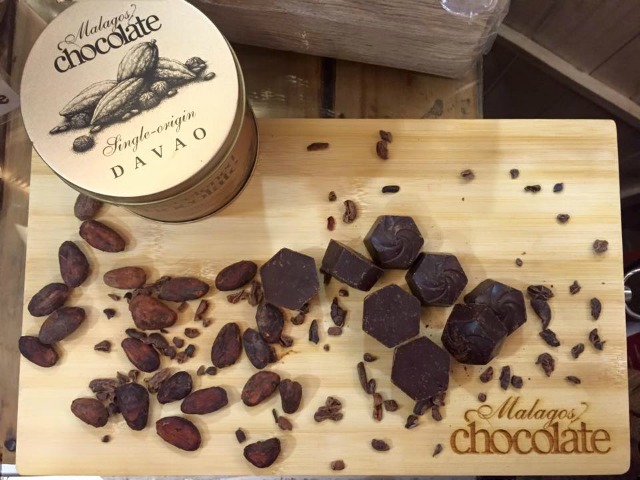 Malagos chocolate. Photo: Rave Garcia
Also winning silver awards were Chocolate Tree's Madagascar 72% and Winterspice from the United Kingdom; Eponine Patisserie & Chocolaterie's House Blend Hot Chocolate, also from UK; and Hans Andresen Chocolates' Lemongrass dark submarine bar from Chile.
The Gold prize was given to Chocolate de Mesa from the United States.
There were three Bronze winners for the same category: Amara Chocolate & Coffee's "Gran Criollo" Hot Sipping Chocolate from the United States, Beckscocoa's Sinnerman from Germany and Dick Taylor Craft Chocolate's Single Origin Drinking Chocolate – 72% Belize from the US.
According to Malagos Agri-Ventures Corp., the entries were judged live at the Schokolade Gourmet Festival in Hanover, Germany last month where a team of chefs used the chocolate to whip up consumer recipes.
The International Chocolate Awards is the world's only fully independent competition recognizing excellence in fine chocolate making and in the products made with fine chocolate.
The award came a few months after another Malagos product won an award in London.
The Academy of Chocolate gave Malagos Premium 100% Unsweetened Chocolate
a bronze award in the Best Unflavoured Drinking Chocolate
category last April.
"We are very proud of this achievement. Winning two international awards in the span of only one year proves that Philippine-made chocolates can be elevated to world-class standards," Malagos chocolate maker said Rex Puentespina said in a statement.
The company started making premium single-origin cocoa liquor in 2012. Sourcing from 40 farmers, Malago uses cacao beans harvested from trees growing in the foothills of Mount Talomo in Davao.
— Trisha Macas/BM, GMA News