Filtered By: Lifestyle
Lifestyle
A perfectly Pinoy meal at Washington DC's Purple Patch
WASHINGTON D.C. - I had only been three days in this wonderful and amazing city and already I was missing the most important part of my regular Filipino adult life: rice and adobo! (No offense to my kababayan who prefer kanin at sinigang!)
As part of a reporting tour for the foreign press organized the US State Department, I and nine other hardworking journalists from the Philippines had a full schedule in the US capital learning and reporting about the important people-to-people relations between the US and the Philippines.
But as much as I enjoyed endless American breakfast buffets and eating at famous east coast burger chain Shake Shack, I had never missed my Pinoy comfort food more.
(On my second day in D.C., I attempted to look for rice in the hotel, but there was none.)
So imagine my (and I am assuming my compatriots') excitement when I learned that we would end our last night in D.C. at a Filipino restaurant owned by a Filipino-American. The first thing that came to my mind—and again, I am assuming my colleagues' minds as well— was: RICE!
On that freezing night in D.C., our well-organized host from the State Department brought us to Purple Patch, a cozy, posh-looking restaurant.
The interior was modern and hip, and a Philippine flag was posted proudly on the door.
When we entered, the restaurant was playing the latest song from Australian band Miami Horror, so I thought the food was going to be fusion. To one side were customers (mostly DC locals), waiting to be seated.
Celebrities, politicians and NBA players have eaten here. There was a photo of the owner with Gordon Ramsay, and I was even more excited to eat.
Taking a chance
Shortly after we were greeted by owner Patrice Cleary, a Filipino-American who worked in the US Marines for eight years before opening her own Filipino restaurant.
Born in the Philippines, Patrice moved to the US with her family as a baby and grew up eating Filipino food cooked by her mother, a chef and caterer from Bicol.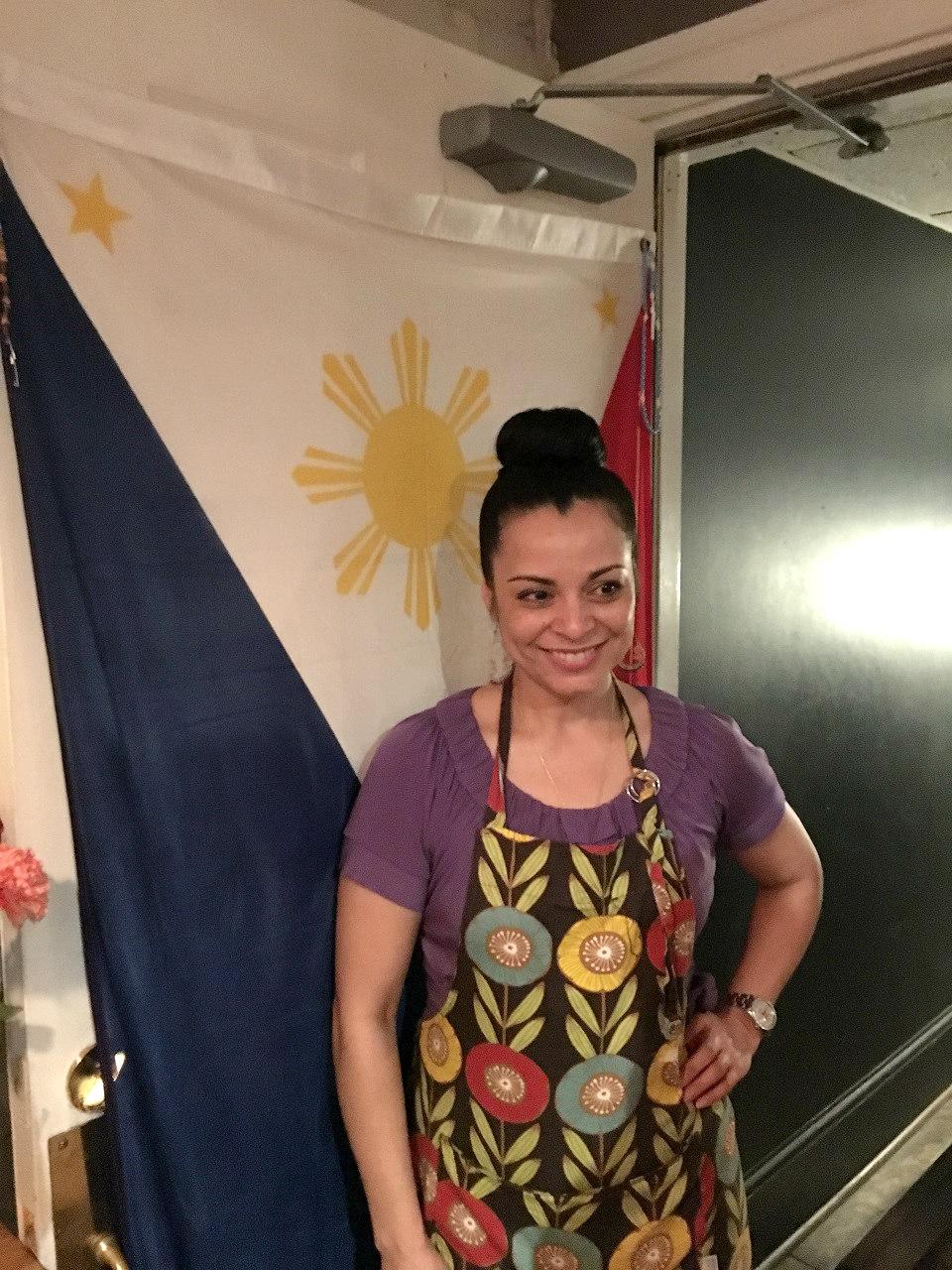 Purple Patch owner Patrice Cleary. Photos: JP Soriano
She said she took a chance setting up the restaurant, knowing that Filipino cuisine was and still is not as popular in the US as Japanese, Chinese or Thai food. "I knew if I opened a restaurant based on what I felt true in my heart...that even if I failed I felt like a success," she told GMA News.
"I didn't open it thinking that it was going to be this big hit because you know it's comfort food. For me, it's what I grew up on."
Since its opening, though, Purple Patch has been named one of Washington DC's best restaurants by food site DCist and one of the top Filipino restaurants in the US by restaurant review site Tabelog, and received a good review from the Washington Post.
A taste of home
A long table was waiting for us and I could smell the frying of mantika and garlic from her kitchen.
On the table was a mini organizer filled with typical Pinoy condiments: patis, Jufran banana ketchup, toyo, and the famous Mang Tomas lechon sarsa—all very Filipino.
Patrice first served us a platter of appetizers: lumpiang shanghai, crispy lechon kawali, and chicken barbecue served with atsara.
Our companions from the US State Department did not know what was in front of them, so I and my colleague Nikko Dizon from the Philippine Daily Inquirer explained the dynamics of eating each dish, telling them that lechon kawali is best paired Mang Tomas, while banana ketchup goes with lumpiang shanghai. We were happy to see the Americans loved it.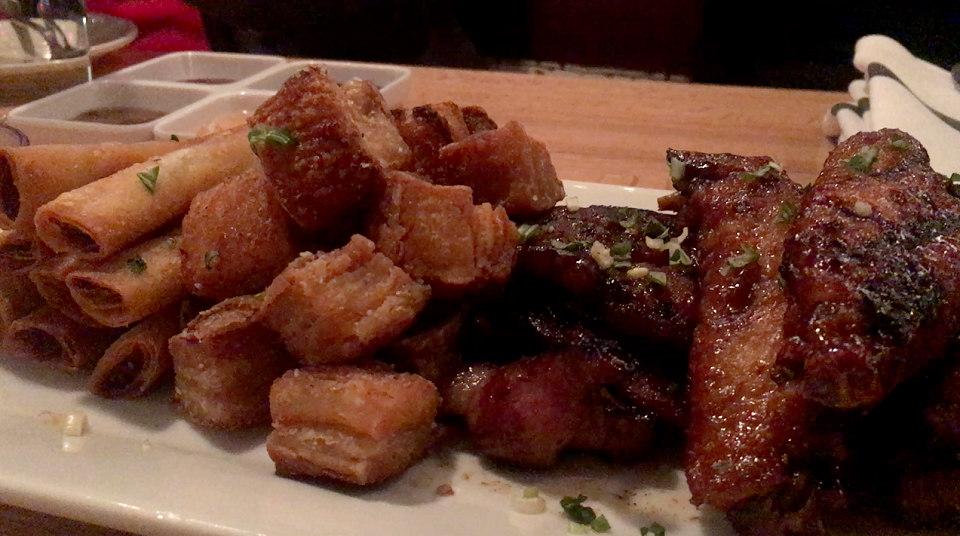 The lumpiang shanghai and lechon kawali tasted so authentic, it was as if they had come from a fantastic Pinoy restaurant in Manila.
At a nearby table, an elderly American couple in elegant attire were also having the lumpiang shanghai. I asked them how their food was—and both of them started talking about their favorites: "We like the lumpia...the adobo and pancit, the halo-halo. We've been here numerous times."
And then the main dishes! Arriving on typical big Filipino platters were pancit bihon, Bicol express, laing (Patrice said that with her Bicolana roots, these are some of her favorites), a big crispy snapper escabeche, a big sizzling plate of sisig, and adobo!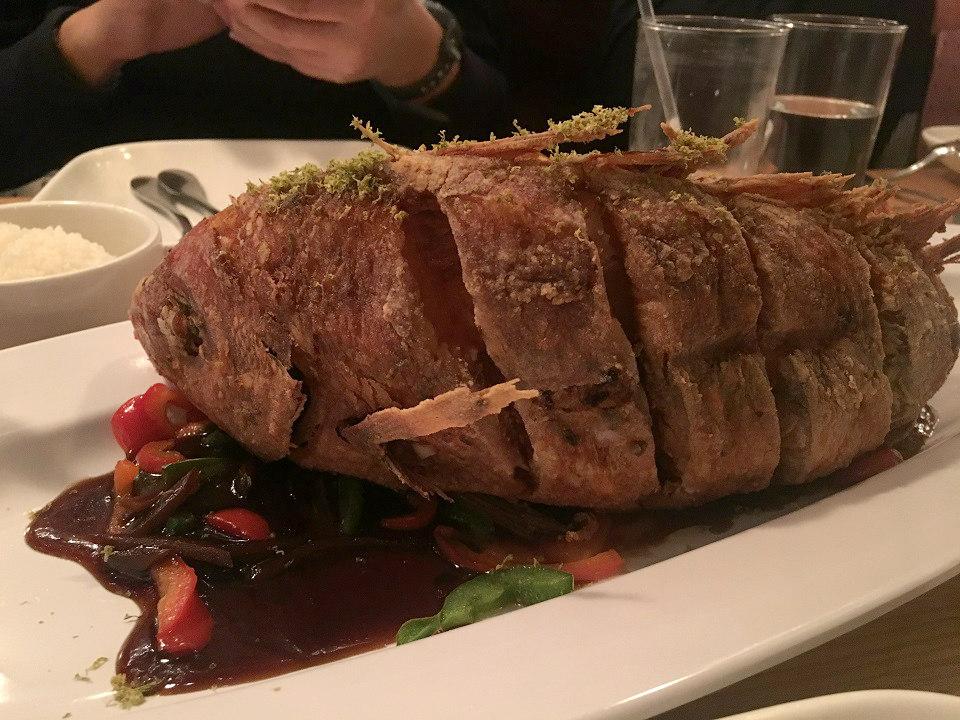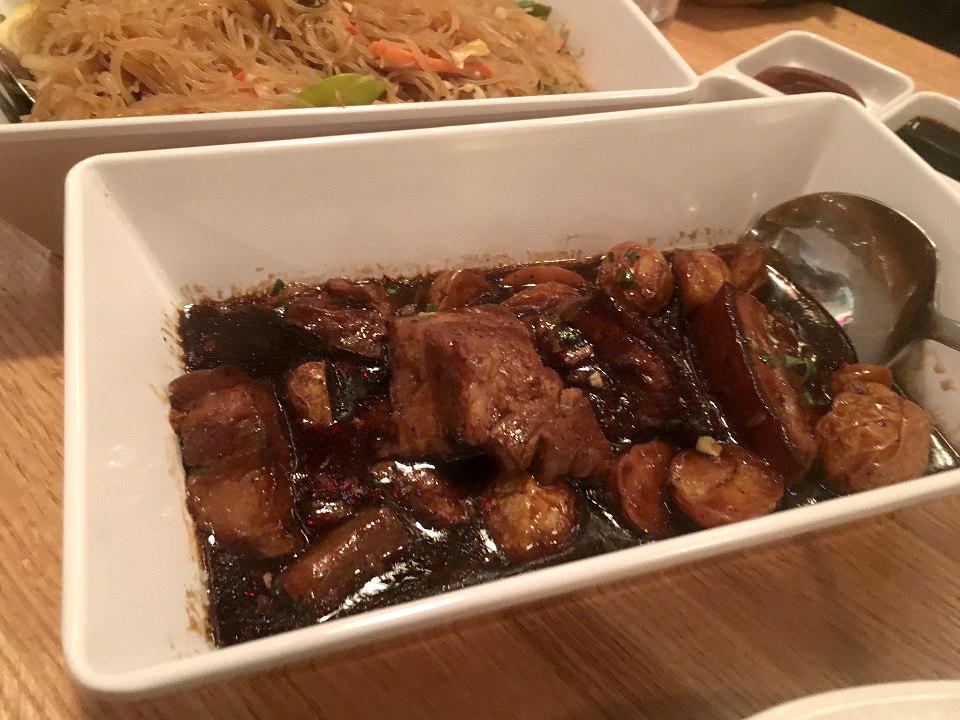 Before I had the chance to ask, bowls and bowls of rice came in. I could see the smiles from my Filipino colleagues as we started eating as if we had not eaten rice in years.
The pancit bihon tasted like your Tita's pancit bihon during family get-togethers on Sundays. The laing and the Bicol Express were spot-on. And the adobo was so delicious I don't think the platter lasted ten minutes after serving.
There was no "fusion" in any of the dishes Patrice served. It was like I was eating my mother's or lola's adobo as well as sizzling sisig from Pampanga. It was like eating at home, we all said.
Patrice who was managing the kitchen, from time to time would come out to serve and talk to us. She said that was the whole idea of Purple Patch: to offer home-cooked Filipino meals in America.
She feels that Filipino food may come off as lacking identity to the taste buds of the American market (or other nations, for that matter), and unlike Vietnamese cuisine or Thai cuisine might not come with immediate expectations.
But Patrice is part of the movement of Fil-Am chefs quietly working to put Filipino cuisine on the world map, and she says that the love of Filipino cuisine should start from all of us Filipinos. "We're a fusion and we should be proud that we are a fusion, [that] we're a mix of so many cultures," she said. "We should be proud of that because that's the diversity in who we are and in our dishes. I feel that our food is the gateway to Southeast Asian cuisine."
There was a time in Patrice's life when she regretted not being able to speak Tagalog fluently, but received a reassurance from her mother. "She said to us, 'As long as you can cook Filipino food, you will always speak the language of love." — BM, GMA News