Filtered By: Lifestyle
Lifestyle
Filipino chocolate brand Auro wins 10 international awards from the Academy of Chocolate 2020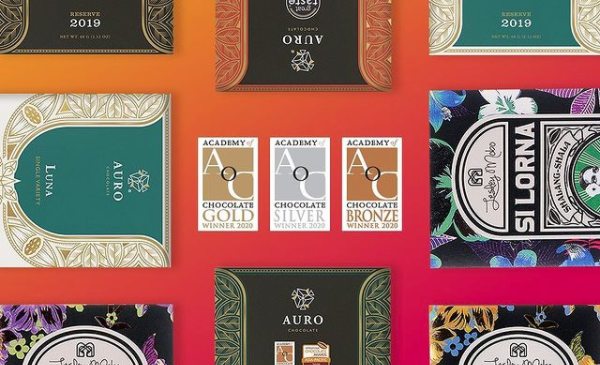 Filipino chocolate is continuing to make headway in the global circuit as Philippine chocolate brand Auro wins not one but 10 international awards at the Academy of Chocolate 2020!
On Instagram Monday, Auro announced the good news saying, "It brings us great joy to share that we're taking home 3 Golds, 6 Silvers and 1 Bronze — a total of 10 international awards from the prestigious Academy of Chocolate 2020!"

Among their products that took home gold are the 32% White Chocolate (Tree to Bar White), Si Aida and Si Fe chocolate bars (Tree to Bar Seasoned) from the limited edition collection the brand did in collaboration with Chef Victor Magsaysay and Filipino fashion designer Lesley Mobo.
Meanwhile, six of their products won silver including 70% Luna (Tree to Bar), 50% Luna Dark Milk Chocolate (Tree to Bar Milk), 70% Paquibato (Tree to Bar Seasoned), 100% Saloy (Dark Bean to Bar 90% and over), 85% Mana (Dark Bean to Bar Seasoned), and 100% Hot Chocolate (Hot Chocolate Plain for Water).
Auro's 100% Hot Chocolate with Milk, on the other hand, won bronze (Hot Chocolate Plain for Milk).
Auro said for them it is a "true honor and privilege to do what we love everyday."
"We will never stop as we promise to continue to learn and strive for the best in representing quality Filipino-made chocolate on the world stage," they added.
"Thank you always for your continued support! Congratulations to all of us."
In October, Auro took home 5 golds in the International Chocolate Awards.
The award-winning Filipino chocolate brand on its website calls itself a "bean-to-bar chocolate company that sustainably sources cacao beans directly from Filipino farmers."
Meanwhile, Malagos Chocolate from Davao took home three awards including a bronze prize (Tree to Bar) for Malagos 65% Dark Chocolate, a silver (Hot Chocolate Plain for Milk) for its 72% Dark Chocolate, and another silver (Filled Chocolate) for its rum truffle chocolate.
Founded in 2005, the Academy of Chocolate "campaigns for better chocolate and to promote a greater awareness of the difference between fine chocolate and the mass-produced chocolate confectionery which most of us eat," it said in its website.
It was established by five of Britain's leading chocolate professionals, united in the belief that eating fine chocolate is one of life's great pleasures. See the list of winners here. — LA, GMA News