Filtered By: Lifestyle
Lifestyle
This pancit sa bilao sounds like the perfect plan for your Pinoy-themed Christmas gathering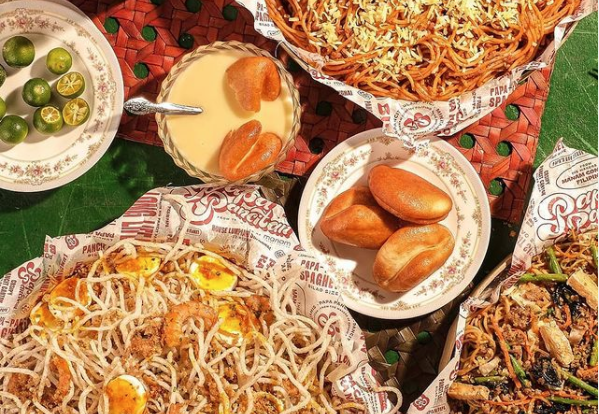 From the makers of Manam, 8cuts, and Mo'Cookies come Papa Pancitan, a delivery-only brand that offers a variety of pancit and ulam in bilaos.
Papa Pancitan have the classics — Pancit Bihon, Pancit Canton — covered but it also has cool innovative takes on pancit like Pancit Sisig, Crispy Pancit Palabok, and for a touch of a little alta, Pancit Squid Negra with Garlic Aioli.
It's not a pancit, but the new brand from the Moment Group also has the Papa-party Spaghetti, too!
For a real party feel, Papa Pancitan also offers bilao picas like the classic House Lumpiang Shanghai, House Pork BBQ, Lumpiang Gulay, and Fried Pepita Pao. Each order comes in 12 pieces, arranged in a bilao.
If you're looking to do a mini pistahan and not just a Pinoy-themed gathering, there are ulam bilaos like Crispy Papa-ta, Fried Mama-nok, which can serve up to 5 persons per order, as well as Pinoy desserts like Minatamis, Ube CheeseBalls with Coco Drizzle, which is comparable to your favorite puto bumbong in a different form. It comes in boxes of 12 and 24.
Aside from individual dishes, they have bundles including the Tripol Trobol Budol Bundles; Papa Lamon which includes Pan-Barkada Bilao of your choice, Lumpiang Gulay or Fried Pepita Pao, and six sodas of your choice for P1,178.
The Papa Long Life, which includes two Pan-Pamilya Bilaos of your choice, Papa's Ube Cheese Balls, and six sodasof your choice for P1,318.
Lastly the Papa Party which has a Pan-Barkada Bilao of your choice, Crispy Papa-ta or Fried Mama-nok, Papa's Ube Cheese Balls, and six sodas of your choice for P1,548.
Papa Pancitan is available exclusively for delivery via papapancitan.momentfood.com to be delivered straight to your doorstep by Mo'Go, which has a 25km radius within Metro Manila.
You can order Papa Pancitan's pancits and ulams from the following locations at the indicated hours:
?Makati - 11AM-9PM (Mon-Thurs) | 10AM-9PM (Fri-Sun)
?Quezon City - 10AM-8PM (Mon-Thurs) | 10AM-9PM (Fri-Sun)
?Ortigas - 9AM-9PM (Mon-Sun)
?Parañaque - 10AM-8PM (Mon-Sun)
?Alabang - 10AM-10PM (Mon-Sun)

Here's Papa Pancitan's full menu:
— LA, GMA News