Filtered By: Lifestyle
Lifestyle
These 5 restaurants will make you feel the Christmas romance for that perfect holidate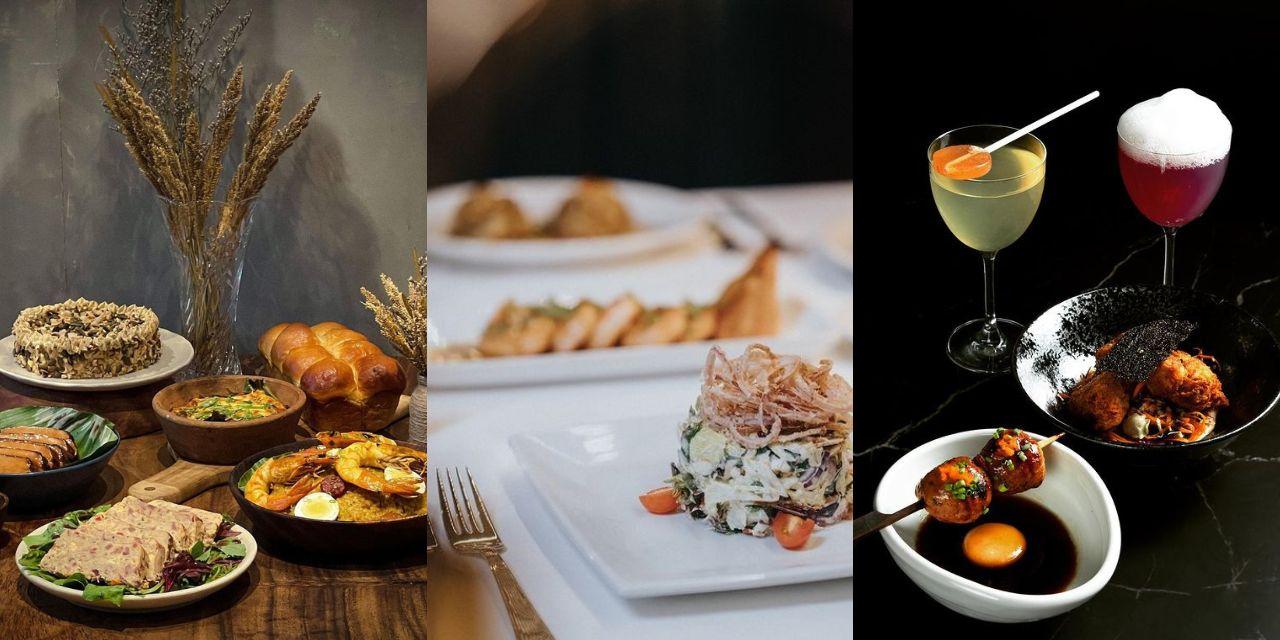 What makes Christmas the most wonderful time of the year is that we get to spend meaningful time with the people we hold dear to our hearts. It's the time of the year when people express their love through gifts, reunions, and quality time.
For those spending the Christmas season with their significant others, here are five "holidate" spots in the metro that will make you feel the Christmas romance sans the Holiday rush.
Alegria Manila in Uptown Parade, Taguig
Alegria Manila by Chef Charles Montanez specializes in its 16-course tasting menu, highlighting a crossover between Filipino and Latin American flavors. The whole course's pacing spans over two hours, which is great for conversation catch-ups between plates.
You can choose from Alegria's tasting menu from the full 16-course (P5,400), a midi at 7-course (P3,595), and a 5-course (P2,600) menu. You may also add P1,550 for a wine or cocktail pairing.
For reservations, send a DM to @alegriamnl on Instagram.
Hapag in Katipunan, Quezon City
Hapag by Chef Kevin Navoa is a Filipino restaurant that emphasizes regional flavors using local products from different parts of the Philippines. If you want to feast on elevated Filipino dishes in a restaurant with a casual and welcoming atmosphere, then Hapag is your best shot.
Since the restaurant is very intimate, it radiates cozy and homey vibes, perfect for date nights and special celebrations.
Hapag offers a "Hapuan" (P3,950) tasting menu, which includes Filipino favorites such as Chicken Inasal, Ilocos Empanada, Palabok, and Sinuglaw, among others.
For reservations at Hapag, send a message to 0947 560 1853
La Spezia in Tomas Morato, Quezon City
If there is one cuisine in the world that screams "romantic," it's Italian. La Spezia is a hole-in-the-wall restaurant in Quezon City specializing in authentic Italian dishes such as Spaghetti Al Tartufo Nero (P1,360), Risotto Milanese (P820), and Spaghetti Amatriciana (P450).
Al fresco dining is also available at Le Spezia if you want to enjoy wining and dining outdoors.
For reservations, send a message to La Spezia at 09279606903??.
Ruth's Chris Steakhouse in Bonifacio Global City, Taguig
If you've been scrolling on TikTok for too long, this restaurant should already be on your radar. Ruth's Chris Steak House is all the rage this year when it comes to specialty steaks such as Ribeye (P3,400 - P4,100) and T-Bone (P6,000).
Every booth for two at Ruth's will give you privacy for your dining but still give you Instagram-worthy photos with its push banquettes covered in leather and an interior just like an Orient Express train.
For reservations at Ruth's Chris Steakhouse, send a message to 09956316346.
ReCraft in Broadway Ave, New Manila
For couples who enjoy exploring good cocktails together, then ReCraft is the place to be. At this hidden bar in New Manila, forget about your usual Margaritas and Gin & Tonics for a night because going Bespoke (P500) at ReCraft is the rule.
Think of everything you want in your drink: the alcohol base, the flavor, the color and garnish, even, and they will make it just for you straight from their bar. ReCraft also offers bar chows to fill you in while you enjoy their specialty drinks.
For reservations, send a DM to @recraft.bar on Instagram. —JCB, GMA Integrated News