Filtered By: Lifestyle
Lifestyle
Coleen Garcia panics after Baby Amari gets rashes on his face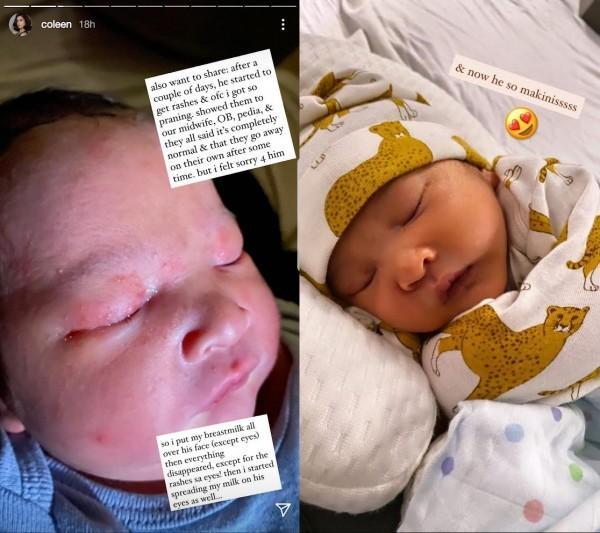 Coleen Garcia had a very new mom experience, panicking upon seeing rashes on the face of her newborn, Baby Amari.
"I just want to share. After a couple of days, he [Amari] started to get rashes and of course, I got so praning," the new mom wrote in an Instagram Story, where she shared a photo of her newborn with rashes on his face.
"I showed them to our midwife, OB-GYN, and pediatrician, and they all said it's completely normal and that they go away on their own after some time," Coleen narrated.
But the new mom felt so sorry for her baby that she put some of her breastmilk on his face, except the eyes.
"Everything disappeared, except for the rashes sa eyes!" Coleen exclaimed. Because it worked, she decided to spread some on his eyes as well.
In another Instagram Story, Coleen posted another photo of Baby Amari, whose face was now "makinis."
Citing WebMD, GMANetwork.com said, "a newborn's skin is prone to rashes of all sorts. Fortunately, most of these rashes are harmless and go away on their own."
However, Healthline said it is still best to consult your baby's doctor for such instances.
"If you're concerned or feel that your child is dealing with something more serious, talk to their pediatrician," it said.
Coleen and husband Billy Crawford welcomed Baby Amari a week ago. — Jannielyn Ann Bigtas/LA, GMA News