Filtered By: Lifestyle
Lifestyle
Saab Magalona reveals 1st doctor to be vaccinated in the Philippines saved her son Pancho's life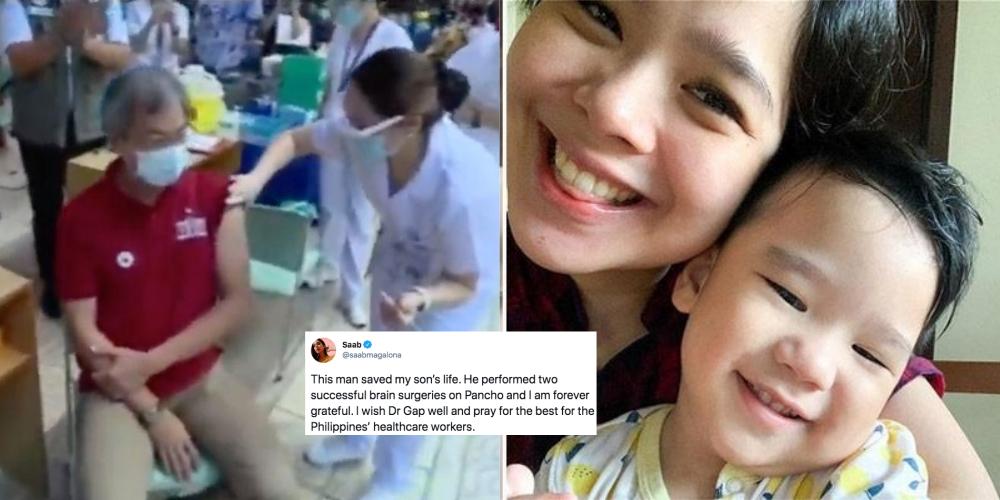 Saab Magalona revealed that the first doctor to be vaccinated in the Philippines is also the same man who saved the life of her son Pancho.
Saab was referring to was Philippine General Hospital Dr. Gerardo Dizon Legaspi a.k.a. Dr. Gap.
"This man saved my son's life. He performed two successful brain surgeries on Pancho and I am forever grateful," Saab tweeted.
"I wish Dr Gap well and pray for the best for the Philippines' healthcare workers," Saab added.
One netizen asked if Pancho, whose second name is Gerardo, is named after Dr. Gap.
Saab clarified, "Pancho Gerardo named after my lolo Pancho Magalona and his lolo (Jim's dad) Gerardo "Gerry" Bacarro. It was a coincidence that we met Dr Gap days after his birth."
In a January 2020 vlog, Saab shared Pancho's harrowing first days as he fought to stay alive.
Saab and her husband Jim Bacarro were first told that their baby boy might not last the night, which was a heartbreaking moment. They had just lost Pancho's twin, Luna.
Baby Luna's heart had stopped beating, which is why doctors had to perform an emergency C-section on Saab to try and save Pancho's life.
Saab and Pancho were both in critical condition then. He had ventriculitis, sepsis, pulmonary hypertension, and grade 4 intraventricular hemorrhage.
At just 17 days old, Pancho had to undergo brain surgery. They were only able to go home after 58 days in the hospital.
In September 2019, Saab and Jim welcomed their second baby boy, Vito.
Dr. Gap is the first citizen to receive the COVID-19 vaccine of Sinovac from China.
On Sunday afternoon, 600,000 Sinovac doses donated by China arrived in the Philippines, allotted to be used in several hospitals in Metro Manila.
Aside from PGH, other hospitals in priority for the vaccination roll-out include Lung Center of the Philippines, Veterans Memorial Medical Center, Dr. Jose N. Rodriguez Memorial Hospital and Sanitarium (Tala Hospital), PNP General Hospital, Pasig City General Hospital, and V. Luna Medical Center. — Jannielyn Ann Bigtas/LA, GMA News