Filtered By: Lifestyle
Lifestyle
DENR: Air pollution levels in Manila, Marikina rose on New Year's Eve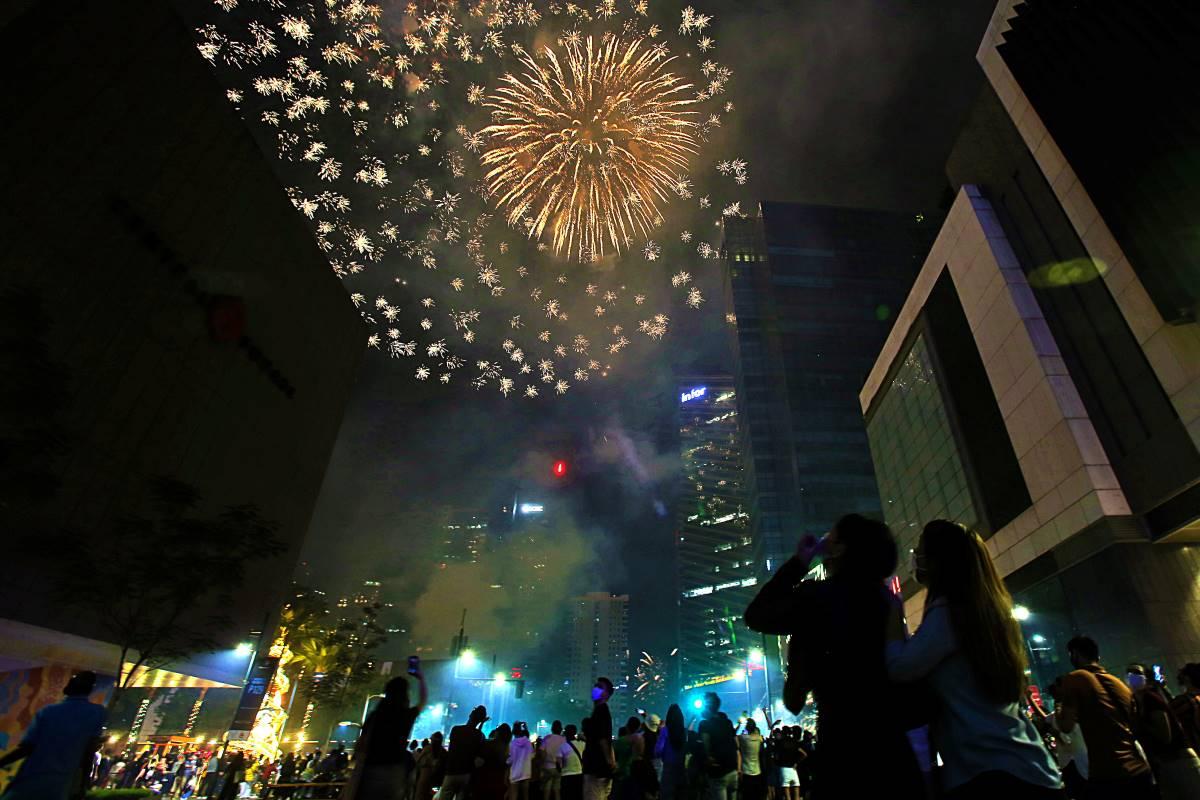 The air pollution levels in Manila and Marikina exceeded the safe standards during the first two hours of January 1, 2022, the Department of Environment and Natural Resources (DENR) said on Wednesday.
Initial report of the DENR-Environmental Management Bureau showed that the air pollution levels in the two Metro Manila cities went beyond the standard of 150 micrograms per normal cubic meter (ug/NCM) of particulate matter (PM)10.
Marikina's PM10 peaked at 347 ug/NCM around 2 a.m., with an average concentration of 271 ug/NCM monitored from 12 a.m. to 2 a.m. This was a 215% increase compared to last year's PM10 data.
On the other hand, Manila recorded a 68% PM10 increase this year by reaching 156 ug/NCM between 1 a.m. to 2 a.m, with an average concentration of 116 ug/NCM from 12 a.m. to 2 a.m.
It noted that the PM10 in firecrackers mainly consists of residues of the explosive powders which is a mixture of sulfur, carbon, and potassium nitrate, and other fine minerals which contain heavy metals.
Pointing to health experts meanwhile, DENR said particles in PM2.5 could travel deep into a person's respiratory tract and could cause ill health effects or worsen the medical conditions of those with asthma or heart diseases.
"Now more than ever we should work together to correct this way of celebrating New Year revelries as we are all aware of the pulmonary health risks these firecrackers carry," DENR Secretary Roy Cimatu said in a statement.
Only the Manila monitoring station in Mehan Garden recorded a maximum concentration of 113 ug/NCM on New Year's Eve for PM2.5, accounting for a 71% increase from the 49 ug/NCM last year.
The short-term limit for PM2.5 is 35 ug/NCM under the National Ambient Air Quality Guideline Value (NAAQGV) of Republic Act 8749 or the Clean Air Act.
DENR also noted that five air quality monitoring stations recorded an increase in the average concentration of PM10 outside of Metro Manila namely:
San Fernando City Station in Pampanga at 77% increase from 86 ug/NCM in 2021 to 152 ug/NCM in 2022
Antipolo City Station at 188% increase from 16 ug/NCM in 2021 to 46 ug/NCM in 2022
Biñan City Station at 27% increase from 11 ug/NCM in 2021 to 14 ug/NCM in 2022
Puerto Princesa City Station at 34% increase from 32 ug/NCM in 2021 to 43 ug/NCM in 2022
Calinan, Davao City Station at 55% increase from 20 ug/NCM in 2021 to 31 ug/NCM in 2022

Further, there was a drop in concentration of PM10 recorded in the Zamboanga City Station, Iligan City Station, and Davao International Airport Station.
To prevent spikes in air pollution levels in future New Year celebrations, the DENR chief then urged the local government units to enforce Executive Order No. 28 which provides for the Regulation and Control of the Use of Firecrackers and other Pyrotechnic Devices, confining the use of firecrackers to community fireworks displays that would be supervised by a trained person licensed by the Philippine National Police.
Cimatu also called for the public to instead use alternatives in making noise during the New Year. — LA, GMA News