Filtered By: Lifestyle
Lifestyle
Coleen Garcia, Kylie Padilla celebrate Breastfeeding Month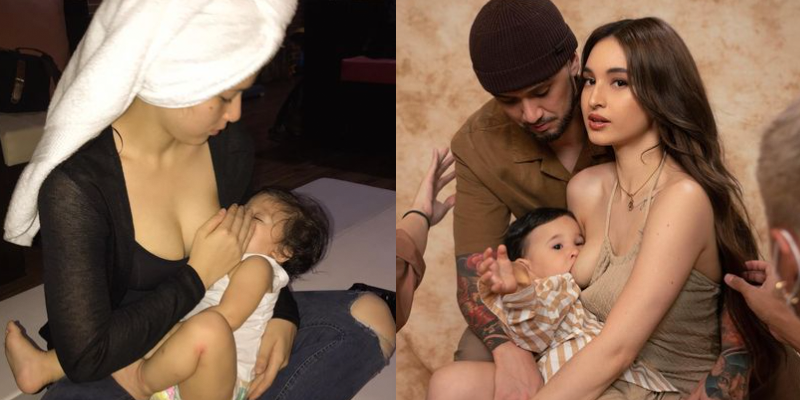 August is International Breastfeeding Month and celebrities Coleen Garcia and Kylie Padilla are loud and proud in sharing their breastfeeding journey.
On Instagram, Kylie explained that part of the reason why she put a pause her acting career was because she wanted to breastfeed her kids directly.
"For me, the intimacy and connection I built with my kids through breastfeeding was so hard to give up, kahit sobrang hirap to be available anytime and all the time," said the "Bolera" actress.
Kylie added how breastfeeding is the "closest physical feeling of love" she has ever experienced in her life.
"Both boys I was able to breastfeed for over a year. It's still one of my [favorite] parts of motherhood. Would do it all over again in a heartbeat," she added with a white heart emoji.
On the other hand, Coleen dedicated a post on breastfeeding month to "mothers who have gone [to] great lengths to do what they believe is best for their children."
According to Coleen, breastfeeding is never glamorous and is always hard, but the reason why she chose to do it is so much more worth it.
"It gives me so much peace and a sense of fulfillment to know that I've been doing what I can to keep Amari as healthy as possible, but our breastfeeding journey hasn't only been about that," she wrote.
"I truly believe that it has brought us even closer and has strengthened the bond, connection and relationship we share in a deeply humbling way," Coleen added.
Despite the difficulties, Coleen said that the permanent effects of breastfeeding will always outweigh her temporary discomfort and sacrifices.
"I could never imagine what it would have been like if we hadn't chosen this path, and I would choose it again and again!" she concluded.
Whether joyful or a struggle, more and more celebrity mothers like Max Collins, Joyce Pring, Isabelle Daza have been openly sharing their breastfeeding experiences.
But as new mom Winwyn Marquez recently said, don't pressure yourself to breastfeed your babies, mamas! It's great when you can, but if your body can't, remember that fed is best! — LA, GMA News