Filtered By: Lifestyle
Lifestyle
This London-based dermatologist uses TikTok humor to correct skincare misconceptions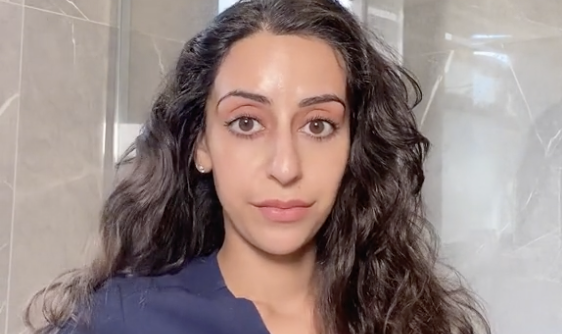 If you've seen Dr. Aamna Adel, a.k.a. @dermatology.doctor, on your "For You Page" (FYP), then you've officially reached the good side of TikTok!
Dr. Adel is a registered dermatologist in London who dedicates her online content to educating people about the proper skincare methods using TikTok's viral audios.
A handful of her popular videos used the audio Bizcochito by Rosalia. For non-TikTok users, this audio is used when you put a video of someone doing a judgmental action of looking at you from head to toe while raising one eyebrow.
Dr. Adel uses this humor to correct skincare misconceptions by looking judgmental while flashing several skincare myths in her TikTok series called "Dermatologist POV."
In one video, the doctor tapped on the topics of sunscreens, iron deficiency manifestations, and product introduction to the skin.
The first thing is "having cracks at the corner of your mouth and not getting your iron levels checked."
In the comment section, Dr. Adel explained that the cracks at the corner of the mouth could be a condition called "angular cheilitis," which could be linked to iron deficiency.
The second is "applying sunscreen once a day instead of reapplying every two hours."
Dr. Adel said that sunscreen should be reapplied every two hours, "especially if you're going to be outdoors all day."
Last is "introducing multiple products at once instead of one at a time."
According to the dermatologist, introducing one product at a time to the skin will help you quickly assess whether the product is working for you or causing irritation.
As of writing, this TikTok video has garnered over 5.4 million views, while Dr. Adel's overall TikTok likes are over 16.2 million. —Hermes Tunac/JCB, GMA News