Filtered By: Lifestyle
Lifestyle
Harry Styles to the Philippine crowd: 'Please feel free to be whoever it is you always wanted to be'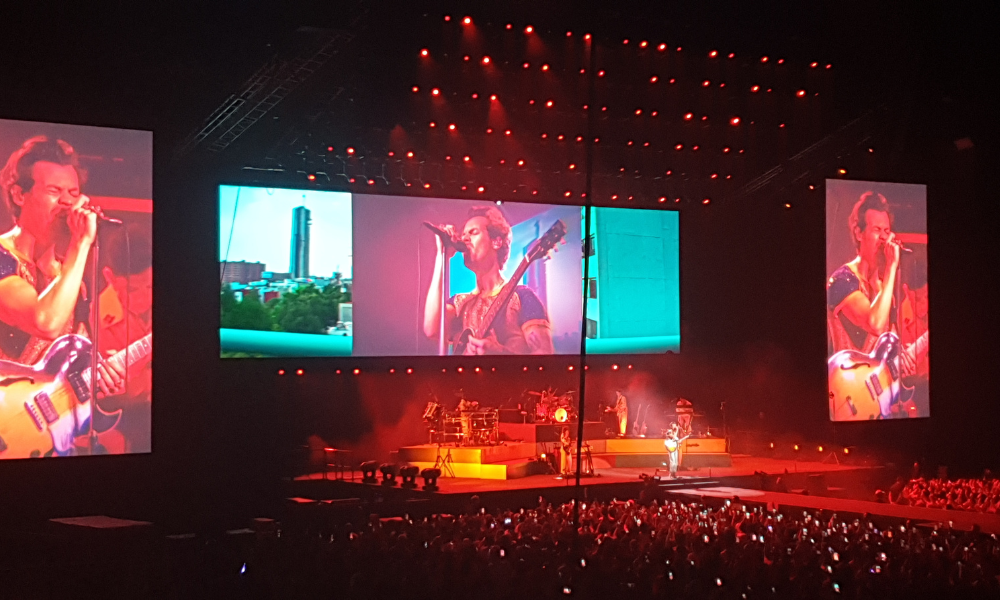 Lots of screaming to every word, dancing even to the mellow tracks, and being in a place where you feel safe to be your true self — this is what live shows should be like, and it's exactly what Harry Styles delivered.
Colorful clothes triumphed at the Philippine Arena in Bulacan on Tuesday, with pink and glitter being the top looks. But in the crowd were banana costumes and wedding dresses, feather boas, cowboy hats, and pearl necklaces, with a peppering of Pride flags and fan signs for Harry to read. Everybody expressed who they are but also made sure to pay tribute to Harry's aesthetic.
While waiting for Harry, Queen's "Bohemian Rhapsody" as well as some Harry songs kept the crowd fired up for the night.
The band entered the multi-colored stage in all-white pantsuits to the fans' screams, and then finally at 8pm on the dot, Harry appeared before the sold-out arena looking every bit the rockstar that he is: A sparkly athletic shirt, light blue leather bell bottoms, green sneakers and lots of pizzazz.
Everybody's beloved Harold started the show with "Music for a Sushi Restaurant," the opening track of his Grammy award-winning album "Harry's House," which got everybody singing along — and unable to hear the English singer.
"Maraming salamat, Philippines! Are you ready?" Harry yelled to the crowd after getting his guitar for "Golden."
He then went quiet and sang "Adore You," but not before greeting the audience.
A recurring event throughout the night: Harry letting fans sing, especially during the bridge or final chorus of the song. And it's exactly during one of these episodes when one of the night's most memorable moment took place.
When everybody sang along "Just Let Me Adore You," Harry answered, "Okay," with that charming smile of his.
Harry went to the middle of the stage, nearest the audience to wave and give flying kisses, before walking back to the main stage and giving the night's first touching talk.
Harry thanked the audience for having him and the band back after five years.
"Our job tonight is going to be to try and entertain you, I give you my word," Harry told his fans.
"Your job this evening is to have as much fun as you possibly can. You can sing, you can dance," he said.
"Please feel free to be whoever it is you always wanted to be in this room tonight," Harry added.
"We're gonna have some fun, we're gonna do it together. Are you ready?"
Harry then sings "Keep Driving," and gets his guitar again for "Daylight," where he grooves a bit.
When Harry introduces the next song "as special to me," everyone knew what was coming: the fan-favorite and cry anthem, "Matilda."
The crowd, which included Kapuso stars Gabbi Garcia and Khalil Ramos, Mavy Legaspi and Kyline Alcantara, and Mikee Quintos and Paul Salas, went quiet. Phones were put down, as fans continued to sway and whisper the lyrics.
It's safe to say that there was not a dry eye in the house. In a tear-jerking moment, Harry let everyone sing the final most emotional lines.
Harry and his guitarists continue the mellow energy with "Little Freak," before he got the crowd jumping again to "Satellite." Along with the audience, Harry also rocked out to the song's guitar solo.
Taking a break from performing, Harry reads some fans' signs, including one who proposed to Harry. "I feel like maybe we should get to know each other first," he replied before flying her kiss, calling her "a wonderful person" and saying he is very happy to have her at the show.
Harry read another sign from a woman who said her boyfriend will propose if he and Harry would sing a duet. Lo and behold, Harry and the boyfriend sang a quick version of "Sign of the Times," with Harry changing the lyrics to include the woman's name.
They're getting married! Her boyfriend just performed Sign of the Times with Harry Styles. #HarryStylesinPH #LoveOnTourPH by @livenationph pic.twitter.com/iXHhi4SDMY

— Philippine Concerts (@philconcerts) March 14, 2023
During "Cinema," a fan threw him a pink cowboy hat which he placed on his mic stand. By the song's bridge, everyone was dancing, hands up in the air. What a delight.
In what felt like a party, a fan threw a Pride rainbow flag, which was a fitting moment as Harry danced with it during "Treat People with Kindness."
Harry then sang "What Makes You Beautiful," which got both Directioners and newer fans go wild.
Harry danced with his band a lot, took the time to introduce them, and went into "Late Night Talking" which was extended for more fan singing.
The lights get turned off, and once they're on again with no time to breathe, Harry goes straight into "Watermelon Sugar." Harry danced to the fans' singing the bridge.
Before "Love of My Life," Harry took some quick time to say happy birthday to those who attended on their special day and again thanked fans for coming. People sang to him, "baby, you are the love of my life."
After this, Harry said, "Mahal ko kayo, Philippines. Maraming salamat!" and leaves the stage.
"Mahal ko kayong lahat, maraming salamat Philippines!" Harry Styles #LoveOnTourPH #HarryStylesinPH @livenationph #harrystyles #LoveOnTour pic.twitter.com/HrgP80U23l

— Philippine Concerts (@philconcerts) March 14, 2023
When the crowd chanted "Harry," the rockstar acquiesced, going back on stage with a spotlight on him for "Sign of the Times." He sings his megahit with all he's got.
Toward the end of the two-hour show, Harry gave more heartwarming words.
"You've been absolutely wonderful to us. Thank you for such a warm, warm welcome back to the Philippines. It's been so, so amazing being with you," Harry said, thanking the whole crew for bringing the concert to life.
"I'm gonna give you some more music, and you'll be free to do whatever it is you want to do with the rest of your week," he said.
When fans said they didn't want to leave yet, Harry replied, "That's a good thing. You can do whatever you want. You can go anywhere. You can do anything."
"I promise this is a good thing," he giggled.
Before ending the night, Harry treated fans to "Banana Song," which he sings to those dressed in banana costumes.
Harry called the crowd "unbelievable," and tells them, "Please look out for each other, get home safely. Move out into the world. I love you. I can't wait to see you again next time, good night."
It's not over yet, because the line "Come on Harry, we want to say good night to you," plays. The artist goes silent to let the crowd sing, "Harry, you're no good alone."
In the extended outro of "As It Was," he throws water to fans and plays with his band by controlling the music with his hands like a conductor.
Fans did not want to leave without hearing this last song, and chanted "Kiwi."
Harry dives headfirst into the song, while the crowd is still high on "As It Was." He dances a lot, throws more water, and waves the Pride flag again to the front.
Harry waves to fans and leaves the stage before the band finishes playing. It was an effective way to leave them wanting more, but hopefully, it wouldn't take as long as five years the next time around. — LA, GMA Integrated News