Lifestyle
BRAND TALK
The City of Manila launches Kolek Kilo Kita to address plastic waste issue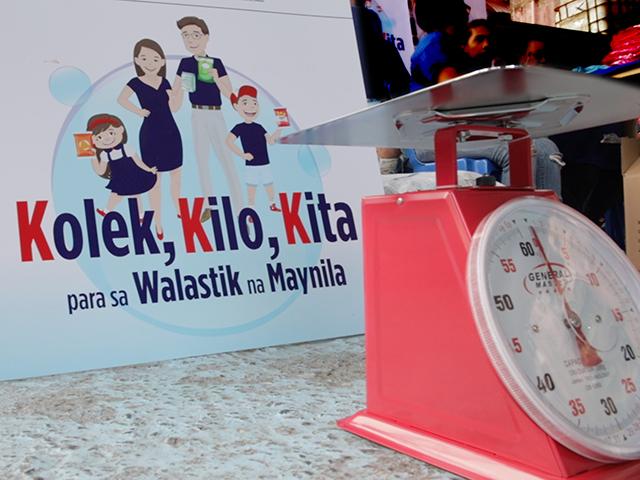 Plastic pollution has become one of the most pressing environmental issues. It is most observable in some developing Asian and African countries where garbage collection systems are disorganized and ineffective. The Philippines is included in the list of countries with the most mismanaged plastic wastes, even making it to the top 5.
To address this alarming problem, the local government of Manila, together with Unilever Philippines, launched last October 26, 2019 "Kolek Kilo Kita para sa Walastik na Maynila." It is an extensive program that seeks to improve the city's plastic waste management and aid in providing livelihood programs through incentivized waste segregation and collection.
For the longest time, the 43-year old Yolanda Cadilo, a resident of Brgy. 128 Zone 10, Balut, Tondo, Manila, has no means of properly disposing garbage such as food scraps, household waste, and most especially plastic. "Dati, kung saan-saan lamang po kami nagtatapon ng basura," said Yolanda when asked how they manage their garbage. "Sa tabi-tabi lamang po, ganoon." For Yolanda and their community in Manila, proper waste disposal is non-existent. This dilemma is also shared by the rest of the developing world.
"Waste is a widespread problem that requires everyone's full cooperation. We started by cleaning our streets and now we have a program that begins in households. To persuade everyone to participate, the City of Manila has partnered with several companies such as Unilever Philippines, CEMEX, Republic Cement, together with the Pasig River Rehabilitation Center (PRRC), to start our first and widest incentivized waste collection program for flexible plastic waste," stated Manila Mayor Isko Moreno.
By visiting households, barangay officials and volunteers can inform residents about proper garbage segregation that entails soft plastics to be set aside, cleaned, and dried before shredding. From this, they can receive 10 pesos worth of Unilever products for every kilogram of plastic waste. This is closely patterned after Unilever's own Misis Walastik program now present in over 370 barangays in Metro Manila and nearby provinces.
"The City of Manila has been our home for almost a century. Our Misis Walastik program has been running for almost a decade. These underscore our commitment to the City of Manila and our drive to make sustainable living accessible to our communities," said Benjie Yap, Chairman of Unilever Philippines.
The collected plastics are then co-processed at Cemex and Republic Cement factories to be reused as alternative materials for making cement. Cement is the key material in construction for different housing and infrastructure needs. The traditional fuels used in cement kilns include coal, oil, petroleum, and natural gas.
Since excessive usage of these fuels proved to be harmful to the environment, the utilization of alternative fuels in the cement industry has been explored. Included here is the usage of refused derived fuel (RDF). RDF is produced from domestic and business wastes such as plastics. Using this in cement production is an economically sustainable and practical option to minimize fuel costs and landfill disposals.
The program will begin in 36 barangays in Tondo and Punta, Sta. Ana before it expands more areas near Pasig River tributaries and other waterways.
Now, Yolanda and other residents of Manila will be a part of a movement that will change the city for the better.
Brand Talk partners with the advertisers of GMA Network to create content valuable to its audience.