Filtered By: Lifestyle
Lifestyle
Ahn Bo Hyun says he was 'so impressed' with Han So Hee after meeting her for first time in action school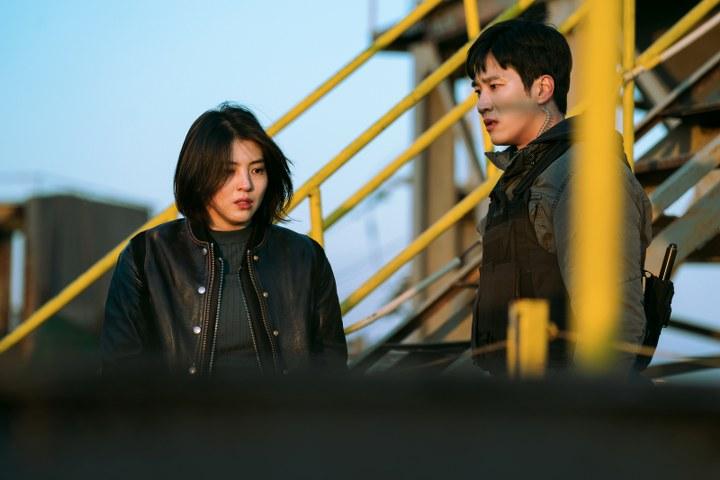 Rising South Korean actress Han So Hee doesn't just know how to twist people's hearts, she also knows how to bend people's arms and throw knockout punches!
During the press conference for "My Name" on Tuesday, Ahn Bo Hyun revealed that he was "so impressed" with So Hee after they met for the first time in action school in preparation for their demanding roles on "My Name."
"When I met her for the first time, it wasn't for script reading. It was for action school and I saw her training really hard and breaking a sweat and I was so impressed by that because she's so passionate," said the "Itaewon Class" actor.
"We had scenes together filled with action sequences and because of so much practice that went into it before shooting, that helped create the chemistry we had. Thanks to So Hee, we were able to create great scenes and memories together."
Meanwhile, So Hee revealed that she was a little bit afraid of Bo Hyun before they met "because of his character" but things changed when they started to train together.
"He really helped me stay focused ... and because he has experience in working out for quite a long time, he gave us a lot of great advice," she said.
According to director Kim Jin Min, the cast underwent a lot of practice and training for the series because it was heavy with action. He shared that 99% of the scenes were done by the cast members themselves.
The revenge series "My Name" revolves around a woman named Ji Woo (Han So Hee) who lost her father at an early age and is bent on finding vengeance.
Ji Woo, Han So Hee's character, gives up her name and her future to capture her father's killer. She enlists the help of the largest drug cartel's leader and penetrates the police force under a different name.
Meanwhile, Bo Hyun plays the star of a drug investigation unit who is determined to wipe out a drug cartel.
Also featuring Park Hee Soon, Kim Sang Ho, Lee Hak Ju and Jang Yull, "My Name" is set to premiere on Oct. 15 exclusively on Netflix. – RC, GMA News