Filtered By: Lifestyle
Lifestyle
#KomiksVSKomikeros: Pinoy comics creators pose with their art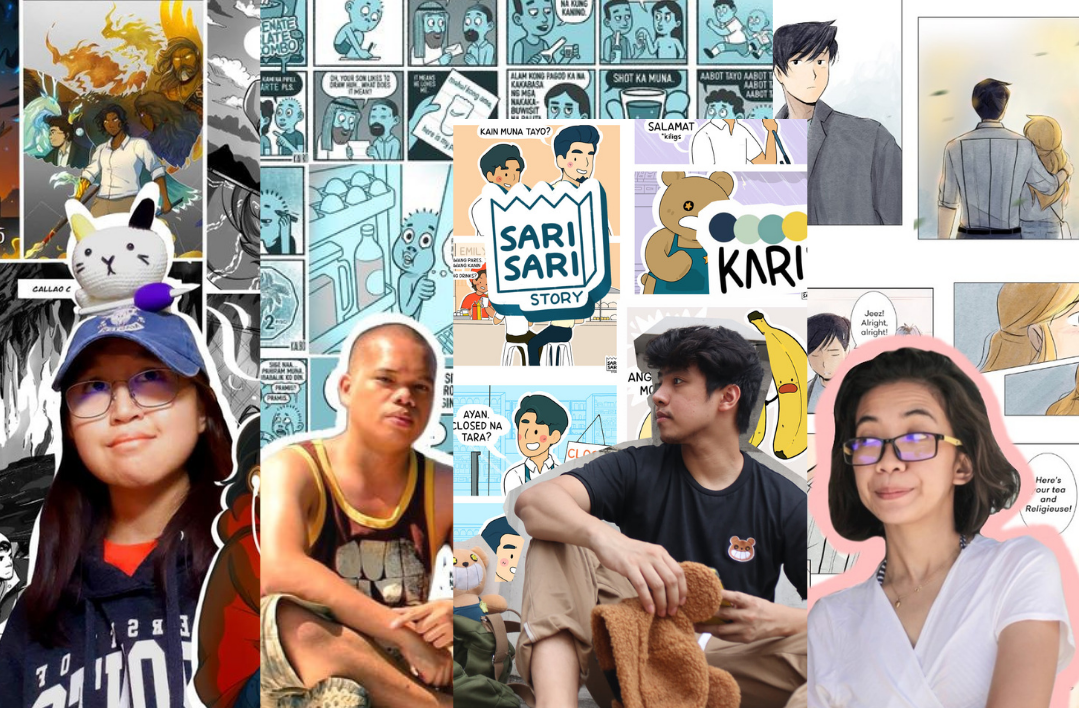 Meet the artist behind the art!
Since last week, Pinoy creatives have been sharing photos of themselves cropped into their own komiks, leaving many netizens delighted to "see" their favorite komikeros for the first time.
Using the "Komiks VS Komikeros" hashtag, local creators Mikomiks and Bokimkatje Komiks posted the first entries, saying they were inspired after seeing a post that showcased the writers and illustrators of Japanese manga.
The challenge quickly caught on with many other komikeros.
Just hours after the initial posts, even the artist behind Tarantadong Kalbo, Kevin Eric Raymundo, shared a photo of himself, overlayed on his satirical cartoons.
????? #KomiksVSKomikeros pic.twitter.com/1s2Q2ktvkL

— Tarantadong Kalbo (@KevinKalbo) October 20, 2021
Illustrator and comic creator Rob Cham also joined in, with panels of his silent comics in the background.
saw the #KomiksVSKomikerosChallenge started by bokimkatje komiks and mikokomiks and thought it would be fun to join in. #KomiksVSKomikeros pic.twitter.com/2AUeFT0mWM

— ???? qo? (@robcham) October 20, 2021
"I was really surprised and happy at how many artists joined in this challenge." said Lady Storykeeper of Bokimkatje Komiks, who works as an art teacher in Quezon City.
"Not only was it fun to do but it shows the progress and accomplishments each komik artists have made," she shared with GMA News Online.
"[The challenge] reminded me on why I do this. It's my way of communicating my story to the world, it's my go-to expression, it's how I share the feeling I want other people to feel," said Mikomiks' Miko Fernando, who works in Batangas City as a comic artist for hire.
As of posting, komikero group Kalabaw Kolektib's compilation of over 50 entries have been shared 2,045 times.
And in a nod of approval, even the estate of the late Tony Velasquez made an entry on behalf of the Father of Tagalog Komiks himself!
"KomiksVsKomikeros is not complete without the Father of Tagalog Komiks, Mr. Tony Velasquez! We are celebrating Kenkoy's creator's 111th birth anniversary today!" posted Velasquez's family this Friday.
View some of the entries below!
– RC, GMA News