Filtered By: Lifestyle
Lifestyle
The flowers in Dangwa may have dried up during lockdown, but the market is blooming again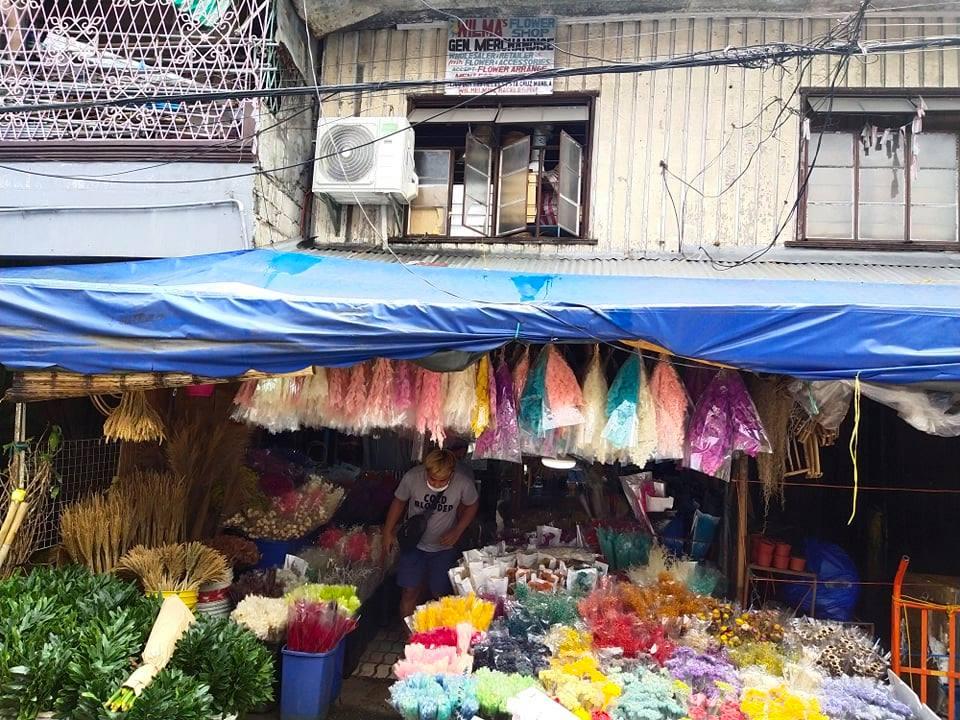 When quarantine restrictions were imposed in Metro Manila last March, everything was brought to a standstill. Travel and events were postponed, if not cancelled all together. People were relegated to their homes. Suppliers were suddenly out of jobs, and places like Dangwa were suddenly out of business.
"Sa amin pong tindera dito sa Dangwa, malaki ang nagging epekto ng COVID-19. Naging matumal [ang benta]. Maraming store ang nagsara dahil hindi na kayang umupa," said Chai Raceles, a co-owner of Wilma's Flower Shop.
Her store, which has been blooming in the heart of Dangwa for more than two decades, is deeply rooted in the practices of the industry. And the COVID-19 pandemic managed to snatch its bloom in a snap.
But Chai kept their store open all throughout the lockdown. The first few weeks of quarantine saw them selling food right in front of their flower shop. But their earnings could hardly cover all the expenses. Soon, they ventured into online selling, and quickly, they caught a whiff of a brand new trend that could put all their floral expertise to good use.
As more and more people accepted their home-bound status, the demand for dried flowers went up. In August, a lot of were looking to redecorate their homes, and they turned to dried flowers for that.
Seeing the opportunity, Chai ordered dried flowers, instead of the usual fresh blooms, and sold them online. It proved a hit. "Dahil nag-click ito [dried floweres] sa aming pago-online selling, unti-unti naming naaayos an gaming shop at naipo-provide na nito ang mga pangangailangan namin."
Pre-pandemic, she would get 20 boxes of fresh flowers from her suppliers but with the shift in demand, her orders are now 95% dried flowers. Wilma's Flower Shop now offers a variety of dried flowers ranging from P300 to P1,000 a bunch and their business is back in bloom.
Freelance florist Rheno Arcibal picked up on the same trend. He is among Dangwa's successful florists, styling weddings and anniversaries with his floral arrangements. Business was doing great for Rheno but come the pandemic, all he had were wilted flowers and canceled gigs.
With a lot of time in his hands, he turned to online to showcase his skills. Soon, he was able to get clients who would ask him to arrange flowers for intimate weddings, personal gifts, and even for funeral services.
In early August, he noticed a change. Most of his clients began asking about dried flower bouquets. Not one to miss an opportunity, he began arranging dried flowers, going the extra mile of designing vases out of scraps, like empty liquor bottles.
His clients would gladly pay up to P2,000 for his dried flower bouquets, which for him is a sign of things getting better: If during pandemic, there were people willing to pay up to P2,000 for dried flowers, then things aren't as bad as they seem.
Dangwa is slowly waking up — or rather, blooming into another, perhaps better season. Market regular Vin Orias noticed how things now are picking up at the popular flower market.
In the beginning of quarantine, Vin says, Dangwa became something of a wet market, with flower vendors clumsily trying their hand a selling a myriad of things. These days however, its natural groove seemed to have returned, thanks to this new trend.
Most flower shops are bouncing back with displays of various types of dried flowers. And in almost every corner of Dangwa, they are there: fitting reminders that in life as in nature, there is a season for everything.
And that nature will always, always find a way. — LA, GMA News