Filtered By: Lifestyle
Lifestyle
SB19 on redefining gender stereotypes in fashion: 'Wear what makes you feel comfortable and confident'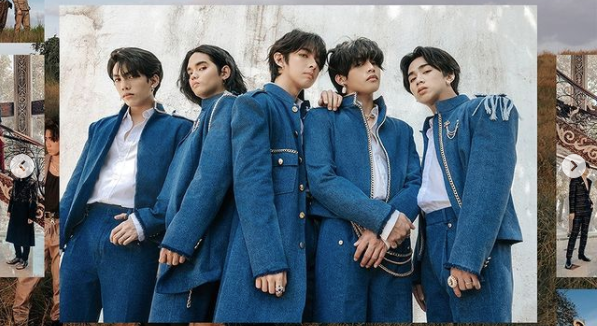 Dressing up is a form of self-expression and SB19 members Justin, Stell, Josh, Ken, and Pablo know how to embrace it.
Despite gender stereotypes when it comes to fashion, the highly successful P-Pop group thinks people shouldn't limit themselves to the clothes they wear just to appear normal.
"Minsan, kino-close lang natin 'yung mind natin about those things. Nagiging gusto natin — sinasabi dito, ang norm, ganito lang dapat, ganyan lang dapat. Pero kami, iniisip namin bakit tayo magkakaron ng limitations? Bakit natin ili-limit yung sarili natin sa kailangan isuot para maging normal ka?" Josh told GMA News Online in a press conference for their upcoming EP release "Pagsibol."
[Sometimes, we close our minds about those things. It becomes — when norms say, you should only dress this way or that why. But we're thinking, why should we have limitations? What should we limit ourselves to what is acceptable just to be considered 'normal?']
"You can be creative, and go beyond what you're used to, or what you see others wear. We're considered to be in the modern age, right?" He added in Filipino.
According to Josh, SB19's fashion isn't so out of the ordinary, as there are a lot of people dressing up the way they do.
"Minsan, nata-tag kami na gaya-gaya or na-ano kami na K-pop, pero sa totoo lang, hindi naman. Kasi all over the world, ginagawa na siya," he added.
[Sometimes, we're tagged as K-pop copycats but it's not accurate because all over the world, people dress up this way.]
"Sana po magbago yung ganong klaseng mindset dito," Josh said, adding they'd love to be able to encourage others to express themselves through fashion.
Pablo agreed saying the message they really want to be able to get across is for people to "wear what makes you feel comfortable and confident."
"What you see us wearing, that's what makes us most confident," he added in Filipino.
Meanwhile, Stell thinks this is the right time to be open to these things.
"The world is changing so bakit hindi ka magbago ng pananaw mo sa buhay," he added.
[The word is changing so why shouldn't your mindset change?]
Stell additionally said, "bakit natin pipigilan yung tao maging masaya and maging komportable sa gusto niya 'di ba?"
[Why won't you allow others to be happy and comfortable about what they like?]
"Kung ikaw nga, malaya ka nakakapagsuot ng gusto mo so bakit ikaw hindi mo hayaan yung ibang tao suotin yung gusto nila kung doon sila masaya, 'di ba po?" he added.
[If you're happy about how you dress up, why won't you let others dress the way that makes them happy?]
According to Stell, they want to be comfortable and confident whenever they perform. They want to wear clothes that will help them give their best performance to their audience.
"'Pag nagpe-perform kami gusto namin comfortable kami doon sa suot namin. 'Yung feeling namin madadala namin ng maayos 'yung sarili namin and feeling namin na mas mape-present namin yung sarili namin sa audience ng maayos," he said.
SB19's EP "Pagsibol" drops on Spotify Thursday, July 22.
SB19 recently made history after they were nominated for Top Social Artist at the Billboard Music Awards (BBMA) 2021, the first Filipino act to do so.
SB19 also became Rolling Stone's next guest on Twitch. The American music and pop culture magazine earlier announced on Twitter that the Pinoy boy band will be joining as a guest at 11 a.m. (ET).
The Pinoy boy group is also currently preparing for their virtual concert "Back in the Zone" set to happen on August 1. — LA, GMA News