Filtered By: Lifestyle
Lifestyle
Voluntourists to rebuild the Batad Rice Terraces
After "Ondoy," "Pepeng," and "Sendong," the whole country knows how devastating and difficult it is to pick up the pieces after a natural disaster. We've also witnessed how the Filipino practice of bayanihan can make a big difference.
This February, a group of volunteer photographers will embark on a long-term project which aims to save a living heritage by restoring the Batad Rice Terraces, which were damaged in a series of typhoons.
A project of Photography With a Difference (PWD), "Batad Rice Terraces: Saving a Living Heritage" aims to repair the damage to several paddies, which were left parched and unutilized after landslides damaged the irrigation canals in one section of the terraces in Barangay Batad.
The Batad Rice Terraces were declared a World Heritage Site in 1995. But climate change and natural calamities have placed the rice terraces in danger.
Apart from no longer providing the Ifugaos a source of sustenance and livelihood, there is still the danger of rocks and debris further eroding down to the village, which is home to 25 families.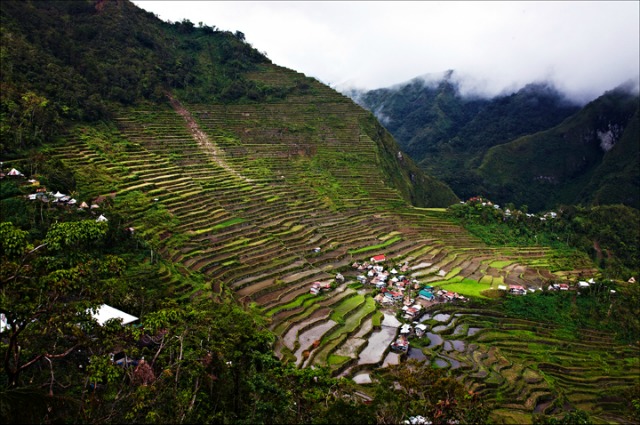 This photo was taken last November 26, 2011. The typhoons Pedring and Quiel caused huge damages to the Ifugao Province, destroying roads and bridges. In this Village of Batad, the typhoon caused this huge landslide on top of the stone terraces.
PWD observes that the spirit of cooperation called bachang or ubbo, which was the driving force when the terraces were first built, is either gone or has been buried in the natives' consciousness.
"Rice field owners are not moving to repair the damage, even if they lose their means of livelihood and let their heritage slip away. They are waiting for government funds. No one will undertake the work unless they are paid," says project director John Chua.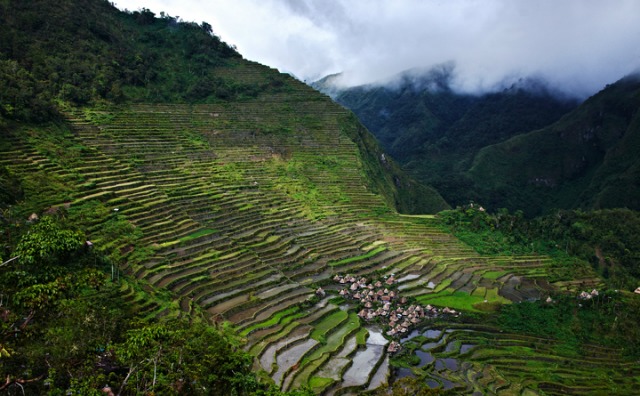 The project aims to make this a reality - the Village of Batad, a living heritage in 2012.
PWD encourages those interested in helping to take part in "voluntourism"—where tourists will help restore the rice terraces under the supervision of local experts, either in part or in full, depending on their availability.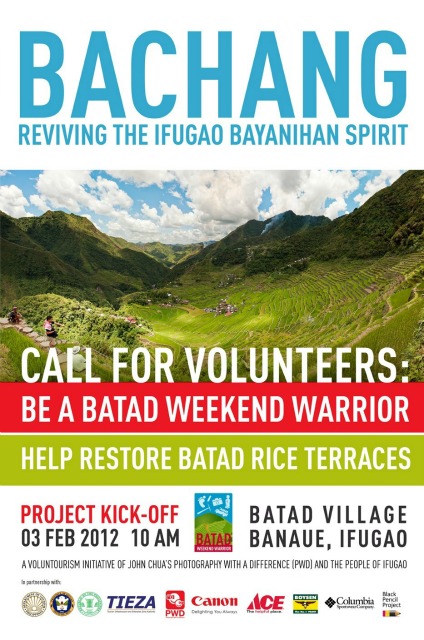 The first batch of voluntourists will head to Batad this February, and includes participants in Photoworld 2012. Among them are photographers from all over the Philippines and nearby ASEAN countries.
Part of the official program is a Banaue Photo Safari scheduled on February 1 and 2. "This will be a great opportunity for the people of Banaue to showcase its culture and people while the visitors marvel at the beauty of the rice terraces. Many of these visitors are from other regions and even other countries and through the power of the Internet they would be able go back to their own homes and share their experiences and promote our cause through their photographs," says Chua.
There will also be a photo contest on the Batad restoration project, where winners will receive prizes as well as have their photos exhibited during the Ifugao Festival Week to be held in SM City Baguio in March 2012.
PWD believes that there is no better way to spread the word about a novel undertaking in a unique setting like Banaue than through photographs.
From February 3 to December 2012, the Batad community will be open to voluntourists, who will not only get to help, but will also have a taste of traditional Ifugao life and culture. The group build requires at least twenty people, and the activity will take at least four hours. A local master builder and a team of farmers will guide the group. Even those without any previous experience can join, as long as they are willing to learn, and can do the one and a half-hour trek to reach the rice terraces.
Instead of participatory fees, voluntourists will donate farming tools like shovels, spades, prong hoes, boots, and protective gear. Cost of travel, accommodation, guide and the registration fee of P20 will be shouldered by the voluntourist.
Special arrangements for group builds can be arranged with the Batad Community through the Barangay Council in Batad Village and/or the Banaue Tourism Information Center (074 386 4010/ 09294692138 Jane Mateo) at Banaue town proper. –KG, GMA News
For more information about Bachang and Batad, e-mail batadweekendwarrior@gmail.com.
Photos courtesy of Photography With a Difference