Filtered By: Lifestyle
Lifestyle
Culture, churches and the open road with Bisikleta Iglesia
This Holy Week, biking enthusiasts can embark on a unique spiritual journey by joining the third Bisikleta Iglesia.
A play on "bisikleta"—the Filipino word for bicycle—and Visita Iglesia, the traditional Lenten church visits, Bisikleta Iglesia is both a religious and cultural activity.
"The churches chosen are mostly heritage churches," explains Rock Drilon, who came up with the idea because he had been wanting to do Visita Iglesia, and realized it could be done on a bicycle.
There are many reasons to love biking. For Drilon, he loves the adventure. "It's different discovering and exploring places with a bicycle. (It) keeps me healthy and it brings me to trails a car can't manage. And I think it helps me in my creative process," says the artist and owner of the art gallery Mag:net.
Since Bisikleta Iglesia's first ride in 2010, the bikers visit 14 churches, where they spend ten minutes of prayer at each stop. Drilon says the praying time is personal and spontaneous, but there is a short orientation on how to do it, as consulted with a priest.
On the first year, bikers stopped at churches from the University of the Philippines, Diliman to Paete, covering over 100 kilometers. The following year, bikers visited churches in Ilocos, covering over 90 kilometers from Laoag to Vigan.
This Holy Thursday, Bisikleta Iglesia will be held in Iloilo, where Drilon was born. In previous years, 10 to 15 bikers participated. So far, three have confirmed this year, but Drilon says they're expecting beyond 15 riders, as the event is open to all, including non-bikers.
"The route is established. Some people asked (those who can't bike) if they could use it using car," he shares.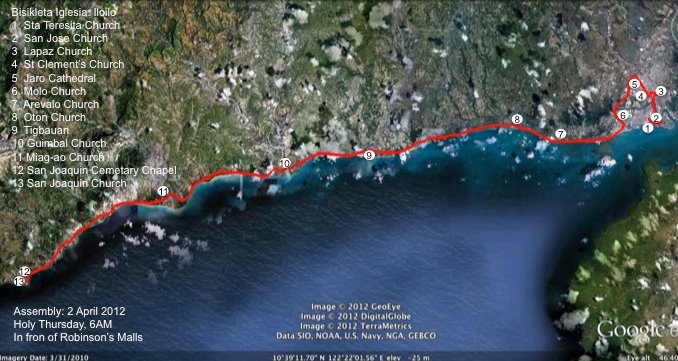 This year's Bisikleta Iglesia will be held in Iloilo.
Just like Drilon's other cultural ride called
ARTbike
, Bisikleta Iglesia is well-organized. "It's planned... Riders can know how far, the approximate time of arrival, and pics and links of the churches are posted. If participation swells, we will have to organize marshals for safety. It's more quiet and contemplative than ARTbikes for obvious reasons," says Drilon.
Asked if this is also a way of promoting green transport, Drilon says that's a given whenever you have group rides that aren't sports events. "It's just another way to integrate biking with what we do: bike to lunch, bike to work, bike to market, bike to do gallery hopping (ARTbike), et cetera," he says.
Iloilo route: 14 churches, 65 kilometers
He says that unlike usual bike trips, Bisikleta Iglesia is not that difficult. "It stops 14 times," he says, adding that the Iloilo route covers approximately 65 kilometers.
The stops in this year's Bisikleta Iglesia are as follows:
Sta. Teresita Church;
San Jose Church;
Lapaz Church;
St. Clement's Church;
Jaro Cathedral;
Molo Church;
Arevalo Church;
Oton Church;
the Old Oton Church ruins;
Tigbauan Church;
Guimbal Church;
Miag-ao Church;
San Joaquin Cemetery Chapel; and
San Joaquin Church.
Assembly time is at 6 a.m. on Holy Thursday, April 5, in front of Robinsons Malls. People usually bring their own bikes, but it's also possible to rent in Iloilo.
For Manila residents who won't be able to join the ride in Iloilo, Drilon suggests visiting Ilocos churches, with Vigan as the last stop.
Last year, the Bisikleta Iglesia 92.28-kilometer ride began at St. William Cathedral, followed by San Nicolas Church, Batac Church, Paoay Church, Remedios Chapel, Badoc Church, Sinait Church, Cabugao Church, St. William the Hermit Church, St. Dominic Church, Shrine of Our Lady of Charity, St. Paul Cathedral, and Simbahan a Bassit in Vigan. The Nuestra Senora de la Asuncion Church was included by transport from Manila to Laoag.
"While Bisikleta Iglesia is a religious undertaking, participants won't be able to escape the event's cultural component, because of the beauty of the churches. Most of them are heritage sites and considered living witnesses of our local and national history.
"For the Oton stop there will be special prayers by the ruins for the once majestic Oton Church to be rebuilt in the future," Drilon says on his Facebook page, where he also posts photos of some of the churches that will be visited. –KG, GMA News