Filtered By: Lifestyle
Lifestyle
A day on Montmartre's hill
We were on a bus heading to Montmartre when our tour guide pointed to the Moulin Rouge. Before we could digest the information or take any photos, the bus had moved forward and our guide proceeded to explain how we would get to the Sacre Coeur basilica. No one complained. We were, after all, on a pilgrimage, so visiting the area which was once the center of artists in Paris was just a bonus.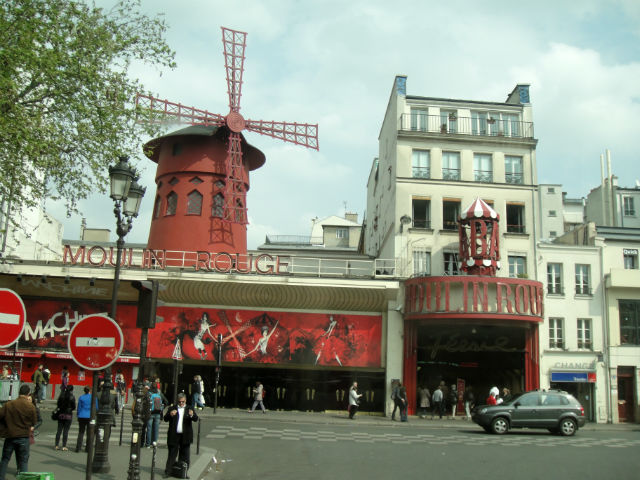 The Moulin Rouge at the foot of Montmartre Hill.
Our bus stopped to let us off, and then we were on our way. As we climbed up the hill, the roads were replaced by narrow streets lined with small shops selling souvenir items from scarves to keychains, and it only got more and more crowded as we neared the top. It reminded us of Greenhills in Manila, except it was a lot colder and the vendors didn't say "Ma'am, Sir" as if everyone were androgynous.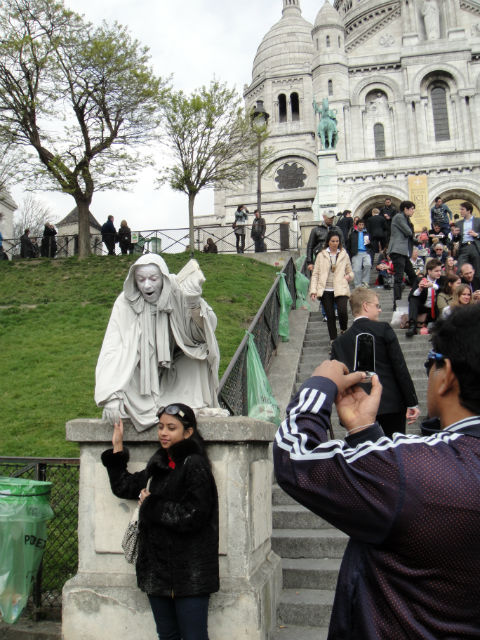 A mime balances by the steps of Sacre Coeur basilica.
The basilica sparkled and shone on top of the hill, but to get there we had to squeeze through several groups of noisy tourists. We could harldy see the steps with all the people who were sitting for what looked like a big picnic. Some had bottles of beer, while others were busy picture-taking. A mime balanced on one of the posts, while a young man exhibited his skills with a basketball on another post. Everyone had his back to the basilica, and when we looked at what the people were facing, we couldn't blame them.
Although the basilica is impressive, with Roman architecture that took more than four decades to complete, it was nothing compared to the view of Paris.
On one corner, a small group of musicians was setting up to play by a fountain. Our guide struggled to gather us all together, which he managed to do after a few minutes. It wasn't easy, since the group had split up on the way up. The young (and young at heart) took the steps, while others chose to ride the Funiculaire de Montmartre. Also, everyone kept gravitating toward the various shops to look at the souvenirs.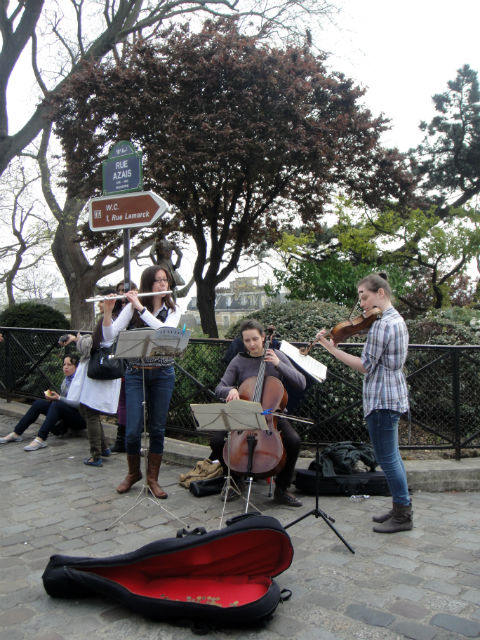 Musicians performing on the street corner.
When the group had reassembled in front of the basilica, our guide told us that talking was not allowed inside, but he would signal us when we got to the statue of St. Peter. "Make sure to look at his foot," our guide said, explaining that many people would rub the statue's foot, supposedly for luck.
As we entered the basilica, it was as if the world outside didn't exist. As soon as we went through the heavy doors, everything became quiet and dark, and the only sounds were the echoes of footsteps and the occasional cough. The only thing that broke the spell was a souvenir shop inside the church, where tourists bought religious items.
We left the church and went back out into the crowd. We were given a couple of hours for lunch and a bit of shopping, which most of us decided to do simultaneously. We bought sandwiches to eat while walking around, which was quite difficult to do because the sandwiches were 12 inches long. But we were in Montmartre, and there were a lot more things to do than worry about getting crumbs all over our clothes.
Artists' haven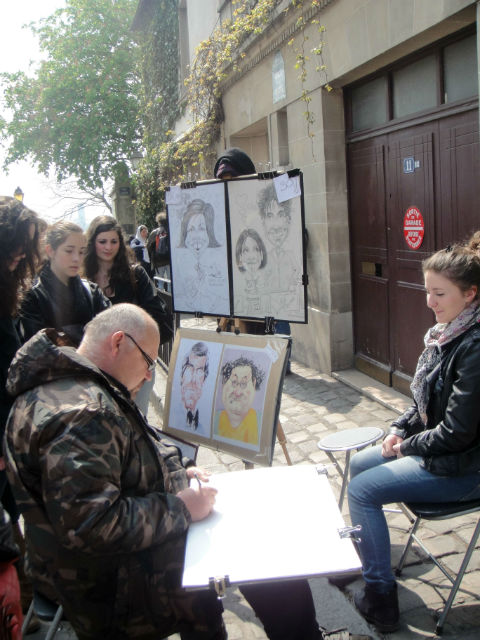 Having yourself caricatured is a popular activity in Montmartre.
Montmartre is where artists like Picasso and Van Gogh used to live and work, and is also home to the first bistro in 1814. The place still has a bohemian vibe, despite everything being commercialized. In the artists' square, painters sit all day, doing portraits. Most are extremely aggressive, and will approach you and say they'll draw you for a "special price." Before you even agree, they will start drawing. Unless you're prepared to pay as much as 30 euros, it's best to shake your head and walk away. They will most likely follow you for a bit, but they'll eventually find another target.

It would have been lovely to watch the artists at work, but it was impossible to do in peace, because almost all of them would offer to do our portraits.

Eventually we decided to wander off one of the less crowded streets, which led to the Espace Dali, a museum featuring the works of the surrealist artist.

Before we could find the museum, a group of chocolate-skinned, dark-eyed young girls approached us. One gestured to a sheet of paper with signatures, under the heading of an organization for the deaf and dumb. One kept kissing her hands and then touching our cheeks, while another gestured to the paper, handing us a pen.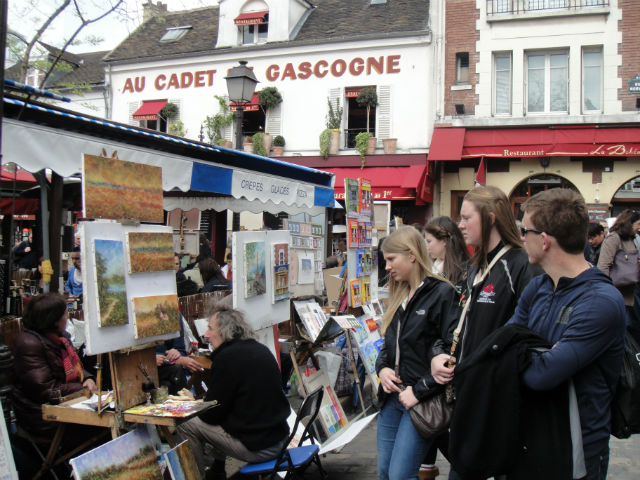 Montmartre still has a bohemian vibe, despite everything being commercialized.

Thinking it would do no harm to sign a petition (silly idea number one), we signed our names. Suddenly they became very upset, gesturing angrily at our pockets. Thinking we could give them a few euros (silly idea number two), we gave them some coins. This only made them angrier. "No, no. Ten euros!" they demanded. Frustrated, we turned back and wondered if there was anywhere on the hill where we would be safe from people trying to get our money, which really wasn't much.

It's true that Paris is one of the most expensive cities to live in, but you can still survive on a reasonable budget. For instance, a sandwich might cost 4 euros (more than P200), but it's big enough for two or three people to share. As far as souvenirs go, postcards can be bought at one euro each, and T-shirts at around 10 euros. In between you have the usual gift items - magnets, keychains, hats, notebooks and pens. The shops sell more or less the same things, but there are a couple of Sympa stores that sell clothes for one euro, ukay-ukay style, in huge bins.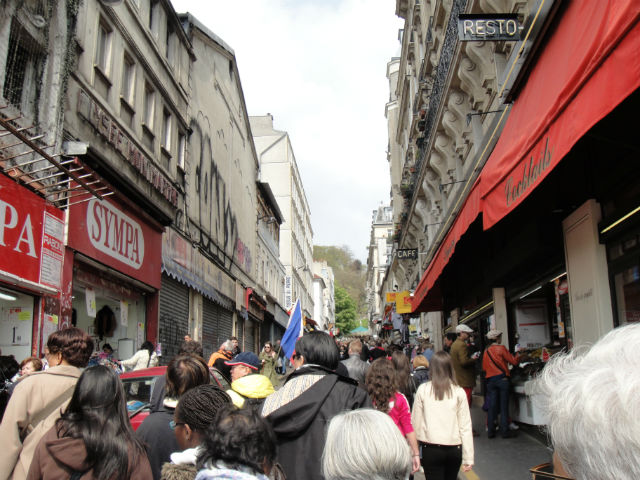 Tourists and pilgrims stop to look at souvenirs as they climb up Montmartre Hill.
Only after we left did we realize that we had failed to find the cafe in Amelie, Les Deux Moulins, as well as Bateau Lavoire, where Picasso's studio was. There is also the Marche St. Pierre, which supposedly carries every type of fabric imaginable. Those, as well as Espace Dali and all the other sights we failed to see, we would have to visit another time.
—
KG, GMA News