Filtered By: Lifestyle
Lifestyle
In the middle of our pilgrimage, we had 24 hours to see Paris. One of the first things we noticed about the city was there was a lot of trash on the sidewalks. It felt a lot like being in Manila, with plenty of cigarette butts on the ground. Except it was a lot colder, and there were unusual items in the trash bags, like piles of escargot shells.
As it turned out, escargot was our first taste of the city. At a small restaurant called IT Place, we were served plates of the cooked land snails, drizzled with garlic butter and parsley. Some of us stared at the appetizer for quite some time before finally trying the dish, while others enthusiastically dug in. "It's just like kuhol," one of us pointed out.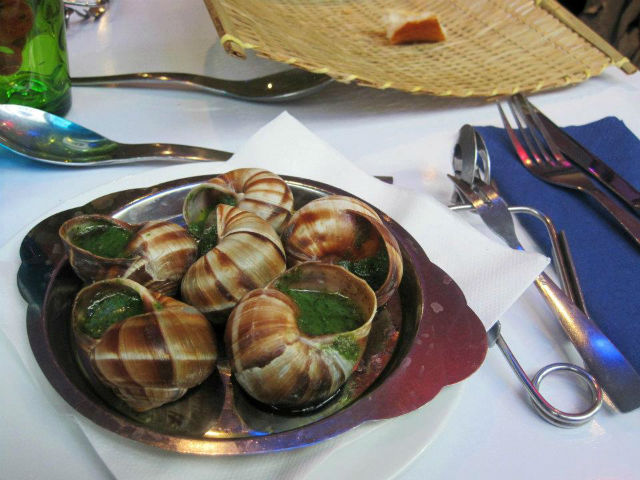 Escargot drizzled with garlic butter and parsley Photo by Isa Abrera
Being a pretty faithful vegetarian, I decided that snails were a grey area, at least for this trip. I had ignored several steaks for the past few days, so I thought it was time for a bit of adventure and rule-breaking.
That night, our photographer friend named Pierre went to our hotel to pick us up. There was just one problem—he couldn't remember where he parked. We walked around for a few minutes before we finally found the car. "Maybe you are lost," a friendly Parisian man said to us. "We're not lost, thanks. The car is lost," we laughed.
We didn't mind the delay. We were every bit the starry-eyed travelers—everything was wonderful to us. There was no denying this later on, when we reviewed our pictures and saw we had let nothing go undocumented, not even a bus stop with sparkling lights.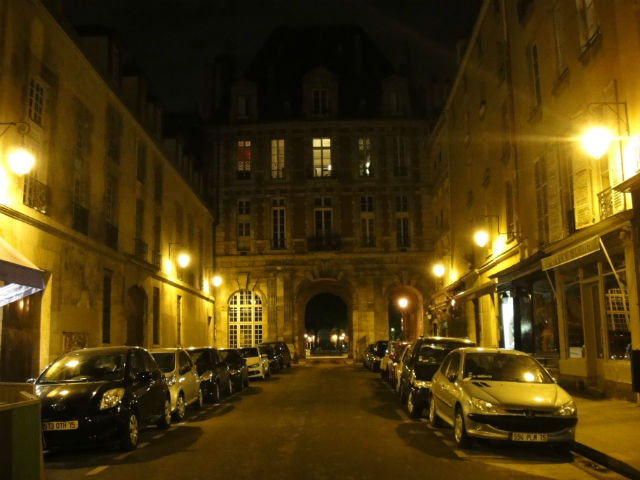 Place des Vosges, where Victor Hugo lived and wrote in the 1800s.
We drove around the city with the top down, following the Seine River. From the car, Pierre pointed out different spots—the Place de la Bastille monument made with pieces of the fortress, which was destroyed during the French Revolution in 1789 and 1790; the Louvre pyramid; and of course, that great big iron structure that people line up for hours to climb.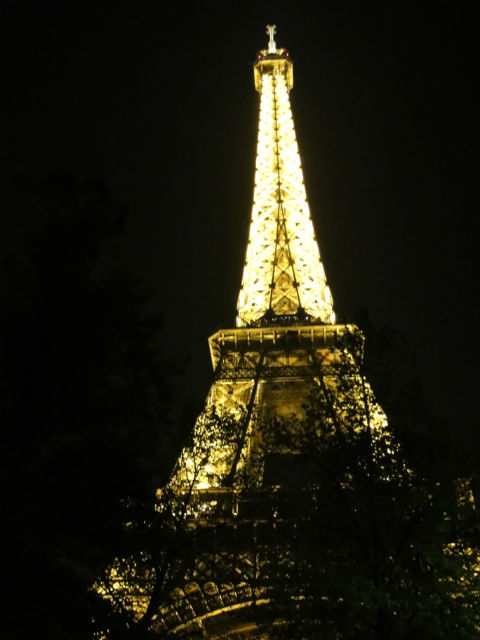 The Eiffel Tower is impossible to ignore, especially at night.
Built in 1889 as a gateway to the Exposition Universelle, the Eiffel Tower was not very popular with the locals then, and some Parisians still don't like it today. It is, of course, impossible to ignore, especially when it twinkles at night.
We walked around Place des Vosges, where a tree-lined courtyard is surrounded by a square of apartments. On one of the posts, a plaque is dedicated to the author Victor Hugo, who used to live there. We looked through the windows of the galleries that occupy the ground floor. We were freezing, but we were in Paris and everything seemed incredibly beautiful, even if all the shops were already closed.
The only shop that was still open was Opera BD on rue des Tournelles. We stepped inside the cozy shop to look at comic books before heading to rue du Lappe, where Parisians gathered before marching on to tear down the Bastille in 1789. Later, the area became a popular night spot, and in the 1930s was filled with dance halls like the Balajo, where Edith Piaf performed.
It was a Friday night when we were there, and the narrow cobbled street was lined with noisy bars filled with smoke, groups hanging out on the curb, men selling roses. Some bars were noisier than others, with bands playing inside and intimidating bouncers standing by the entrance. We found a relatively quiet cafe, and sat at a table outside. Out of habit, we ordered beer, forgetting that we were in Paris and wine was for once, the more affordable option.
We went down a Metro station, the only slow-moving people among the hurrying pedestrians. We saw the glass-walled Opera Bastille and crossed the street to Canal St. Martin, a pleasant picnic spot on sunny days.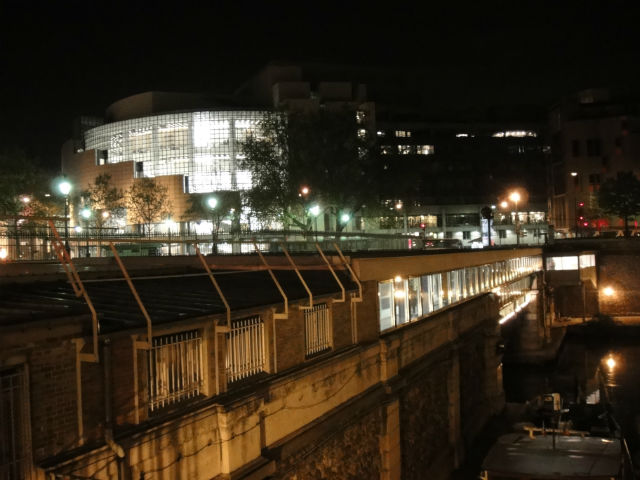 The Opera Bastille across the Canal St. Martin.
Before heading home, we drove down the Champs Elysees, where people used to go to see and be seen. We stopped for a photo in front of the Arc de Triomphe, Napoleon's 19th century tribute to his 'Grande Armee.' We drove by the outdoor market along Boulevard Richard Lenoir, and the Moulin Rouge at the foot of
Montmartre
.
At around two in the morning, we arrived back at our hotel. I realized I had fallen asleep on the ride home, and I couldn't quite tell if we had really gone around Paris or I had just dreamed the entire thing. The next day, we went on a scheduled tour and passed by many of the places we had seen the night before. It felt strange to see the city without all the lights. Paris was lovely in the soft daylight, but at night, it was almost magical. –KG, GMA News