Filtered By: Lifestyle
Lifestyle
'Largest rosary' in the world may just be in Tagum in PHL
World records aren't often set in Tagum City in Davao del Norte.
Or maybe people just have better things to do than devote time and effort to breaking the world record for hundreds of couple kissing together.
But tucked away behind the Christ the King Cathedral in Magugpo South sits a huge structure that just might be the biggest of its kind in the world.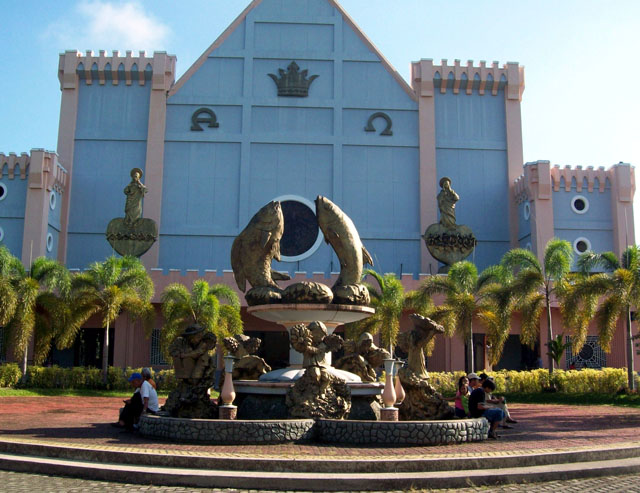 Christ the King Cathedral is home to the 85.5-meter-long rosary.
HOW TO GET THERE
The cathedral is located at the corner of Gonzales Avenue and Sobrecary Street in Magugpo, south of Tagum City. It is 53 kilometers north of Davao City. To get there, take a bus bound for Tagum City. Buses operate 24 hours a day.
An 85.5-meter-long rosary, made of linked beads, lines a pathway going to the giant bronze statue of the Risen Christ.
Tagumeños—as locals from the city are called—are hoping the Guinness Book of World Records would officially recognize it as the world's largest prayer beads.
"We are hoping that it will soon be declared as the largest Roman Catholic rosary in the whole world," said Edwin B. Lasquite, the City Information Officer II.
According to Lasquite, the largest rosary on the record is currently held by a school in Brazil. The 35-meter rosary is made of polished coconuts. In Cairo, Egypt, the School of St. Joseph has a 52.9-meter rosary made of over a million balls of Styrofoam.
In contrast, the beads of the giant rosary in Tagum are made from magcono (iron wood), which is native to the mountains of Davao Oriental and Surigao del Sur. Each bead weighs 35 kilograms; the total weight is 2,815 kilograms.
The giant rosary, which was originally intended as a project of the Knights of Columbus to commemorate the silver anniversary of the Catholic diocese of Tagum City in 2005, is just one of the attractions of Christ the King Cathedral.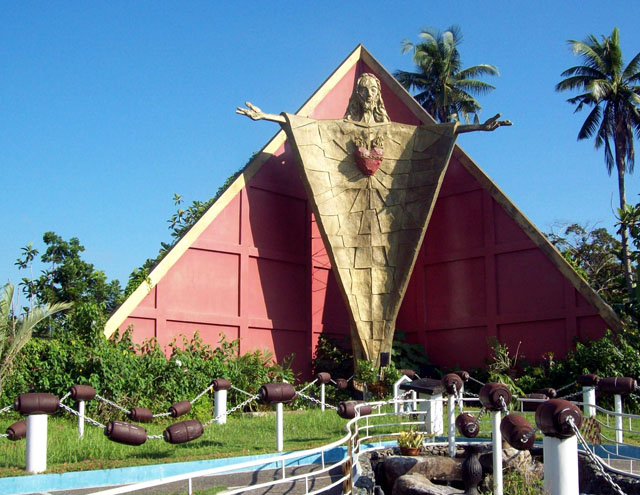 The Risen Christ towers over the rosary beads.
The cathedral in itself is an attraction; it is considered the biggest basilica in Mindanao. Most tourists find it impressive due to its imposing architecture incorporating modern and traditional designs.
Lasquite said the cathedral was designed like a castle. "The temple of worship rests in a two-hectare land, with an amazing design of towers like those found in fairy tale castles," he said. "As pillars of the Church, the statues of Saints Peter and Paul will greet you upon entering the vicinity of the Basilica."
Every day, the cathedral celebrates the Holy Mass in three different languages: Bisaya (as most of the locals settling in the city are originally from Visayas), Tagalog, and English.
"All in all, the Christ the King Cathedral and its record-breaking rosary, do not only serve as the local people's claim to fame. Even more significantly, the two have come to symbolize the exemplary spirituality and sense of community of the proud and faithful Tagumeños, that will endure and test of time," Lasquite concluded. –KG, GMA News