Filtered By: Lifestyle
Lifestyle
Speed, spectacle, grub, and price: Choosing between HK Disneyland and Ocean Park
A replica of what Mystic Manor actually looks like from the outside.
With the semester break in full swing for college students, vacation-minded families may already be high-tailing it out of town—or out of the country, even—for a much-needed rejuvenating holiday trip.
If you're heading for neighboring Hong Kong and have school-aged kids or are a kid at heart yourself, but are unsure where to go or what to do, Disneyland and Ocean Park might just be your thing.
What makes these two parks—and Hong Kong itself—a good holiday destination at this time of year is that there will be less people at the parks and the cold weather will be a welcome reprieve from Manila's terrible humidity.
Thing is, with the size of the theme parks and the crowds and the number of new attractions, it is impossible to experience everything in either place, given even two full days devoted to each. And definitely, there are a few rides that aren't worth lining up for.
So, if you had to choose only one park, which one will give you your time and money's worth?
Speed and spectacle: The main attractions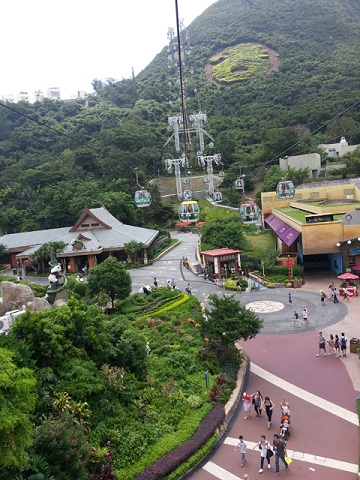 The cable car ride in Ocean Park. The waiting line was perhaps half as long.
Which do your kids prefer: rides so fast you won't be able to lift your head and so high you can joke about seeing your house from there, or up-close-and-personal aquariums teeming with hammerhead sharks, manta rays, and giant crabs?
There is speed, and there is spectacle. Granted, Ocean Park has both. But its rides, found on the other side and on top of the mountains bisecting the park, are higher, faster, and more riddled with curves and loop-de-loops than anyone below the age of ten can handle. Their baddest roller coaster ride is called "The Hair-Raiser," for goodness' sake.
And where Ocean Park's rides are all the same kind of fast, fast, and fast, Disneyland's version of fast has gradients—and spectacle.
Mystic Point's "Mystic Manor", is an electro-magnetic ride through a manor brimming with ancient artifacts coming to life. The peak of the thrills was when a larger-than-life crossbow slowly rotated to point in the direction of our puck (because that is what our cart was ultimately shaped like). It was the tamest of the Disneyland rides my sister, my besty, and I went on that day.
If you're looking for speed that makes your stomach border your throat or to quote my best friend, "something extreme na nakakaiyak," then Space Mountain is your ride. Gravity-defying speed, sheer drops, plus turns equals freezing in your seat and tearing your throat screaming. Oh, and praying your head doesn't hit the planets and asteroids hanging from the ceiling (don't worry, unless you stand up, this isn't likely).
But like I said, Ocean Park has spectacle. It's got several aquariums—one devoted entirely to sharks—and another big enough to fill a five-story building. You'll be able to touch several varieties of starfish and watch a simulation geyser in the latter, located near the park entrance.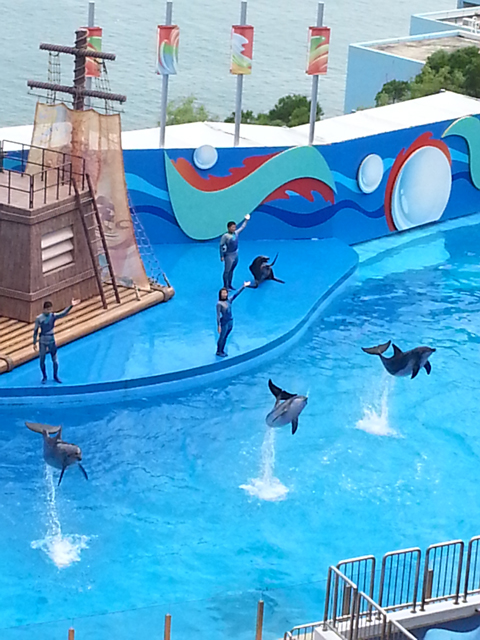 Marine acrobatics at the 'Sea Lion FunTime Show.'
And if sea lions and dolphins tickle your imagination, they do have the "Sea Lion FunTime Show" at the amphitheater on the other side of the mountain. You can watch the sea lions balance on one fin for a bit of tuna and the dolphins execute perfectly-timed backflips.
I did expect them to do a little more than that, though. And the announcer and host spoke in Cantonese the entire time; but then again, cute sea creatures doing tricks tends to transcend language barriers. In Disneyland, their pre-ride videos and park announcements are in both Cantonese and English.
Grub
Whether you arrive around lunchtime or stick around for dinner, you won't want for choices in either Ocean Park or Disneyland, from view-tiful restaurants to food stands selling whole turkey legs. It really depends on how immersed you want to be in Hong Kong culinary culture and how hot or cold a day it is.
A light drizzle compelled my BFF (who works as a chef in Hong Kong) and I to take shelter in the Market House Bakery along Main Street, U.S.A. We were enjoying Hong Kong-style milk tea and a HK$32 cup of spongy chocolate mousse (complete with Donald Duck's face) when we ran into my family trooping into Main Street Cafe just down the road.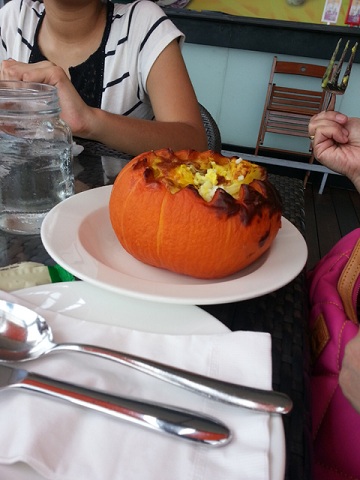 Pumpkin and Seafood Baked Rice at Ocean Park's Terrace Cafe.
The thing about Main Street Cafe is that not only are their plates big—their servings are, too. You could strain your jaw trying to take a bite out of a clubhouse sandwich.
I had an herby tomato soup and a white sauce pasta with three kinds of mushrooms and succulent cherry tomatoes. The price range was HK$140 to HK$500—hefty, but it will buy you enough food won't go hungry for a couple of hours.
In contrast, the sun was high in the sky and there was little to no wind when my family and I alighted from the bus at Ocean Park.
Exhausted from both the bus ride and the 45-minute line to the cable car, we were thankful when we came across the Terrace Cafe, though we had to sit outside as the line blocked up their narrow hallway.
The price average of most dishes on the menu was just under HK$200 and there were some exotic dishes to be had alongside the usual pizza-pasta-and-sandwich fare.
One example was the Pumpkin and Seafood Baked Rice, which was served in a hollowed-out squash. But even made gooey with cheese, the flavor needed a bit of kicking up.
The cafe also had a menu specifically for kids: my 6-year-old niece had a grand time feeding us all her fries (with ketchup) and red sauce spaghetti.
Oh, and it's not perched on the side of the mountain for nothing. Maybe it's because I'm a city girl, but I am always silenced when faced with a view of a wide bay. Hong Kong's bay was interesting, as giant ships sailed to and from the little islands perforating the otherwise calm surface of the sea.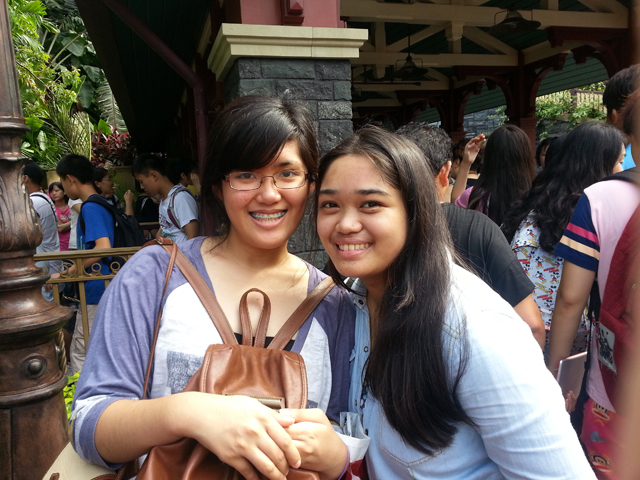 The author and her best friend lining up at Mystic Manor.
Transportation and admission fees
The great thing about the Internet is that you can buy your park tickets from the website, thus eliminating perhaps 20 minutes to an hour of your visit spent lining up before either parks' ticket booths. If you have a child younger than three years of age, you don't have to worry about their admission as they can get into the park for free.
In
Disneyland
's case, you can get your tickets from the MTR Hong Kong station and the Tung Chung line, and Terminal 2 of the Hong Kong International Airport. This also means that you can get there via the bus, the MTR, or a taxi.
Disneyland has several ticket types. Standard Day, 1-Day Tickets cost HK$450 (P2,497.68) for General Admission (ages 12 to 64) and HK$320 for the Child Ticket (ages three to 11, P1,776.13). The Senior Ticket (age 65 and above) costs HK$100 (P555.04). They also have something called a FastPass, which is only available at certain times but is good for an hour and allows you to get into certain rides without waiting in line.
Ocean Park
's admission is pretty straightforward. A ticket costs HK$280 (P1,554.11) for adults and HK$140 (P777.06) for kids aged three to 11, free for senior citizens aged 65 and above with a Hong Kong identity card. It's only reachable by certain buses, but there is a long and rather steep cable car line by the sea, ready to transport you over the mountain separating the park's two sides.
— DVM, GMA News