Filtered By: Lifestyle
Lifestyle
Traveling to the Philippines? Here's a guide to disaster-hit tourist sites
The dust had hardly settled from the destructive earthquake in Bohol last October when super typhoon Yolanda struck the following month, cutting a wide swathe of devastation from Samar to northern Palawan. With the twin disasters all over the foreign media, it's understandable that many visitors have canceled their scheduled trips to the Philippines.

Their fears are mostly unfounded, however, as many of the tourist attractions in popular destinations were hardly touched while others have reopened for business. Here's a roundup of travel hotspots, with updates on how they're doing this holiday season.

Palawan

Yolanda, or Typhoon Haiyan as it's known overseas, ravaged the northern part of this mini-archipelago of 1,700 islands but left much of the mainland unscathed.

This means that visitors are still arriving in droves at the Puerto Princesa Underground River, located in the central section of the mainland. The park only experienced a drop in tourist arrivals on the day Yolanda hit the Philippines, when many tourists canceled their trips.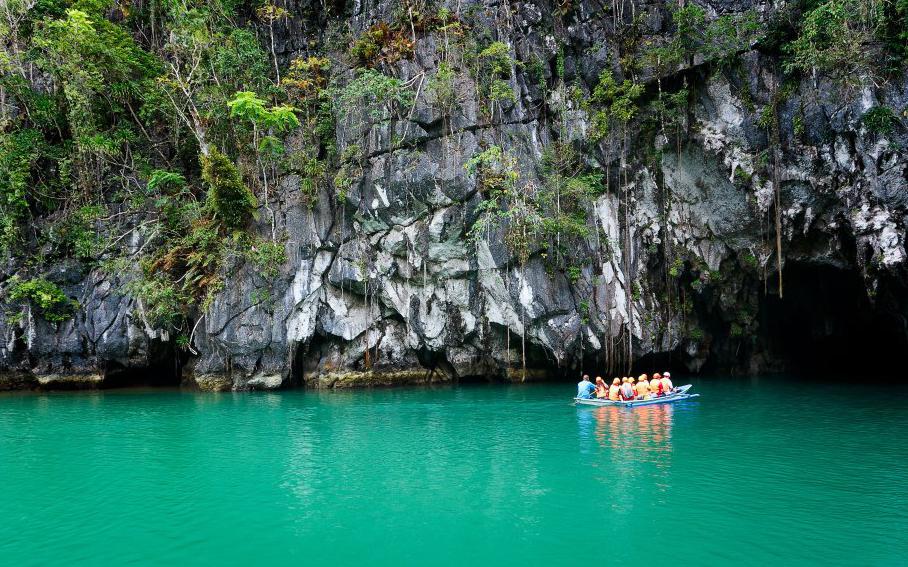 "Naabot namin po yung 900 people carrying capacity araw-araw," park superintendent Beth Maclang said in a phone interview.

Provincial Tourism Officer Maribel Buñi also told GMA News Online, "Hindi naman nagsara yung airport and seaports sa Palawan, maliban sa Coron, na nag-close for two days after Yolanda at operational na ulit noong November 11."

Visitors to Coron, the urban center in Busuanga island, would need to check the status of the hotels where they made a booking, as many suffered extensive typhoon damage and are running on generator power. In terms of attractions, however, the good news is that popular lakes and beaches in Coron have reopened.

The high-end Amanpulo Resort in Pamalican island, also in northern Palawan, suffered a direct hit and had to close down after Yolanda struck last November 8. But it has since reopened, and posted this statement on its website: "Amanpulo will re-open on December 15th with all its facilities, including the Beach Club, fully operational. We were very fortunate in that the property sustained minimal damage.

"Our greatest challenge has been restoring landlines, internet and mobile reception to the same level as prior to the typhoon. We do not have a definite date when this will resume, and therefore have installed satellite broadband."

Another upscale chain, El Nido Resorts, also reported minimal damage. Their biggest challenge was cleaning the debris after the powerful storm, which fortunately left the lagoons, white sand beaches, and limestone cliffs unharmed.

Cebu

Northern Cebu suffered the brunt of typhoon Yolanda, especially the islands of Bantayan and Malapascua where many of the resorts suffered extensive damage.

But according to a post on travel agency Scuba Travel's Facebook page, Malapascua Exotic Island Dive Resort's operations are back to normal, and the thresher sharks have returned. The area is famous for the sharks, as seen in this album.

In an e-mail interview with GMA News Online, the resort's Sales and Marketing Manager Harold Feliciano said, "As of the moment we are rushing the reconstruction of the damage we had during the typhoon ... At the resort we are still operating even after the typhoon and we have 24 hours electricity.

"We lost 80% of our bookings for this month and January after our clients saw how terrible the situation was, but we would like to take this opportunity to tell the world that Malapascua is still here and if they would like to help the island, they can come and pay us a visit."

He said 80 per cent of their staff are local islanders who have to meet the needs of their family after the strong typhoon. "If there are no visitors, there will be no work for the locals as well," he added.

"Cebu, as a destination, is also affected by the effects of images of destruction currently depicted of the Philippines," Senior Tourism Officer for Region 7 Judilyn Quiachon confirmed in an e-mail interview with GMA News Online.

Bohol

Panglao Island, the main beach destination in the province, was hardly affected by the October 15 earthquake that destroyed many Spanish-era churches. All accredited establishments are open for business, Quiachon reported.

"A handful of Chocolate Hills sustained cracks or erosion from the earthquake. The Chocolate Hills Complex view deck still needs to be rehabilitated, but another viewdeck is available—the Chocolate Hills Adventure Park (CHAP)," she continued.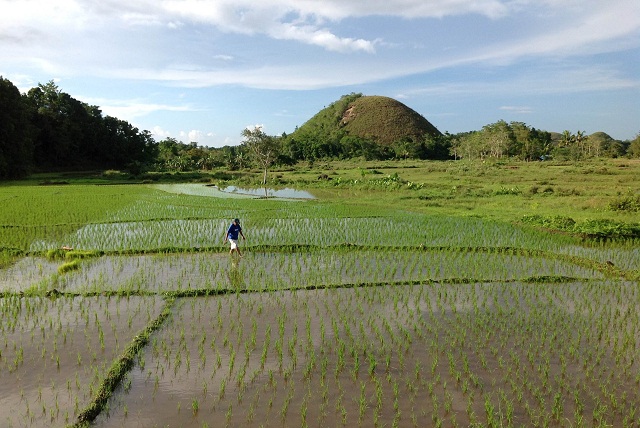 Airports and seaports in the entire province are operational, Quiachon said.

Super typhoon Yolanda caused massive power outages in the province, which gets its electricity from Leyte, but energy has since been restored, Bohol Gov. Edgar Chatto told a media delegation last week.

A Bangon Tour initiative will be highlighting some of the restoration efforts in ruined churches, Project Kisame head Joel Aldor told GMA News Online. "The rebuilding of the churches can also be made a tourist attraction in and of itself, as the rebuilding may take three to five years," he said.

As for the popular wide-eyed mascot of Bohol, Program Manager Joannie Mary Cabillo of the Philippine Tarsier Foundation said in a text message to GMA News Online: "The typhoon was not very strong in Corella. But we had a tremendous drop in visitor count right after the storm. Thankfully, the foundation's operations are back to normal, so we hope babalik ang mga bisita."

Samar

Popular surfing destination Guiuan, where the super typhoon first made landfall last Nov. 8, is struggling to regain its reputation as a tourist-friendly town on the edge of the Pacific Ocean.

Unfortunately, Yolanda damaged many of the resorts, including the venue of an international surfing competition to be held next year that has now been postponed.

Other affected areas are the diving spot Pearl Island, several historic cathedrals, and the Calicoan Surf Camp that said on its website the resort is currently under construction.

Marketing Executive Richard Olalia of La Luna Beach resort also said in a text message to GMA News Online: "Wala na ang La Luna, sad to say washed out na." However, he added that they would start rebuilding the resort in two months.

"Sobrang malaki talaga ang nawala sa amin," said Guian municipal tourism officer Aurora delos Reyes in a report on GMA News' "24 Oras." "Nasa taas na nga kami, bigla kaming lumagpak."

Officials could not say when the rehabilitation of damaged cultural sites and tourist destinations would be completed. "Planong gagawin (humingi ng) tulong from national government to restore historical sites," said Eastern Samar Rep. Ben Evardone.

Iloilo

Mario Lazarito, a licensed tour guide from the Department of Tourism's Iloilo office, told GMA News Online in a phone interview that tours dropped the week after Yolanda but much of the province has rebounded.

"It's business as usual in Iloilo City and other areas, except for Northern Iloilo, which took a month to get back on its feet," he shared. Smaller establishments are slowly going back to business, he noted.

Isla de Gigantes, a group of islets off the coast of Carles and Estancia and a marine biodiversity hotspot, is seeing the return of both local and foreign tourists. Humanitarian workers are staying in the area, and resort operators have reported that very few guests cancelled their reservations.

Boracay

Although the popular beach destination was not directly hit by the super typhoon, loss of electricity and internet facilities disrupted tourist services, resort owner Nennette Graf said in an interview with GMA News Online.

Images of the devastation after the typhoon also prompted some foreign visitors to cancel their trips, but tourism is starting to pick up from November's devastation, she added.

"Last November, [tourism] in Boracay dropped by 20 percent compared to last year," she said. "For December cancellations [of foreigners] were about 10 to 15 percent, pero may pumapalit naman. Wala namang nagbago sa domestic."

The Caticlan Jetty Port is operational, and airlines have resumed regular flights.

Negros island

"Dumaguete wasn't touched at all, fortunately. I think initially it was in the path of the typhoon, and people were prepared—they learned a lot from Pablo and Sendong—but somehow it veered away," said Susan Lara, writer and director of the Silliman University National Writers Workshop.

In Bacolod City, the storm had "no big effect" in the locality famous for its old houses, said Sandra Sycip, who handles the statistics reports for the tourism office.

In Siquijor, tourism office staff Elbie Borongan noted that although there was not much damage in the island, they still experienced a drop in tourist arrivals after the storm.

"Nag-report yung mga resorts na madaming nag-cancel," explained Borongan. "At may problema din sa transportation – 'yung Ocean Jets and fast craft namin ay ginagamit sa Tacloban."

Bicol

In an e-mail, Legazpi City Vice Mayor Vittorio Roces and wife Mylene noted that, "If anything we've received more people here after Yolanda since Legazpi has the closest airport to Matnog, the port to Visayas. We've seen numerous trucks carrying relief goods pass through Legazpi."

They said there were no reports of negative impact on tourism in the city, which is famous for the Mayon Volcano. "And since the butandings are back, more people have been coming through Legazpi to get to Sorsogon," they added.

If the Legazpi City Facebook page's flurry of activity promoting celebrations and natural attractions is any indication, it seems that tourism there is showing no signs of slowing down. In fact, the first international inaugural flight from Xiamen, China, is still scheduled for arrival on January 30. - with a report from Rouchelle Dinglasan/YA, GMA News