Filtered By: Lifestyle
Lifestyle
Reasons to visit South Korea in the springtime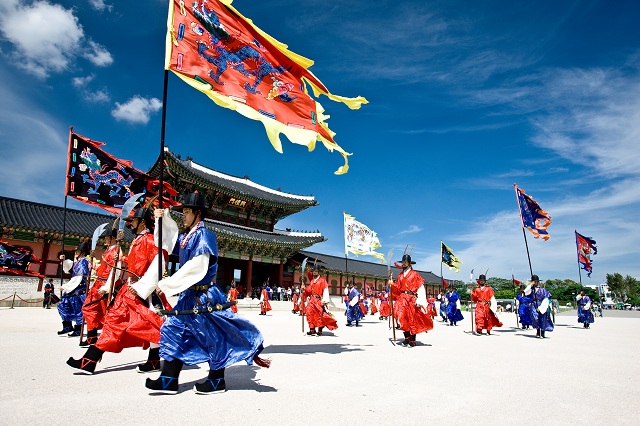 The changing of the guard at Gyeongbokgung Palace. Photos courtesy of the Korean Tourism Organization
Spring time—April and May—is the season of beauty in South Korea, when its streets are laced with rosy pink cherry blossoms and azaleas and the cold breeze dissipates to make way for warmer winds. Spring weather in Korea is ideal for Filipinos who don't want to freeze but who want a respite from the hot and humid Philippine summer.
Korea's four seasons, its historic landmarks, its palaces and its endless varieties of bibimbap and kimchi are all only a three-and-a-half-hour flight from Manila.
Historic palaces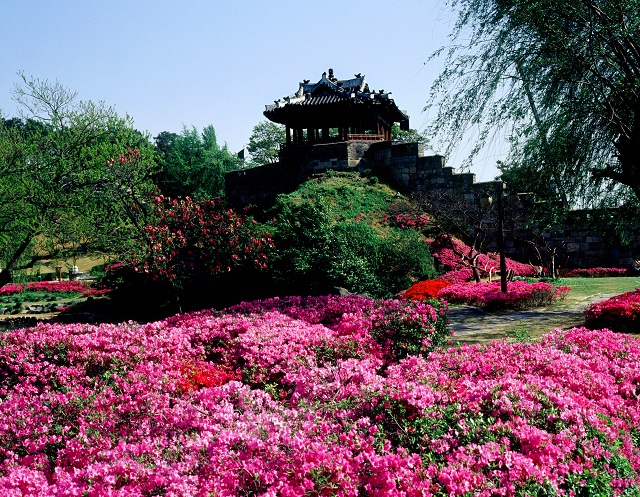 The gardens of Hwaseong Fortress in Suwon
A walk around historic downtown Seoul will take you to both its past and its highly developed present. A great starting point is the
Cheonggyecheon stream
in the heart of the business district, dividing the downtown area of the South Korean capital.
The stream was restored in 2003 and is now a place where busy professionals and other Seoul residents can relax, take their shoes off and dip their feet in the water while enjoying conversations with friends.
The stream leads to Gwanghwamun, the majestic gate of the Gyeongbokgung Palace. Inside the palace, be sure to get a perfect viewing spot for the hourly Changing of the Royal Guard, which usually starts at 11 a.m. The 45-minute ceremony attracts a lot of foreign tourists as it gives you a peek into what life was like during the Korean dynasties.
Tourists are also given the chance to have a souvenir photograph with guards wearing Hanbok, the traditional Korean clothing.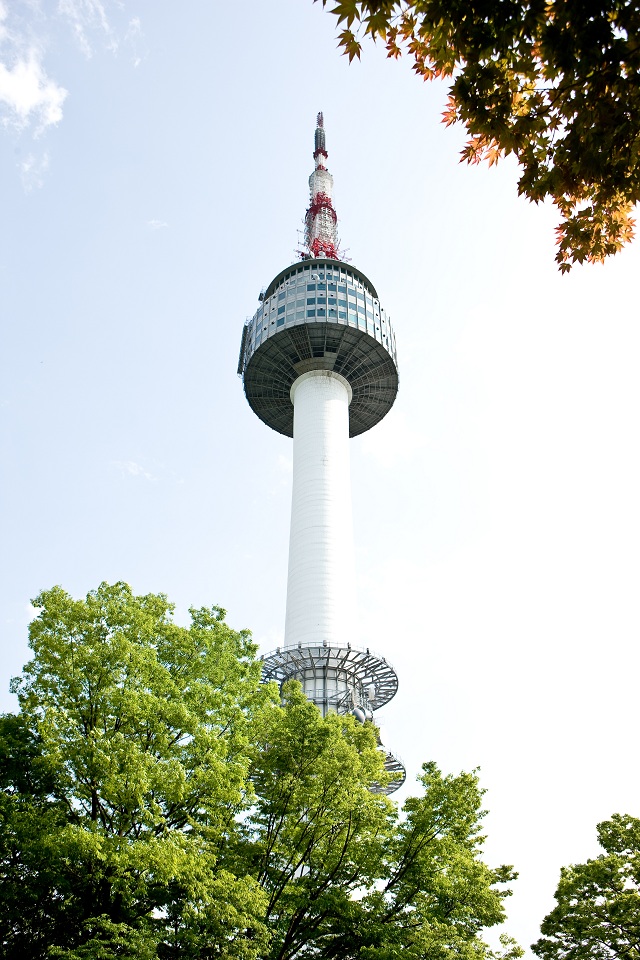 N Seoul Tower on top of Mt. Namsan
A view of the city from atop the N Seoul Tower
For a bird's eye view of the cherry blossom-covered city, go to the
N Seoul Tower
, an observation tower sitting on top of Mt. Namsan.
There are shuttle buses to take you to the top, but some people choose to hike from the middle of the way to enjoy the flowers in bloom.
Some of the highlights at the Seoul Tower are its three-storey observatory; a revolving buffet restaurant where you can enjoy sumptuous Korean dishes while enjoying a breathtaking view of the city; and even its Sky Bathroom, which lets you feel like you're floating above the city while washing your hands.
The Seoul Tower is also famous for a fence located in the plaza where thousands of couples have placed padlocks over the years, wishing for lasting love.
A fairy tale Spring at Everland Theme Park
Spring is also the best time to explore
Everland
, one of Korea's largest theme parks and a subsidiary of Korea's telecommunications giant Samsung.
To reach the park, you can either hire a private tourist bus or take Seoul's reliable public transport. From Seoul, you can catch the subway at Giheung Station, transfer to the light rail and get off at Jeondae-Everland Station, then take the one of the shuttle buses to get to the main gate. There are also regular buses to Everland from Seoul's Hongik University, City Hall, Dongdaemun and Gangnam stations.
One day may not be enough to explore Everland's diverse sections, such as European Adventure with its thousands of blooming tulips and Lost Valley, where visitors ride well-secured vehicles for a close encounter with bears, tigers and lions.
Korean dishes, from street food to high-end cuisine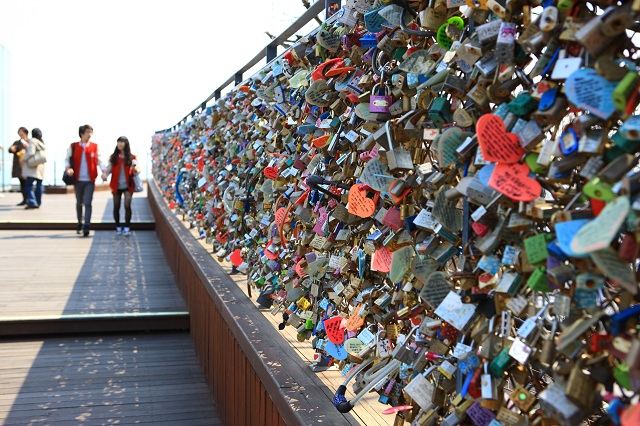 Love padlocks at the N Seoul Tower
With its lavish use of vegetables, there is no reason to feel guilty about enjoying authentic Korean cuisine. There are a lot of restaurants in high-end Gangnam District and shopping paradise Myeongdong that offer the best Korean dishes, including bibimbap—rice mixed with vegetables including radish, turnip, Korean cabbage, broccoli, dachae and bok choy and sometimes tenderloin beef.
Fresh big strawberries abound in the springtime and they are sold on streets as light snacks coated with rich creamy chocolate syrup.
You can also head to Gwangjang Market by taking the train to Jong-no 5-ga station. Gwangjang Market is a hundred-year old traditional market famous for a wide range of Korean food. A great experience here is to eat with the locals as they enjoy Korean favorites such as Nokdu bindaetteok (fried pancakes made from green bean) and mayak gimbap (simple rice rolls).
Myeongdong: Shopping haven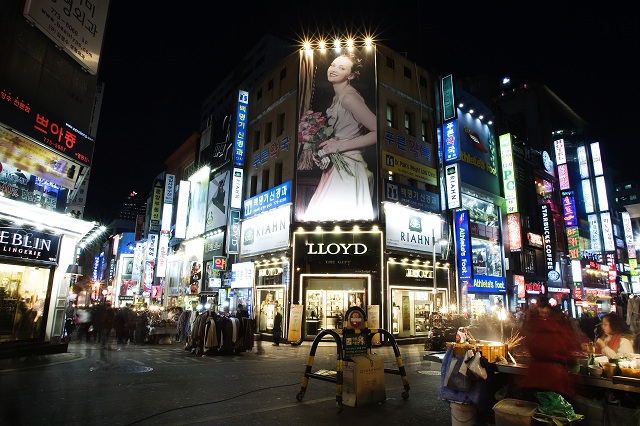 Seoul's Myeongdong district
At least two million foreign tourists visit Seoul's Myeongdong shopping district every year, an increasing number of Filipinos are among them.

The bustling shopping district has a wide variety of unique shops that include famous Korean cosmetic stores, shoe shops, foreign and domestic flagship brands. The shops in the alleyways are a delight, particularly for ladies who are fond of Korean cosmetic products that can also be found in Philippine malls. It is practical to buy a good amount of these cosmetics while in Seoul, as the prices will be doubled or tripled by the time they reach.

Finally, Koreans are friendly and approachable like Filipinos. They are very helpful and fun to be with, and very serious about fashion. Thanks to the weather, the culture, the food and the people, springtime in Korea is indeed a great experience. — BM, GMA News