Filtered By: Lifestyle
Lifestyle
It's still more fun in PHL: 2015 will be Visit the Philippines Year, says DOT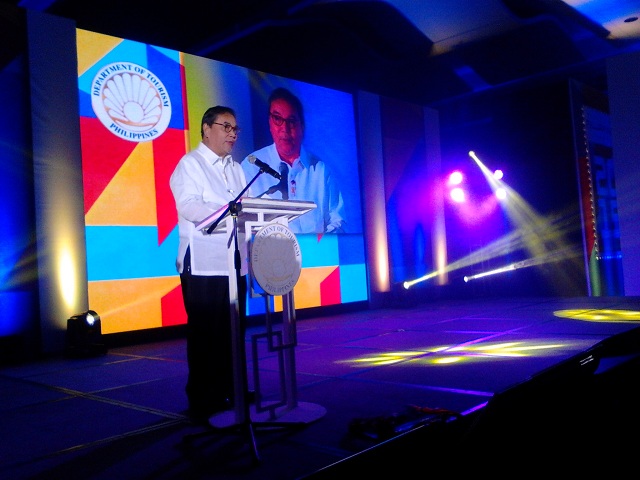 Tourism Secretary Ramon Jimenez, Jr. at PHITEX on Thursday.
It will still be more fun in the Philippines in 2015—at least, according to the Department of Tourism.
The DOT, together with its marketing and promotions arm the Tourism Promotions Board (TPB), launched its new campaign during the Philippine Travel Exchange (PHITEX) at the SMX Convention Center in Pasay City on Thursday: 2015 will be "Visit the Philippines" Year (VPY).
Tourism Secretary Ramon Jimenez, Jr. explained that the new campaign is not meant to replace "It's More Fun in the Philippines." Instead, he said, it sustains the campaign and freshens it up at the same time. To support VPY, DOT also launched
a microsite that serves as a directory for events all over the country.
Big events lined up for 2015
TBP's chief operating officer Domingo Ramon C. Enerio III revealed that in 2015 the agency wants to emphasize five main themes: 1) business meetings, 2) history and culture, 3) lifestyle and entertainment, 4) music and arts, and 5) sports, adventure, and eco-tourism.
Business meetings:
The Philippines is set to host
the Asia-Pacific Economic Cooperation (APEC) Ministerial Meetings and Leaders' Summit
. The APEC meetings are not going to be confined to Metro Manila, either. Boracay and Iloilo City in the Western Visayas; Tagaytay City in Southern Tagalog; Metro Cebu in the Central Visayas; Bagac, Bataan and Clark, Pampanga in Central Luzon; and Legazpi City, Albay in Bicol will also host APEC. This allows more foreigners from participating countries in APEC to see more of the country.
History and culture:
Enerio said that on top of the much-awaited visit of Pope Francis in January, the Philippines will commemorate the 70th anniversary of the final battles of World War II, alongside the countries involved in the war, to pay homage to the fallen soldiers in September 2015.
Lifestyle and entertainment:
Aside from the year-round fiestas, the Philippines will be the first country to host the international gastronomic summit
Madrid Fusión
outside Spain next year. To formally announce the coming of Madrid Fusión to Manila, Jimenez said, President Benigno Aquino III will visit the Spanish capital next week.
Music and arts:
Enerio noted that as always Philippines is still a favorite tour stop of some of the biggest acts in the world. Next year One Direction and Justin Timberlake will be among the big acts that will be performing in the country. Enerio also pointed out that Intramuros, Nayong Pilipino, and Rizal Park are being redeveloped to be event venues.
Sports, adventure, and eco-tourism:
In 2015, more and more international sporting and adventure events are expected to be held in the Philippines. Among these are the Diving Resort Travel Expo in Manila in April and the Siargao International Surfing Competition in August.
Significant increase of foreign buyers
Jimenez also noted that "the biggest number of foreign buyers" of tourism products and services have arrived in Manila for PHITEX. "We've never received this kind of attention before," he said.
This is mainly because the world is turning into Asia for travel experience and finally the Philippines is getting its share, Jimenez said. This year, PHITEX welcomes over 30 participating countries from all over the world.
PHL is travel-crazy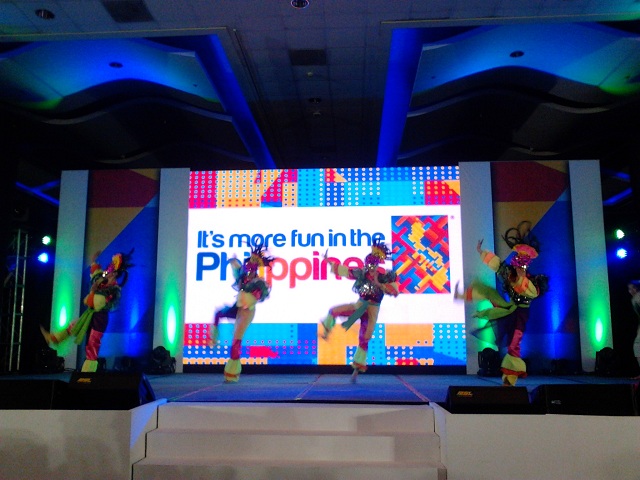 Dancers performed at the launch of the new VPY campaign.
Around seven million tourists are expected to have fun in the Philippines in 2014, Jimenez said. However, he said, the number of visitor arrivals is just one aspect of calculating tourism growth. Revenue and employment are other factors that should not be overlooked.
Although the Philippines is trailing other countries in the region in terms of physical arrivals due to typhoons and unforeseen events, the revenue—or the amount every tourist spends—is still on target, Jimenez said. In fact, the Philippines' revenue from tourism is one of the fastest-growing in this part of the world, he said. Tourists coming from farther places are spending more time in the Philippines.
Jimenez also pointed out that volunteerism has been helpful in developing entrepreneurial tourism— tourists who stay for a long time in the country and help generate jobs. "It's a very much appreciated effort," he said.
On the other hand, the Philippines has almost reached its 2016 target of 56 million in terms of domestic tourism, Jimenez said. There were 44 million domestic tourists last year. "We are now travel-crazy as a country, which is good," he joked.
However, he stressed, the Philippines should still improve its tourism capacity to allow more growth. Bottlenecks in airports, lack of aircraft, and problems in online booking due to the overwhelming number of travelers are challenges the local tourism industry needs to overcome.
Outside Metro Manila
According to Jimenez, the DOT is also "[applying] very sharp pressure" to move tourism out of Manila and urge people to visit other places such as Bohol and Davao. He also noted that the microsite allows tourists to get a glimpse of what other cities can offer.
"Kung saan masigasig talaga ang local [government], doon malakas ang tourism. Pag aktibista sa tourism ang LGU, magsa-succeed," Jimenez added.
Another factor for success? The people themselves, he said.
"Tourism is a performance. Tourism is a country performing at its best," said Jimenez in his speech.
The Philippines' 7,107 islands are the stage on which Filipinos can best present themselves—and in turn, Filipinos can be some of the best tourist agents for their country. Filipinos' ability to "turn strangers into friends, sights into memories, and adventures into unforgettable experiences," said Jimenez, is the driving force that makes the Philippines a favorite destination for many.
— BM, GMA News