Filtered By: Lifestyle
Lifestyle
Up and down lessons from Mt. Batulao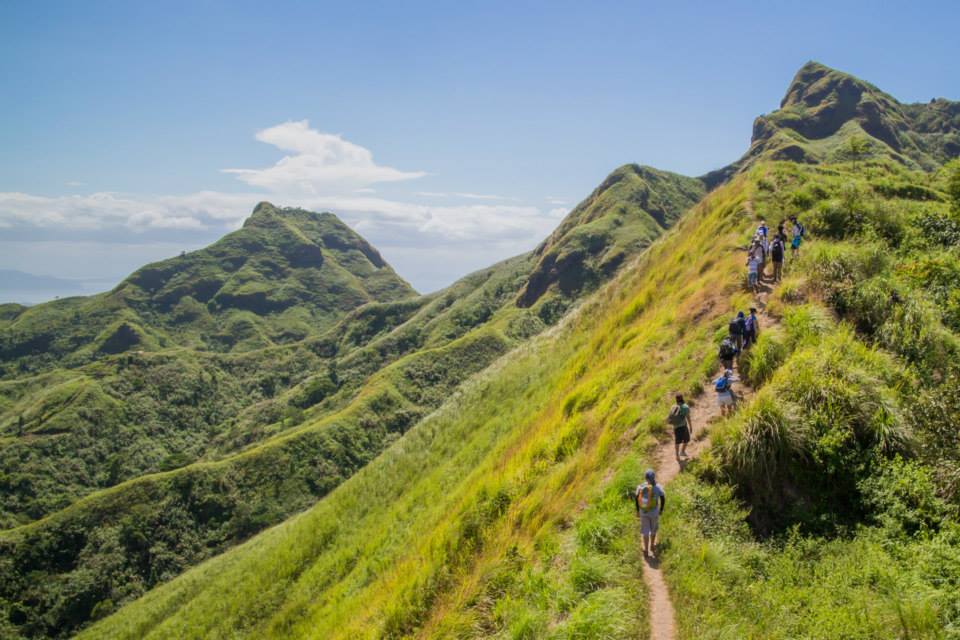 With Batulao's many peaks, the trail goes up and down and up again. Photo by Jaimee Delos Santos
It's Sunday morning, but instead of sleeping in, we are somewhere along the trail on Mt. Batulao. We're not sure what time it is, but everything is bright and sunlit. We still smell like sunblock lotion, but if our skin has any protection, it's the thick layer of dust that gives us light brown necklaces. Our faces are muddy from sweat and dirt, which has made itself very comfortable under our fingernails. It's the kind of filthy that kids get from an afternoon of playing outdoors, something we haven't done in years.

It's been maybe three hours since we left our Tagaytay hotel room, which had enough space for nine adults whose idea of pre-climb bonding is a pack of cards, modified drinking games, and experimenting with a flashlight Taser that, apparently, hurts less than getting a tattoo. There was also enough space for an amused 11-year-old, my daughter, who surprised me by agreeing to join the climb.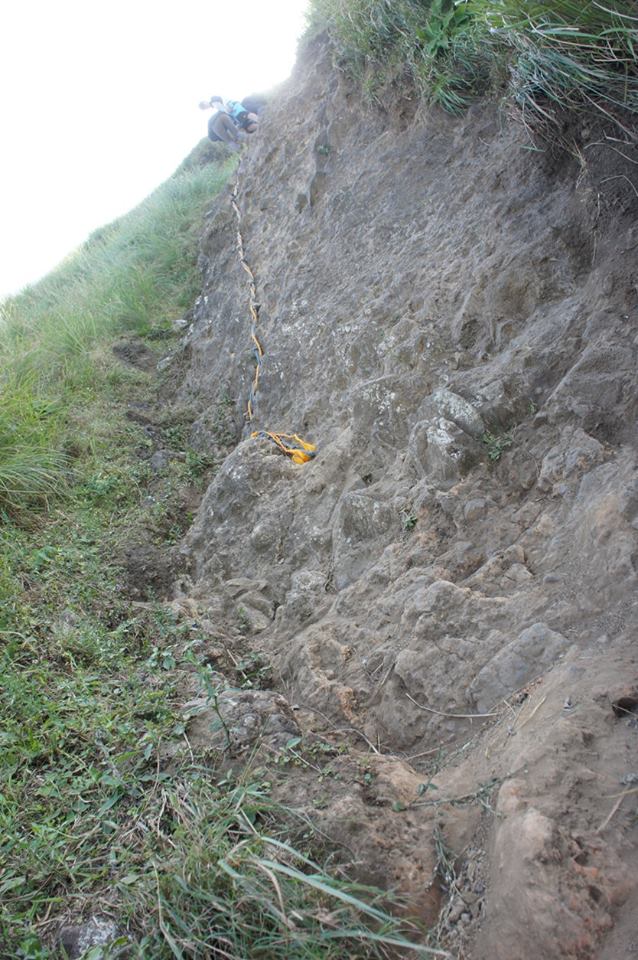 The rock face. Photo by Palida Busayakanokrad
Normally, I can't even get her to accompany me to the grocery. Given free time, she will choose to stay home and read, or write, or make things. Next to her bed, she has a sort of freedom wall, where she's written names of bands, her favorite YouTubers, and quotes. Somewhere in the middle, a Julian Barnes quote is paraphrased: Reading isn't escaping from life, it's plunging deeper into it.

I agree. Still, I thought it was about time for a change of scenery. Words are beautiful, whether in print or backlit by the glow of a screen at midnight.

But there's also the beauty of getting away from the city and following an unpaved path. The fear when you set your foot on loose soil, and the relief when you find a firm rock.

Rest stops to catch your breath and drink it all in, wondering how there can be so many shades of green and blue. A shady spot for a late lunch, where you discover that cheese spread and corned tuna sandwiches are really, really good.

There is, however, the question of difficulty. While it is a minor climb, Mt. Batulao isn't the easiest, and after a few hours of fairly uneventful hiking, we reached the point I was worried about. My cousin, who had planned the hike, told us it would be manageable, "Except maybe for the part where you have to climb down a rock face that's about two floors high." I wasn't sure what a rock face was, but it did not sound friendly. We aren't outdoor types, and are very far from fit.

Our idea of physical activity is taking the stairs. My daughter is the sort of kid who would rather visit a museum than go to a playground. But there she was, gripping the rope and climbing, complete with her backpack filled with overnight clothes and a 1.5 liter bottle of water.

The first peak of many. Photo by Jaimee Delos Santos
My heart was bursting with worry and pride. I wanted to take a picture, but before I could even get the camera, she was at the top. She didn't even look back. Then it was my turn. At this point, being afraid wasn't an option. She could do it. I could do it. I think, sometimes parenting is a two-way thing. We bring each other up.

We hike some more. Our legs are tired, and the mountain is deceptive. With several peaks, the trail keeps going up and down, and just when you think it's over, there's another ascent to be made.

There's not much shade, but the wind is cool, and the view is more than enough to distract us from the dust that rarely settles. We make more stops than we should, and the last is at a hut where everything is P25.

The sunset is golden as we wait for our snacks, rainbow cups of halo-halo and bowls of steaming lugaw.

It is dark before we make our way back down, the hike ending when we see a sign that says "Ligo D2." Lit by a makeshift lamp, the hut is the bathhouse waiting area.

My daughter refuses to bathe and curls up in a hammock while everyone else takes turns washing the grime off.

A click beetle serves as entertainment, until I accidentally step on it on our way out. We take a tricycle back to the highway, where the sounds are familiar again. We watch the stars, one last view before getting on a bus. Almost immediately, she falls asleep, and I hope she dreams of other mountains.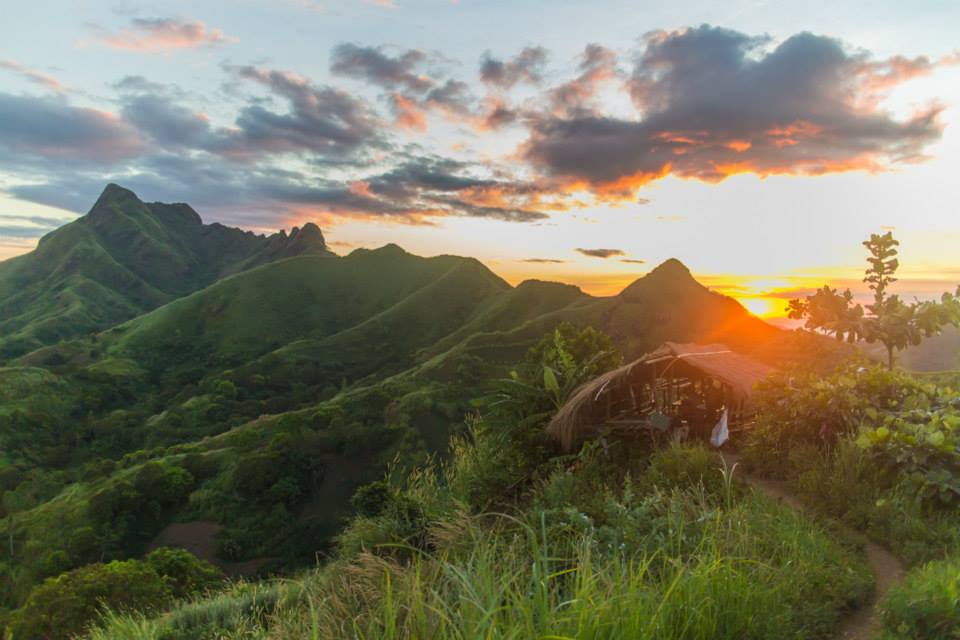 Snack time at sunset. Photo by Jaimee Delos Santos
— BM, GMA News

Mt. Batulao is in Nasugbu, Batangas. Jump-off point is Evercrest Golf Course, Nasugbu. Buses from Manila are at the terminal at the MRT-LRT connection in Pasay City.