Filtered By: Lifestyle
Lifestyle
Ichi go ichi e: Notes from the Jenesys 2.0 Japan homestay program
Mt. Fuji greeted us as we opened the curtain of our hotel room in Chiba. It was cold, and the wind kissing our cheeks made it chillier as we wondered how girls on the sidewalk across the street could bike their way to school in that weather.
16 hours into the our 9-day immersion in Japan and we've already experienced a lot, more than just sunset after 4 p.m., leaving your shoes at the restaurant locker, having ice cream puffs. Our group of 28, part of 100 students under the Japan East Asia Network of Exchange for Students and Youths 2.0 programme for mass media, were not just tourists on a trip: we were sponsored by the Japanese government, and we were called youth ambassadors all throughout our stay.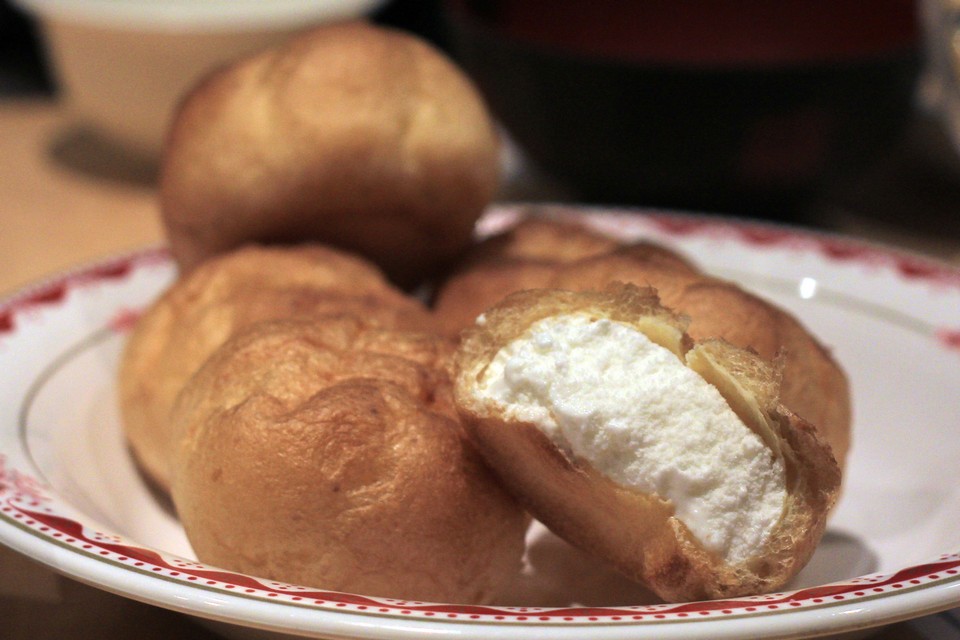 Sweet puffs, with tempura batter-like exterior cradling the soft yet not-runny and not-overwhelmingly-sweet ice cream inside.
Revived in 2013 by Prime Minister Shinzo Abe, Jenesys 2.0 gathers students from Asia and beyond who have personal or academic interest in the country under certain categories to provide first-hand exposure of Japanese culture. Our batch was the seventh in 2014 for mass media, together with representatives from India. Other categories under Jenesys included medicine, education. There was even a batch for anime, manga, and cosplay.
It has been a month since we packed dozens of souvenirs into our bags, bid the land of Pokemon goodbye, and declared on video that "whether we like it or not, we're going home," yet we can't help but recall how we rediscovered Japan beyond RocketNews24, pop culture posts, and "alternatively-sourced" videos seen online.
Japanese time vs. Filipino time
Japan is indeed on the dot when it comes to schedule, and hearing it is different from having the urge to look at your clock every other minute during your free time so you don't arrive late. Although we did have a handful of tardiness incidents during the first few days, and it really felt bad when everyone looked at us with presumably evil thoughts in their heads for being the last to board the bus. Our worst was arriving around 20 minutes behind schedule from free time (but there was a legitimate reason). In our fluid Filipino time, 20 minutes late can be early, sadly.
So, we learned to adjust. It feels as if everyone is in a hurry until you realize that you don't have to obsess about the time (or else your only memory of the trip will be mostly dropping your phone for pulling it out a lot for a time check). Having a sense of urgency though, can be helpful, and an occassional check will do.

Under the mass media programme, we were brought to newspaper outfits and museums to learn about the local industry. Our group was brought to the Japan Newspaper Museum in Yokohama, where we learned most notably about their coverage of the Great East Earthquake.
For example, since victims themselves had no access to news after the disaster, Ishinomaki-Hibi Shimbun produced wall newspapers instead—in short, destroyed printing presses didn't stop journalism. Their aim was to keep providing information to survivors at evacuation centers about their situation and the national context. We couldn't help but wonder if similar efforts were done here in the Philippines like when Yolanda struck, letting victim know the news instead of just getting quotes from them to be part of it.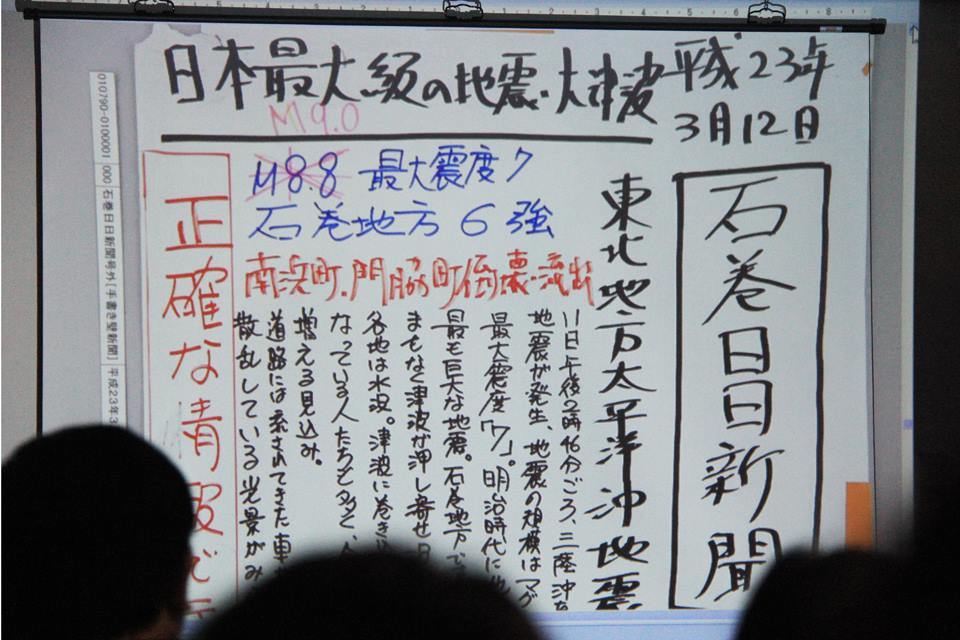 How the Japanese delivered news to each other during the Great East Earthquake.

Jenesys participants were free to roam after dinner, but only until 10 p.m. Walking around, however, turned out to be worry-free as long as we knew the way back. The crime rate in Japan, in general, has been relatively low, so it felt safe to stroll with a camera hanging on your shoulder while cherishing the clean, fresh air so unlike that of EDSA's. Just remember to walk on the correct side, though: the sidewalks have designated lanes for bikes.
Vendo machines, as expected, were everywhere: from inside hotels to right outside a convenience store (which are really convenient by the way) to a few blocks away from each other, you can get your bottles milk tea hot or cold if you're not in mood for the standard soft drink.
For a part, we were tourists in Japan: enjoying the trashless streets while trying out a snack, whipping out a camera for an occassional snapshot or selfie. But beyond the attractions we were brought to, we had a bigger role to fulfill.
Youth Ambassadors
For some of our groupmates, like mass communication major JC Lozano, the Jenesys 2.0 homestay constituted their first trip abroad.
"I'm so lucky kasi Japan is my favourite country tapos iyon pa yung una kong napuntahan na bansa," said the 19-year-old student from Pamantasan ng Lungsod ng Muntinlupa. "Dream come true ito."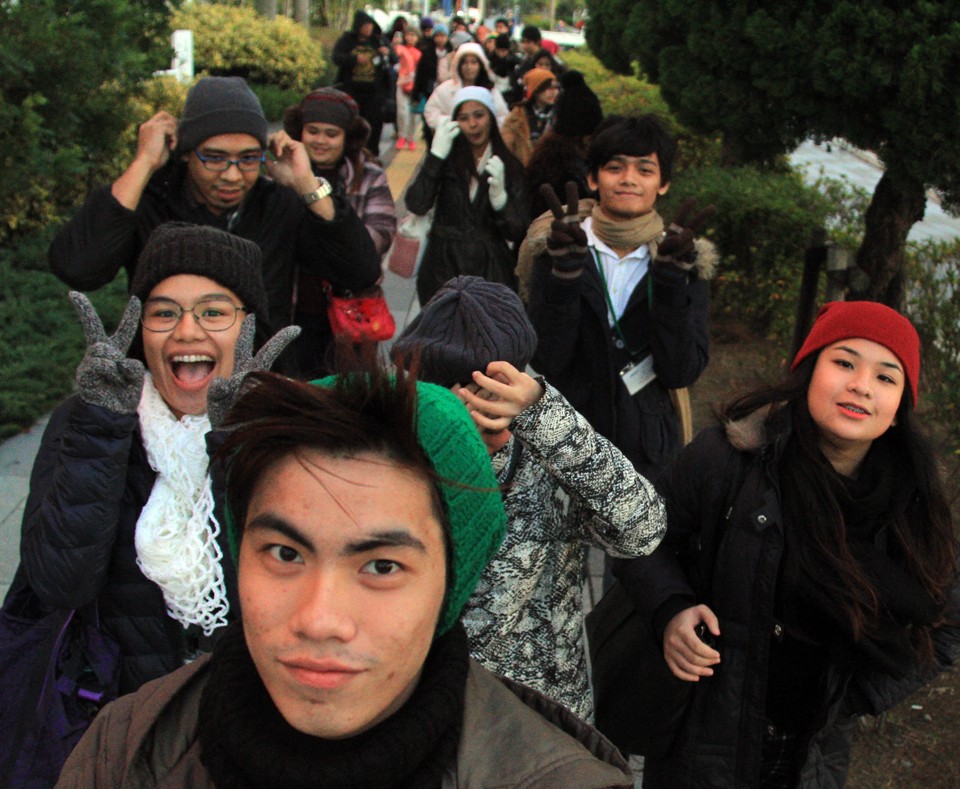 JC Lozano (2nd from right) and our teammates at Jenesys 2.0.

The "ambassador" tag was not just for show: each participant had a floating "Philippine Representative" on top of our heads—an imaginary load, yet the burden was real. We had to make sure we didn't do anything that could prove possibly-negative impressions that the word "Filipino" might already have for the Japanese.
For the most part, we found how some Japanese coordinators and students we interacted with were surprised about how much we knew about their culture: we read the same manga whose releases they wait for every week, and some of us could even sing songs by pop singers and Japanese bands, notwithstanding misheard lyrics. The older ones smiled at our mention of Gundam, and struck a conversation upon spotting us wearing Samurai Blue (Japanese men's national football team) under our coat.
Suddenly, the world was smaller.
'Ichi go ichi e'
A few years ago, our kendo sensei's friends paid a visit to our dojo in Quezon City. One of them was a master of shodo, or Japanese calligraphy. Up for grabs at a team tournament that afternoon was a set of writings. The most coveted was the one that said "Ichi go ichi e. One chance, one encounter."
It's a Japanese proverb—with the traditional tea ceremony as its origin—that invites one to cherish a moment for it will not happen again. The next time I encountered the line was at Aichi University, when a student pulled out a paper bearing those familiar characters. "Treasure every encounter for it will never recur," she explained. It has been my Jenesys teammates' favorite phrase since.
We miss Japan, that's a given: "Its people, culture, discipline, railway system," enumerated Angela Herrera, my teammate and masters student at UP College of Mass Communication. "(I also miss) my foster family because they reminded me of my own and they treated like their own. Their hospitality, generosity, sincerity and warmth are the the things that I will never ever forget... not to mention the smile and laughters of the kids. Priceless."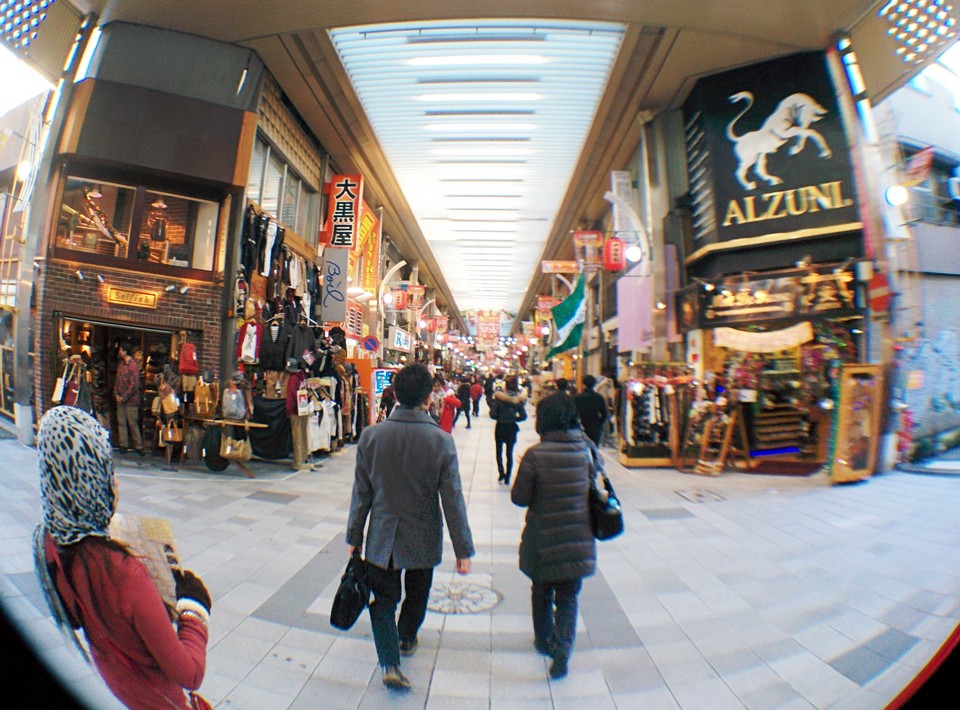 The Osu Shopping District in Aichi has lots of bargains for those who have the luxury of time.

"(I also miss our team) because without them, i'm sure my entire Jenesys experience will be different," added Herrera. "They made the trip a more memorable one. They're my home when in Japan.
Lozano fondly remembered our group sessions and our coordinators who were friendly and patient. "Natutunan ko pa lalo yung pakikisalimuha sa ibang tao, both Japanese and my fellow Filipino group mates," he said. "Nakasali ako sa Jenesys na ako lang mag isa na wala akong kakilala ganun. So through Jenesys mas lalo ako naging friendly."
Jenesys 2.0 won't happen again. Some of us may not even return to Japan. Those moments were like jumping in the cold, taking your teammates' share of sashimi because they don't like raw fish, and staying at the temporary Tokusatsu display pretending to be Ultraman might never happen again.
But the memories will linger, and we will remember when we stepped out of the plane and stopped for just-arrived-in-Japan selfies, thinking that it's not that cold at all inside the airport, only to (surprisingly) collectively curse under our breath as we stepped outside where there's no heater. — VC, GMA News