Filtered By: Lifestyle
Lifestyle
Cherry blossom season officially begins in Tokyo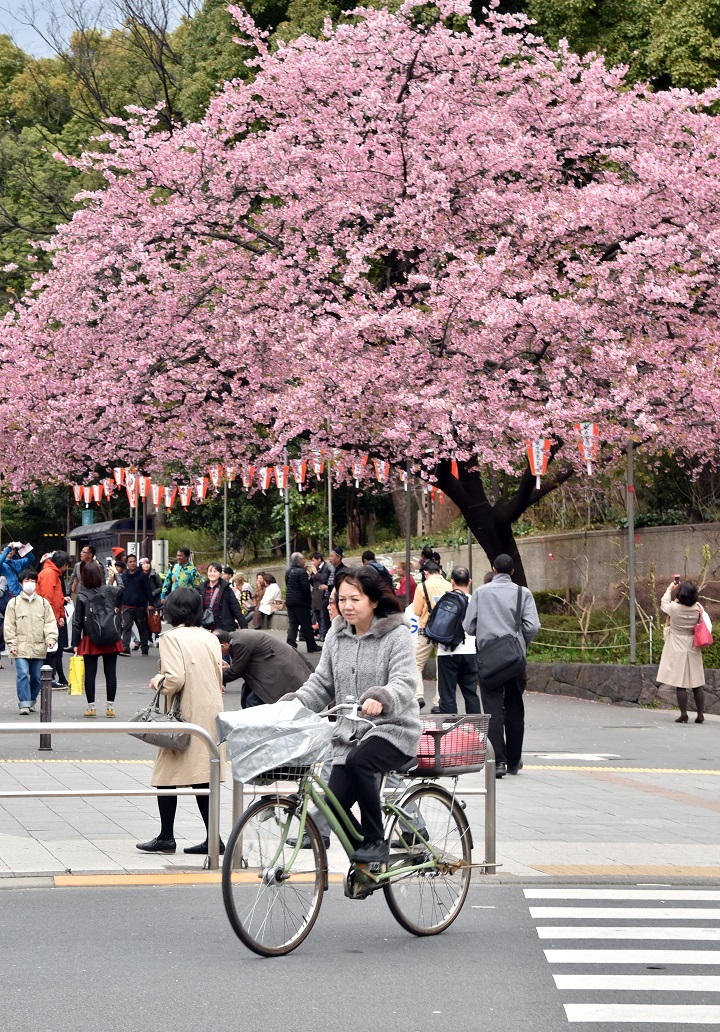 A woman rides her bicycle past a cherry blossom tree in bloom at a park in Tokyo on March 23, 2015. Spring officially arrived in Tokyo on March 23 when Japan's weather agency announced the start of the cherry blossom season. AFP PHOTO/Yoshikazu Tsuno
It's official: Monday (March 23) marks the first day of the cherry blossom season in Tokyo, according to Japan's Meteorological Agency.
The whole nation's attention has been focused for a few days on one particular tree, located at the Yasukuni shrine and considered the government's cherry blossom bloom barometer.
A count of five fully-opened flowers on the "official sample tree" on the grounds of this shrine marks the day Japanese count as the government-sanctioned "kaika sengen," or "blossom bloom declaration."
It has come three days earlier than on average and two days earlier than last year.
"Cherry blossom buds grow to become flowers and they eventually fall. It's a bit sad, but that's part of their beauty," said 66-year-old amateur photographer Masato Kojima.
Cherry blossom season typically lasts in Tokyo for a week to 10 days, with many people coming out in to parks to enjoy the warmer spring weather in "hanami" or cherry blossom-viewing picnics take place under the trees.
"I find each and every cherry blossom bud beautiful during this season, so much so that I feel God's presence in here," added 75-year-old Yoon Duk-han, a long-term Korean resident of Japan.
In Japan schools and companies begin their new year in spring, around the time when the blossoms are in full bloom, the light pink flowers symbolize new beginnings and fresh starts.
— Reuters