Filtered By: Lifestyle
Lifestyle
Why winter is the best time to go to Shirakawa-go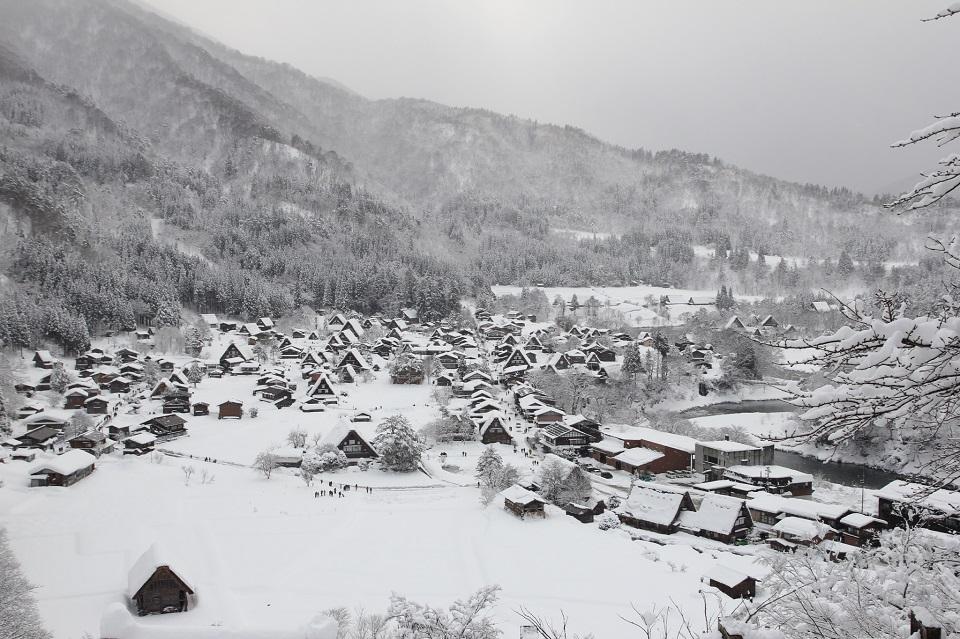 The view from the Shiroyama Observatory will absolutely take your breath away. Photos: Stanley Baldwin O. See
The moment I mentioned the word "Shirakawa-go" to my then-fiancée and now wife, her eyes immediately lit up and quickly approved to include it in our Japan honeymoon itinerary. This quiet village near Takayama, Gifu has a population of fewer than 2,000 people and is famous for its numerous triangular, gasshozukuri ("clasped-hands")-style structures.
Spring and autumn are good seasons to visit and witness the village's vibrant green, red, and orange hues, but nothing comes close to the magical feel and child-like wonder one can experience there during winter time.
In Shirakawa-go, one of Japan's regions where snow falls the heaviest, temperatures easily drop to 0 degrees Celsius and even reached -3 during our visit.
Even with the sight of a few cars, modern machinery, and a few hundred fellow tourists, the moment we stepped off the bus, it was as if we were transported a few centuries back in time.
The day trip that almost never happened
The truth is that the day trip from Shin-Osaka station to this UNESCO World Heritage site almost did not happen. The best and most convenient way to travel from Osaka to Shirakawa-go is by riding the JR Thunderbird limited express train to Kanazawa and then taking a Nohi Bus Company ride to the village proper.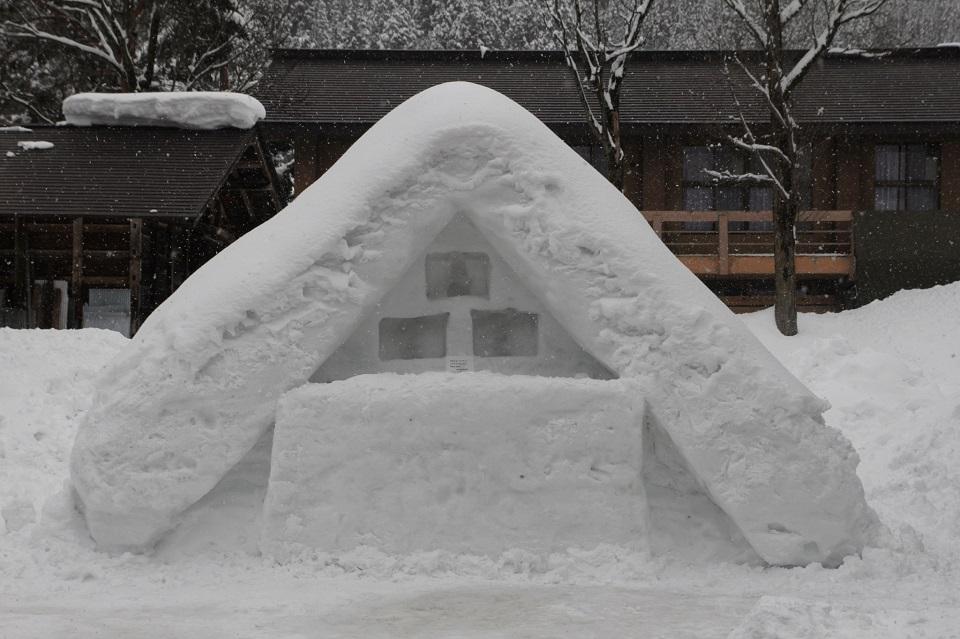 A snow sculpture/replica of one of the gasshozukuri houses can be seen along the main Shirakawa Highway.
With Kanazawa-Shirakawa-go bus trips already sold out, we were left scrambling to find alternate routes and ways to go to this winter wonderland. A few minutes before boarding our flight from Manila to Osaka, I was already resigned to the fact that we will probably miss-out on visiting Shirakawa-go.
Thank God for a stubborn wife (I mean this with the utmost respect and compliment) and the power of the Internet because I somehow found a solution right before boarding our plane: go one station further to Toyama and book* bus seats from Toyama Chiho Railway Co. Ltd.
Departing from Shin-Osaka at 7:05 a.m., the JR Thunderbird 13 train takes two-and-a-half hours to reach Kanazawa station, the next leg is an 18-minute ride on board the Hokuriku Shinkansen to Toyama station. Finally, the bus ride departing from Toyama station takes another one-and-a half hours to reach the final destination, Ogi-machi, the largest village and main attraction of Shirakawa-go. Our JR Pass covered the round-trip train fare from Shin-Osaka to Toyama (¥9,130/one-way) while the one-way highway bus fare costs ¥1,700 per person.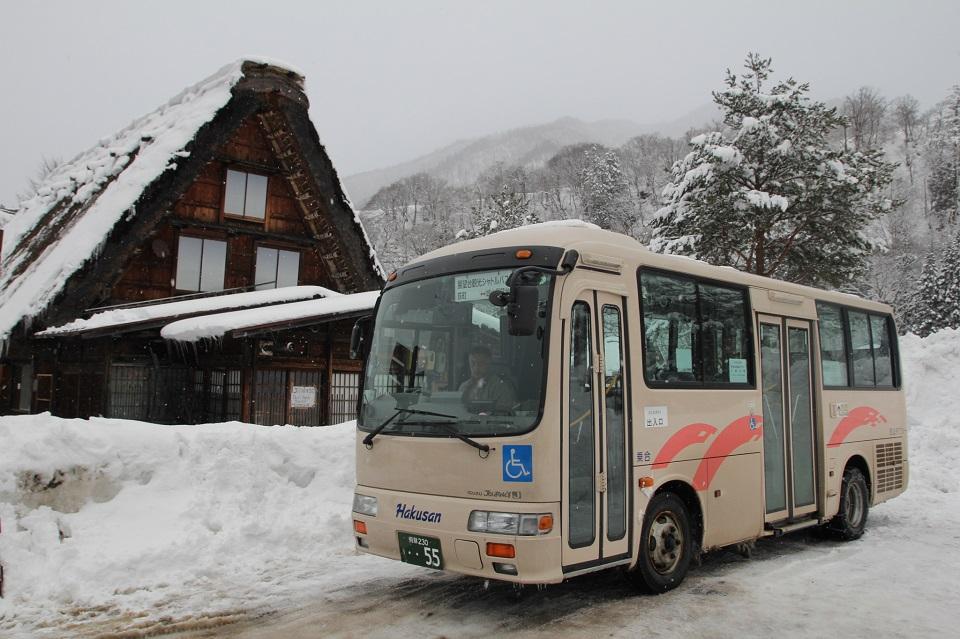 For ¥100, there are shuttle buses that ferry visitors from the village proper to the Shiroyama Observatory observation deck.
'Village' rules
For would-be visitors, there are several house or in this case, village rules to keep in mind. There are almost no trash cans or bins along the village streets and even inside the information center, so visitors are encouraged to carry their garbage with them throughout their visit. All houses are private property and need permission before entering, and finally no smoking is allowed in non-designated areas.
Aside from the souvenir shops, stalls selling treats, and a handful of guest houses, there's not much else "tourist distraction" within this picturesque village. There is a shuttle service that ferries visitors from the main highway to the Shiroyama Observatory and costs ¥100 one-way, a bargain given the alternative: a steep 30-minute walk amidst freezing February weather conditions.
It's easy to snap all the photos and selfies you want once you get to the observation platform, but take a moment to reflect and appreciate nature's wonder, winter's brutal beauty, and frozen precipitation's magical properties. With powder-like snow falling from the sky, the pockets of open spaces throughout Shirakawa-go instantly become play areas for snowball fights, making snow angels, and do-it-yourself sleds/slides.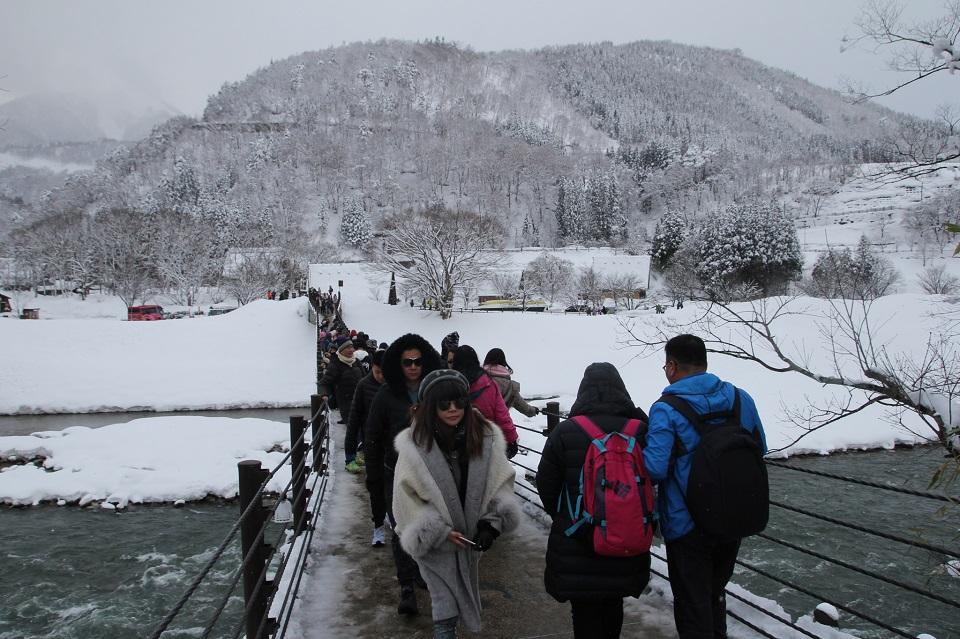 Not only does the Deai Bridge connect the banks of the Shokawa River, it offers a great spot for photographs and selfies, too.
Other note-worthy landmarks include a snow sculpture replica of one of the gasshozukuri houses along Shirakawa Highway, Wada/Wadake House (the largest one in the area) and its cultural assets, and the breathtaking scenery at the Deai Bridge. The bus terminal meanwhile, not only acts as the departure/arrival area but also serves as information center for maps, guides, and directions and a cozy spot to keep you warm while waiting.
The most magical scene that can be seen or photographed however, happens at night when the houses are lighted up. Unfortunately, it is a scene that is only available to visitors with overnight accommodations/reservations since most buses leave Shirakawa-go for Kanazawa or Toyama before 5:00 p.m. One consolation for day-trippers though is the magnificent view at the foot and across the suspension bridge on top the Shokawa River; a scene looks straight out of the movies.
The falling snow, chance to build your own snowman, and a visit to a UNESCO World Heritage site; if these reasons are not enough to bring out the child-like wonder and amazement in you, I do not know what else would. In fact, after arriving back in Manila, I asked my wife what was the highlight of our 10-day Japan winter honeymoon and she answered in a heartbeat: Shirakawa-go.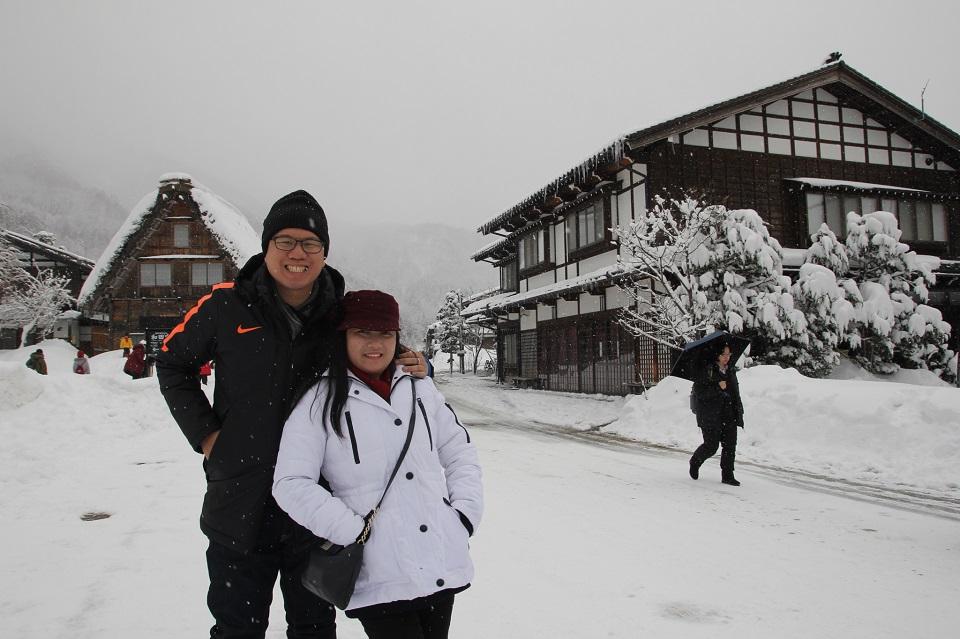 The author and his new wife enjoying the magical properties of snow in picturesque Shirakawa-go.
— BM, GMA News
* Book return trips from Kanazawa to Shirakawago, or Toyama to Shirakawa-go on japanbusonline.com.