Filtered By: Lifestyle
Lifestyle
Limestones, moody waters, and a dash of history at the Calamian Islands
CORON, Palawan — The chilly water was a welcome respite from the heat, coming up to our hips as we disembarked from our boat to the turquoise sea below.
We were on Taraw Beach, our first stop after arriving in Coron. The tour has barely started and we were already drenched.
Taraw Beach boasts of white sands and clear waters on the edges of a towering piece of rock you have to crane your neck to see. It was a short stop, a very relaxing place for lunch. Short of sleeping, it was the quietest hour I'd spend in our four days at the Calamian Group of Islands.
I was with fellow media members, bloggers, and travel agents for the Northern Palawan Eco Caravan organized by the Philippine Tour Operators Association (PHILTOA). In four days, we were able to go around Coron, experience Calauit, and learn about Culion.
Here are the highlights of the unforgettable trip: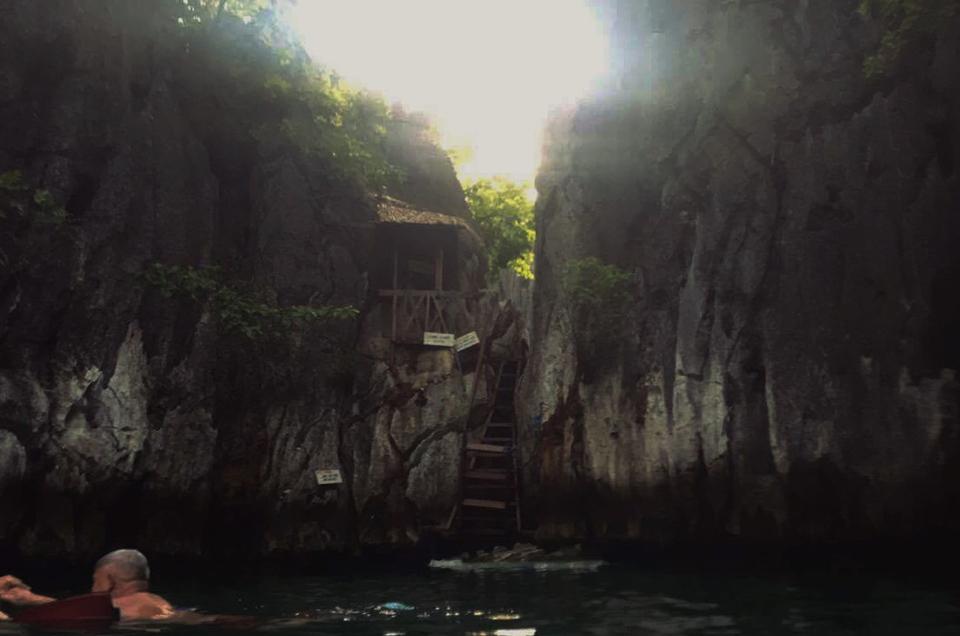 Twin Lagoons
It was a Tuesday so it wasn't very strange that we were the only ones there. As the name suggests, this stop consists of two lagoons, separated by a wall of rock.
Our boat stalled in the middle of the first lagoon. To get to the other lagoon, there is an opening at the bottom of the wall that you can slip under if it's low tide, and a ladder you can climb over if it's high tide.
Inside the second lagoon, it was impossibly still. Our voices bounced back from the rocks surrounding us.
The water was cold and warm at turns, and our guides told us it was because of the presence of both fresh and salt water in the area. The changing temperature is something we'd experience in all bodies of water we'd dip in.
Kayangan Lake
Kayangan Lake is hailed as the cleanest lake in the Philippines, and it definitely looks the part. The water is so clear you'll actually be surprised that your feet aren't touching the large rocks you can see at the bottom.
The lake is clearly a destination for many tourists, as it was crowded when we got there. However, a little hike is required before you can enjoy the crystal clear lake.
We trekked more than 300 steps, half of which are uphill. We stopped by the viewing deck which rewarded us with a beautiful view of Coron, before climbing down to where the lake is located.
You get to swim with lots of fish if you make it, so I'd say it's worth it.
Barracuda Lake
Our boat parked quite a ways from the entrance to Barracuda Lake so we had to link ourselves together and be pulled to the shallow parts of the water.
We climbed up, down, and around (nothing too taxing) this giant piece of limestone, and the view of the lake just hit us out of nowhere.
While the surface of the lake offers a scenic view, the real treasure is underwater. Barracuda Lake is a popular dive site due to its depth and the various species of marine animals that reside in it.
Seeing as I nearly slipped to my death twice attempting to get to the lake, I would have to warn you to be careful of the wet wooden planks that serve as stairs.
Oh, and you might encounter an actual barracuda.
Calauit Wildlife Safari Park
Giraffes can kill with one kick, zebras bite...and these two species rove freely in Calauit Island.
These are three facts a zoo keeper made sure to tell us right before we entered the wildlife sanctuary, during the second day of our tour.
People are allowed to feed the giraffes, but are encouraged to keep the keeper's warnings in mind.
Visitors have to enter a fenced area and wait for the giraffes to approach them. In Calauit Island, it's the humans who have to stay behind bars.
Local endangered species are also protected in the sanctuary. We only caught a glimpse of the elusive Calamian deer once, but we were able to go near wild boar, fresh water crocodiles, and a porcupine, among others.
Culion Island
If there is one island I would go back to Palawan for, it would be Culion.
Everything about the island is haunting and there is something eerie about the pressing silence. Even with children loitering in the streets, the town seemed so still.
Given its history, this is hardly a surprise. Culion Island was a designated leper colony per an Executive Order in 1904. People afflicted with leprosy were exiled to the island. Hundreds and thousands died each year.
In 2006, the World Health Organization declared the island to be leprosy-free.
Now, it's a rising tourist destination, its biggest asset being its rich history. It was a welcome dash of culture to our tour.
Read: A trip to Culion, Palawan, the 'land of no return': A 'Biyahe ni Drew' itinerary.
Banana Island
No island-hopping tour is complete without a snorkeling activity. Banana Island is by far the most amazing snorkeling site I've ever had the pleasure of exploring
My eyes went wide behind the diving mask as soon as we went underwater. It looked like a whole other world. There was a sprawl of giant clams so close to the shore that we had to crouch down to see them. Many were the size of an infant.
I suggest you keep your life vests on for the entirety of the activity because you can easily damage (or get damaged by) the marine life so close below. Sharp rocks and corals litter the seabed, and so many different kinds of fish went past me without any fear.
Coron Town
We capped off our adventure with a deeper look at Coron's culture. We took a trip around the town proper before we had to leave for the airport, and it was this visit that ensured Coron will always be remembered.
Palawan being the country's top producer of cashew nuts, we made sure to drop by a cashew factory. There we met Lita Escarda, simply called "Nanay," who is one of the oldest cashew producers in Coron. Her store, L. Escarda's Coron Harvest, has been up and running since the '70s.
We also made a stop at the Coron municipal hall, public markets, and shopping centers.
There are many other places we were able to visit at the Calamian Group of Islands — there's the sandbar at Bulog Dos, the white sand beach at Pass Island, and the Maquinit Hot Springs. More importantly, there are many places we weren't able to see — I can only imagine what's in the Skeleton Wreck, Coral Garden, and Bamboo Beach.
All the more reason to return to this paradise. — AT, GMA News
This story was produced through a trip sponsored by the 28th Philippine Travel Mart, presented by Philippine Tour Operators Association (PHILTOA).