Filtered By: Money
Money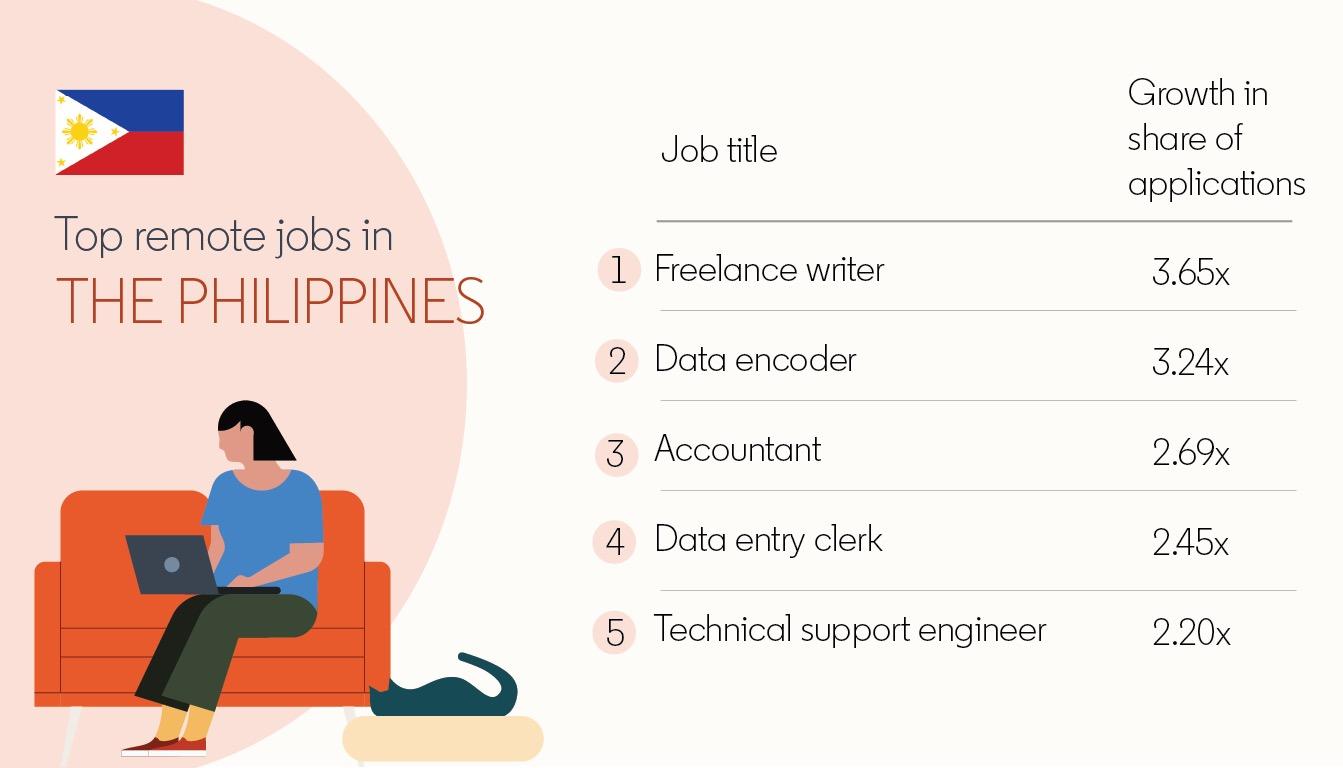 Remote job applications in Philippines grow amid lockdowns —LinkedIn
Professional networking service LinkedIn has found that remote job postings in the Philippines has grown dramatically during the implementation of strict lockdown measures to curb the spread of COVID-19.
"The COVID-19 era has changed the way professionals work, learn, and do business. Functions that once were traditionally face-to-face are now taking place across the digital space," LinkedIn said in a statement on Wednesday.
Data released by the professionals' networking platform showed that from March to May, the period when most of the country was under the strictest quarantine classification, remote job applications in the Philippines grew 2.09 times "out of all job applications" during the period.
"Our data shows that the Philippines is one of the leading regions for growth in remote job postings," LinkedIn said.
"The top remote jobs in the Philippines are freelance writer, data encoder, accountants, data entry clerk, and technical support engineer," it added.
Globally, remote job applications grew 2.28 times. Australia, China, and India are the top three countries that saw the highest increase in remote job postings, growing 4.26 times, 4.12 times, and 4.65 times, respectively.
Meanwhile, LinkedIn noted that professionals around the world took online courses to improve digital skills and other "soft skills" required to work, collaborate, and manage teams remotely.
Top 10 Most Popular Courses:
1. Time Management: Working from Home
2. Strategic Thinking
3. Remote Work Foundations
4. Learning Python
5. Developing Your Emotional Intelligence
6. Excel 2016 Essential Training
7. Excel Essential Training (Office 365)
8. Communicating with Confidence
9. Cert Prep: Project Management Professional (PMP)
10. Project Management Foundations
"The list reflects an interest in both digital skills and soft skills. It's worth noting, though, that 5 out of 10 of these courses focus on soft skills," LinkedIn said.
"In fact, the number of people using LinkedIn to learn soft skills doubled in the past year, growing at an even faster rate than those learning hard skills," it said.—AOL, GMA News