Filtered By: Money
Money
Smart partners with A&T for 5G roaming service in the US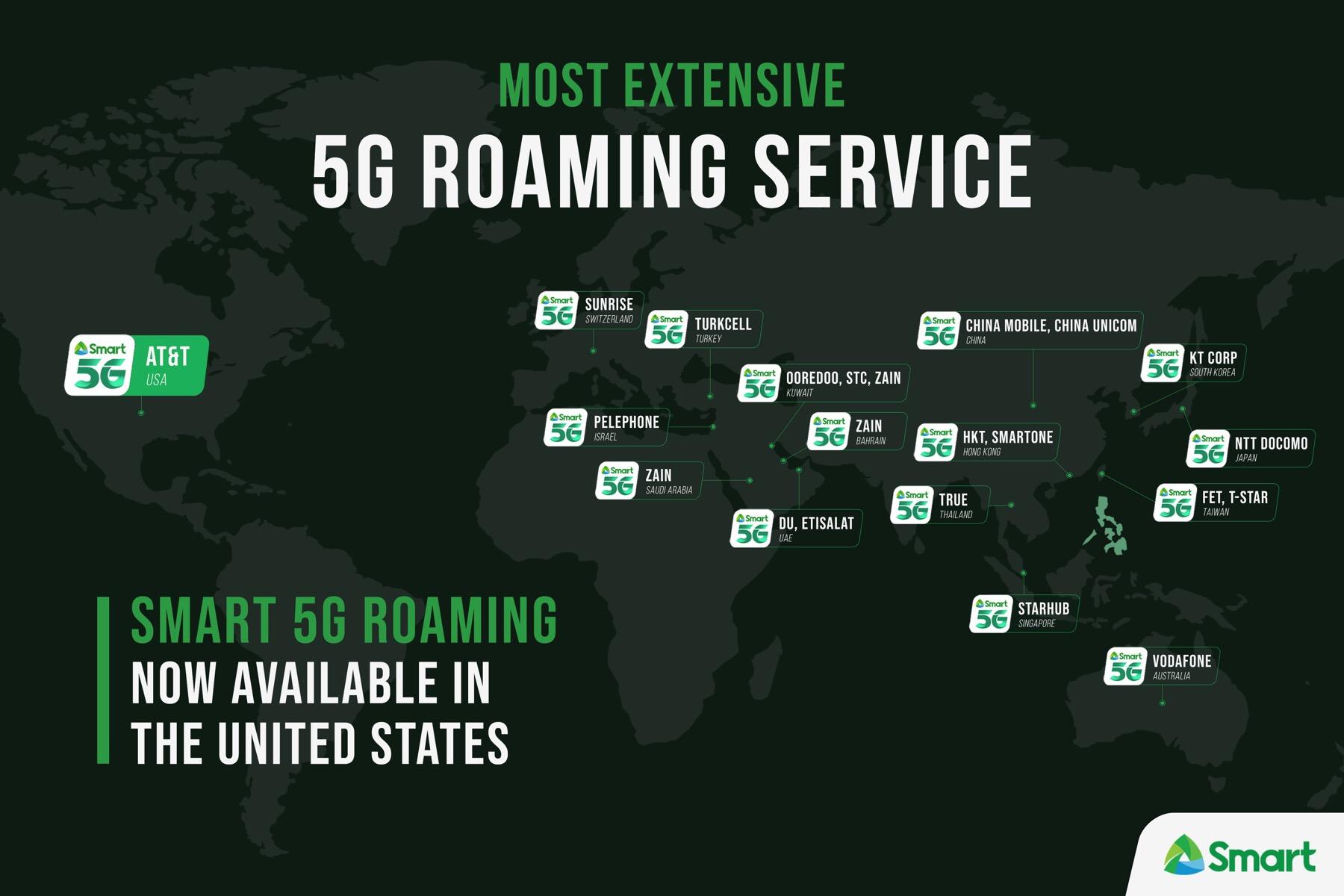 Telco giant PLDT Inc.'s wireless unit Smart Communications Inc. said Wednesday it has partnered with AT&T to launch its 5G roaming services in the United States.
The latest partnership solidifies Smart's leadership in 5G roaming leadership to 16 countries with 22 international partners.
Smart's partnership with AT&T, the leading mobile services provider in the US, allows customers to access Smart's worry-free 5G roaming services using their Smart 5G-ready SIM and 5G-capable device.
Prepaid customers can also subscribe to Smart's GigaRoam USA Plus for Prepaid, the only roaming all-in plan for data, calls, and SMS.
The data pack comes with 3 gigabyte (GB) data roaming access, 30 roaming calls, and 30 roaming texts to Philippine and US for P1,499 for 21 days.
Meanwhile, postpaid customers can also enjoy GigaRoam USA with 3GB data roaming access for P1,299 for 21 days.
"We are the first Philippine operator to launch a complete roaming pack for our prepaid customers in the United States. The U.S. is among the top destinations of tourists and migrant Filipinos, and this partnership with AT&T propels us forward in our goal to bring our world-class 5G roaming services to them," said Alice Ramos, vice president and head of Roaming and Consumer Business at Smart.
The partnership with AT&T follows recent collaboration with True in Thailand; Sunrise in Switzerland; SmarTone and Hong Kong Telecommunications in Hong Kong; Pelephone in Israel; Turkcell in Turkey; Ooredoo and STC in Kuwait; StarHub in Singapore; NTT Docomo in Japan; Vodafone in Australia; Zain Kuwait, Zain Saudi Arabia, and Zain Bahrain; China Mobile and China Unicom in China; Etisalat and du in the United Arab Emirates; FarEasTone and T-Star in Taiwan; and KT Corp in South Korea.
To date, more than 2,600 Smart 5G sites have been fired up in strategic locations nationwide.
Smart said it has also ramped up its 5G outdoor coverage in the National Capital Region to more than 90%.
The telco's mobile network, which covers 96% of the population from Batanes to Tawi-Tawi, is enabled by PLDT's fiber infrastructure, the country's most extensive at 429,000 kilometers.—AOL, GMA News