Filtered By: Money
Money
DOTr awards MRT-4 O&M consultancy contract to Australian firm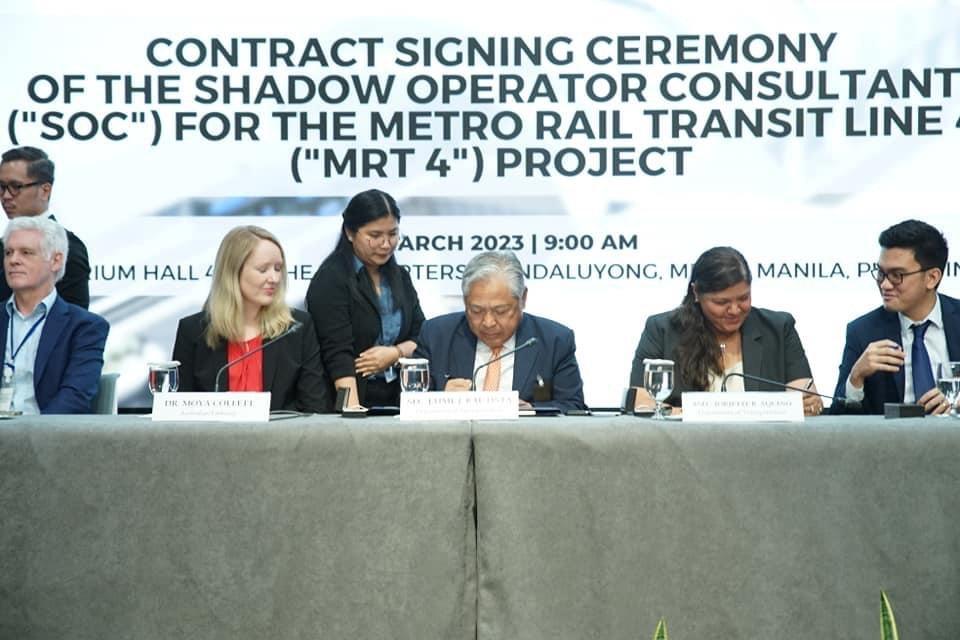 The Department of Transportation (DOTr) has awarded the Shadow Operator Consultant (SOC) contract for the Metro Rail Transit Line 4 (MRT-4) to Ricardo Rail Australia Pty Ltd.
In a statement on Thursday, the DOTr said Ricardo Rail, as the SOC contractor, would have a key role in the eventual operations and maintenance (O&M) of MRT-4.

The Transportation Department said the consultant's contract is a 12-month agreement that aims to "identify, define, and develop internationally accepted best practices for operational and maintenance requirements."

Ricardo Rail will also prepare for the MRT-4's handover to the O&M concessionaire and "ensure that the designs of the engineering and architectural consultant are followed."

The MRT-4, which can carry thousands of people each day once it begins operations, will help reduce traffic on Metro Manila's eastern side, according to Transportation Secretary Jaime Bautista during the signing ceremony.

Bautista said the MRT-4 is expected to alleviate traffic problems along Ortigas Avenue in Pasig and Mandaluyong cities and encourage car users to take the train.

"Once operational, the more than 400,000 passengers expected to ride the MRT-4 will be more than grateful for solving the perennial traffic problem along the stretch of Ortigas Avenue," said the transportation chief.
Intended to serve the eastern side of the metropolis, including the highly populated areas of the province of Rizal, the MRT-4 is an approximately 13.4-kilometer-long railway mass-transit system.

The 10-station elevated metro rail transit will traverse along Ortigas Avenue and Ortigas Avenue Extension, starting at EDSA Station near Robinsons Galleria in Quezon City and ending at Taytay Station near the Taytay Public Market and the intersection of Taytay Diversion Road and Manila East Road.

Construction of the line will start in the first quarter of 2024.

The line is expected to start its trial operation in the third quarter of 2027.

The construction of the MRT-4 will cost around P60 billion. —VBL, GMA Integrated News