Filtered By: Money
Money
US Commerce chief: US firms complain China becoming 'uninvestible'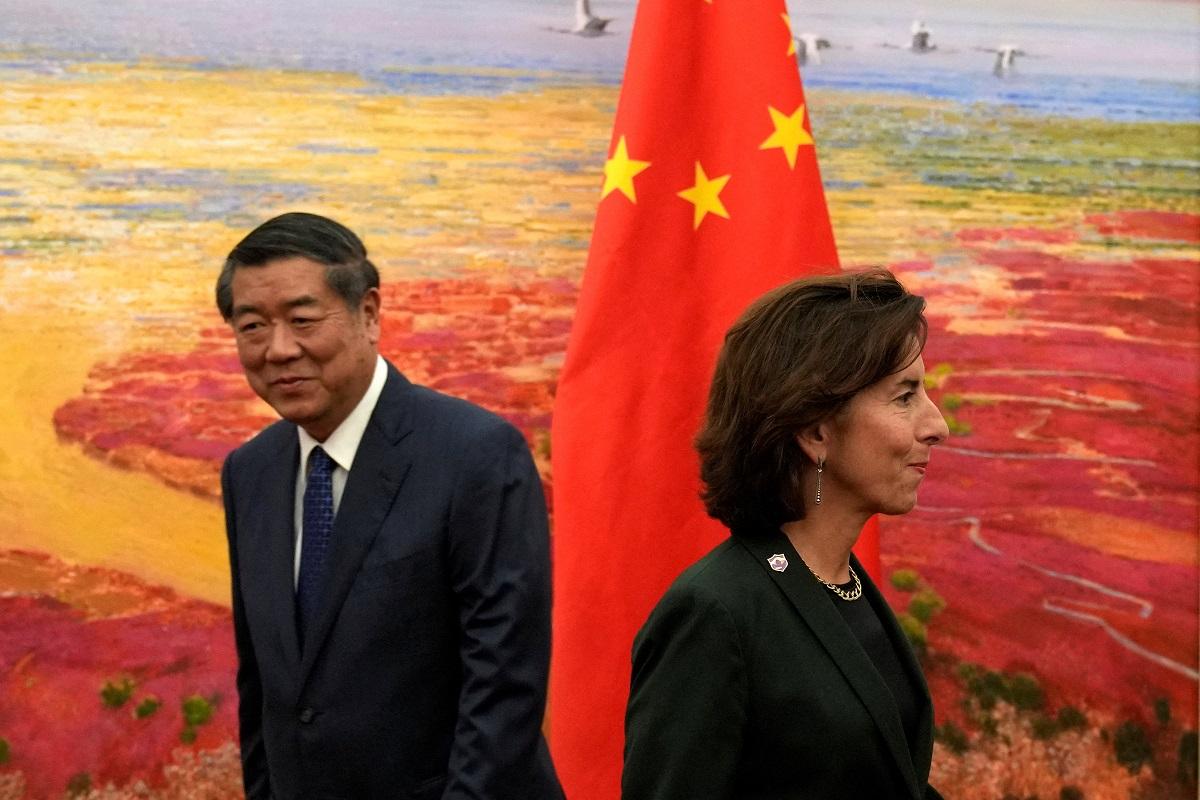 BEIJING — US Commerce Secretary Gina Raimondo said US companies have complained to her that China has become "uninvestible," pointing to fines, raids and other actions that have made it too risky to do business in the world's second largest economy.
The comments, made to reporters aboard a high-speed train as her delegation of US officials headed from Beijing to Shanghai, provided a bleak picture of how American firms view China and was the bluntest Raimondo has made on her trip.
"Increasingly I hear from American business that China is uninvestible because it's become too risky," she said. Raimondo said American firms are facing new challenges, among them "exorbitant fines without any explanation, revisions to the counterespionage law, which are unclear and sending shockwaves through the US community; raids on businesses—a whole new level of challenge and we need that to be addressed."
She said there was "no rationale given" for Chinese actions against chipmaker Micron Technology, whose products were restricted by Beijing earlier this year and rejected any comparisons to US export controls. "There has been limited due process, and that's why I brought it up."
The commerce secretary is the latest Biden administration official to visit China in a bid to strengthen communications, particularly on economy and defense, amid concerns that friction between the two superpowers could spiral out of control.
Earlier in the day, Raimondo told Chinese Premier Li Qiang at their meeting in the Great Hall of the People: "There are other areas of global concern, such as climate change, artificial intelligence, the fentanyl crisis, where we want to work with you as two global powers to do what's right for all of humanity."
Raimondo told reporters she hopes China and the United States could work on AI guardrails together "to keep a lid on the most destructive applications of artificial intelligence and that was met with some receptivity."
Companies have been at the center of a power struggle between the two countries for several years. China has criticized US efforts to block China's access to advanced semiconductors through export controls, while the US says curbs are needed to defend its national security.
At the same time, Beijing is restricting shipments from prominent chip company Micron, failed to give timely approval to Intel Corp's deal to buy another chipmaker that effectively killed the acquisition, and raided and fined US firm Mintz Group $1.5 million for doing "unapproved statistical work." Boeing has also been unable to deliver, and get paid for, 85 737 MAX jets ordered by Chinese customers years ago, which she previously blamed on the government.
"All of that creates uncertainty and unpredictability," Raimondo said of recent Chinese actions. "So businesses look for other opportunities, they look for other countries, they look for other places to go." Referring to both old and new business restrictions, Raimondo said, "The sum total of which is making China feel too risky for them to invest."
The comments could rile Chinese officials. JP Morgan last year called Chinese internet companies "uninvestible" in a research note, a label which helped trigger a sharp fall in their stock prices, but later said the term had been used in error.
Raimondo said she did not receive any commitments on Boeing, Intel or Micron. "I was very firm in our expectations. I think I was heard," Raimondo said. "We have to see if they take an action." — Reuters