Filtered By: Money
Money
World Bank estimates 2M more Filipinos became poor in 2020 due to COVID-19 pandemic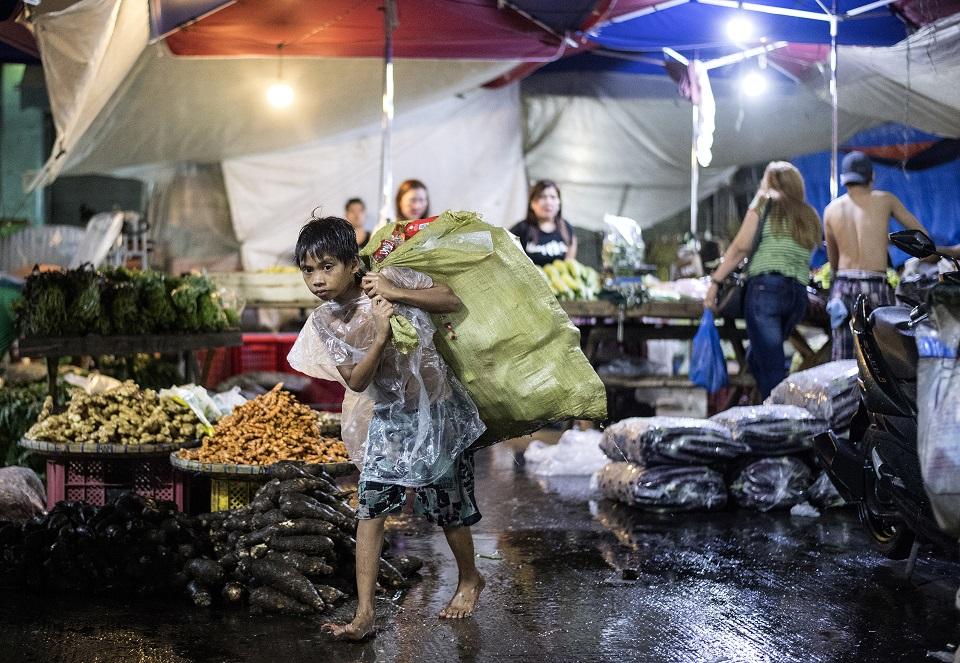 At least two million more Filipinos became poor in 2020 due to reduced household income and disrupted business activities amid the COVID-19 pandemic, the World Bank said Tuesday.
Citing the July 2021 edition of the lender's Philippine Economic Update, World Bank economist Kevin Chua said "poverty is estimated to increase by around 1.4 percentage points in between 2018 and 2020 based on the lower middle-income poverty line of $3.2 per day."
"This represents around two million more poor Filipinos in 2020 than in 2018," he added.
In its report, the World Bank said the significant fall in household earnings, combined with reduced business income and remittances, will likely lead to an increase in poverty despite government assistance.
"The COVID-19 pandemic may have resulted in the national poverty rate increasing from 16.7% in 2018 to an estimated 21% in 2020, even after accounting for the effects of government subsidies (e.g., the social amelioration program)," the multilateral lender said.
Chua explained that the COVID-19 pandemic has delivered significant adverse impact when it comes to economic activities.
"People cannot go out, people are afraid… this affected business operations, it affected household incomes and in 2020 it also affected remittances," Chua said.
The Philippines has been under community quarantine since mid-March last year.
Quarantine measures were gradually eased towards the second half of 2020 until early 2021, but the surge in new COVID-19 cases seen in March and April this year triggered the reimposition of the strictest quarantine classification in Metro Manila, Cavite, Laguna, Rizal, and Bulacan —collectively known as NCR Plus bubble.
The NCR Plus bubble was placed under enhanced community quarantine (ECQ) from March 29 to April 11, followed by the modified ECQ which lasted until May 14 as daily new COVID-19 cases saw an all-time surge.
Since May 15 the bubble has been under a more relaxed general community quarantine but with "heightened restrictions."
"The reimposition of stricter community quarantines risks raising poverty further. However, if wage and nonfarm employment increase with the anticipated GDP (gross domestic product) growth and inflation is stable, the poverty rate will likely decline back to its 2018 level by 2021 and maintain a downward trend through 2022," Chua said.
The World Bank further said that the return to stricter community quarantine measures that began in end-March and the uncertainty as to when these will be relaxed, further push back the rebound of economic activities.
"Like last year, this will result in job losses and further erosion of household incomes," it said.
"Findings from the World Bank COVID-19 monitoring surveys (December 2020 – January 2021) show that households continue to experience income losses, with 41% of households reporting decreased or no income compared to their pre-pandemic usual income," it added.
The National Economic and Development Authority (NEDA) earlier admitted that the government's initial target of reducing poverty incidence to 14% by 2021 from P16.7% in 2018 will not be hit due to the COVID-19 pandemic.
However, it said that the target of reducing poverty rate to 14% before the end of President Rodrigo Duterte's term in 2022 is still attainable despite the economic challenges brought by the COVID-19 pandemic.
"From 23.5% in 2015, the poverty rate fell significantly to around slightly below 17% in 2018. Despite the COVID-19 and the impact on the people this year we are still seeing our achievement of 14% by 2022," Socioeconomic Planning Secretary and NEDA chief Karl Kendrick Chua said.
The NEDA chief said a 14% poverty rate means that some six million Filipinos were lifted out of poverty. -MDM, GMA News