Filtered By: Money
Money
Why many fresh college grads don't get hired, according to survey of managers
Four of ten fresh graduates and young jobseekers are not hired because they lack three key qualities—critical thinking, initiative, and effective communication skills—according to the People Management Association of the Philippines (PMAP) at a job fair in Makati on Friday. "Each industry would have some sort of minimum standard. Not having met that is proof that the students don't meet that standard. The study showed that 40 percent of fresh graduates do not immediately get hired because of the deficiencies in these soft competencies,"
PMAP
director for academe-industry linkages Gigi Alcasid shared with GMA News Online in an exclusive interview. The study she cites was by PMAP done two years ago and the findings have since been shared with universities and colleges and uploaded to YouTube. Alcasid said firms across various industries consider critical thinking, initiative and effective communication skills as "soft competencies" jobseekers must possess to get hired. "Kasi 'yung 40 percent, kasama na rin doon 'yung hindi fresh graduates, nasa probationary status at nag-fail," Alcasid said. She described critical thinking as the ability to solve actual workplace problems usually in multi-tasking situations and priority challenges. She added that initiative is being able to not wait to be told what to do, while effective communication as competence in the language of business. "It's common knowledge that the industry that hires most now are the BPO, which have high standards and have had to go outside Metro Manila just to fill the bench," she noted. Alcasid had frank advice for students and their parents:
"Seryosohin nila 'yung pag-aaral nila.
As early as possible,
malaman nila yung mga kakulangan
(sa competencies)
at 'yung mga magulang maintindihan nila na hindi lang kung ano 'yung uso na kurso.
At the end of the day,
kung wala 'yung puso ng bata doon
(sa course)
hindi siya mag
-excel." She said people managers look for indicators like involvement in extra curricular activities and involvement in situations where students get to develop their soft competencies.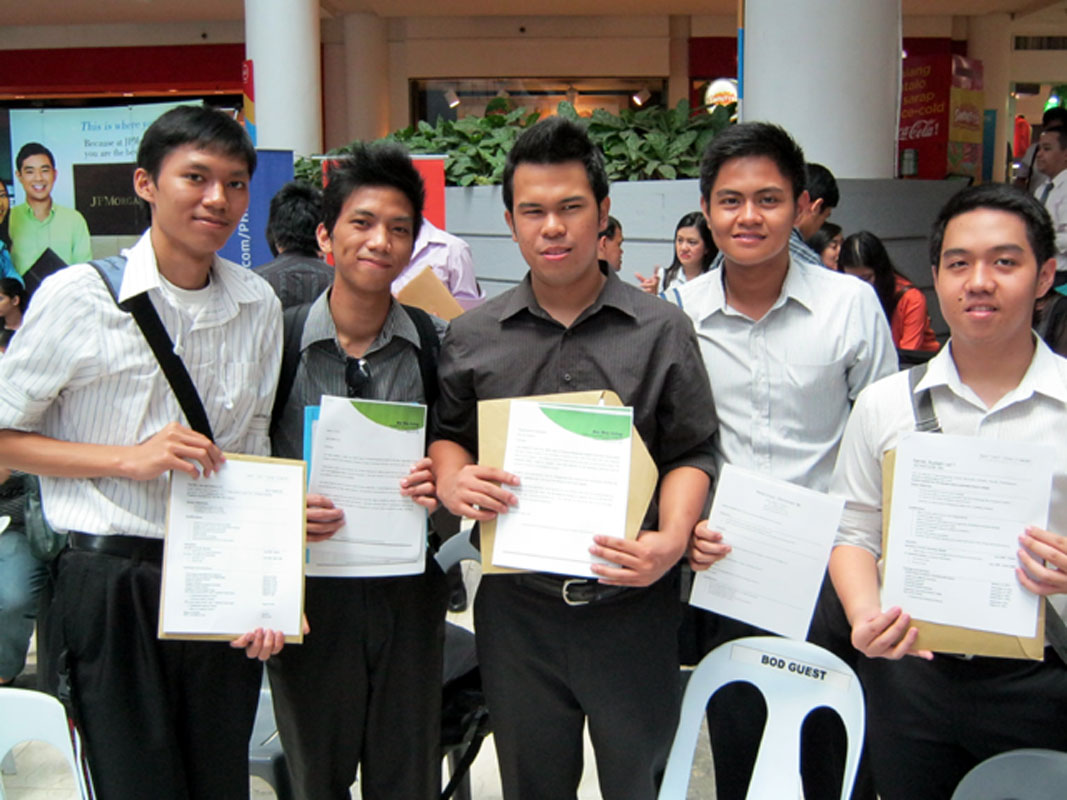 Bernard Anthony Ramirez (1st from left) and his schoolmates look for on-the-job-training vacancies at the 1st OJT networking fair of the People Management Association of the Philippines (PMAP), which said employers are looking for applicants with abilities in critical thinking, initiative and communication skills. Earl Victor Rosero
According to
estimates
by the National Statistics Office (NSO), 42 percent of the 2.8 million unemployed in 2011 were college graduates, while 50.4 percent of the unemployed were 15 - 24 years old. The Commission on Higher Education estimates that roughly 517,000 new college graduates join the labor force every year. This figure is cited in the Project JobsFit
study
of the Department of Labor and Employment (DOLE) in 2009 wherein five industries are identified as key employment generators or sources of job vacancies: cyberservices; hotels and restaurants; construction; health and wellness; and aviation.
These sectors have among the mosty number of
hard-to-fill
occupations, which refers "to job vacancies for which an establishment has encountered difficulties in managing the recruitment process for reasons such as no applicants, applicant's lack of experience, skill or license,
preference for working abroad, seeking higher salary or problem with location and other reasons."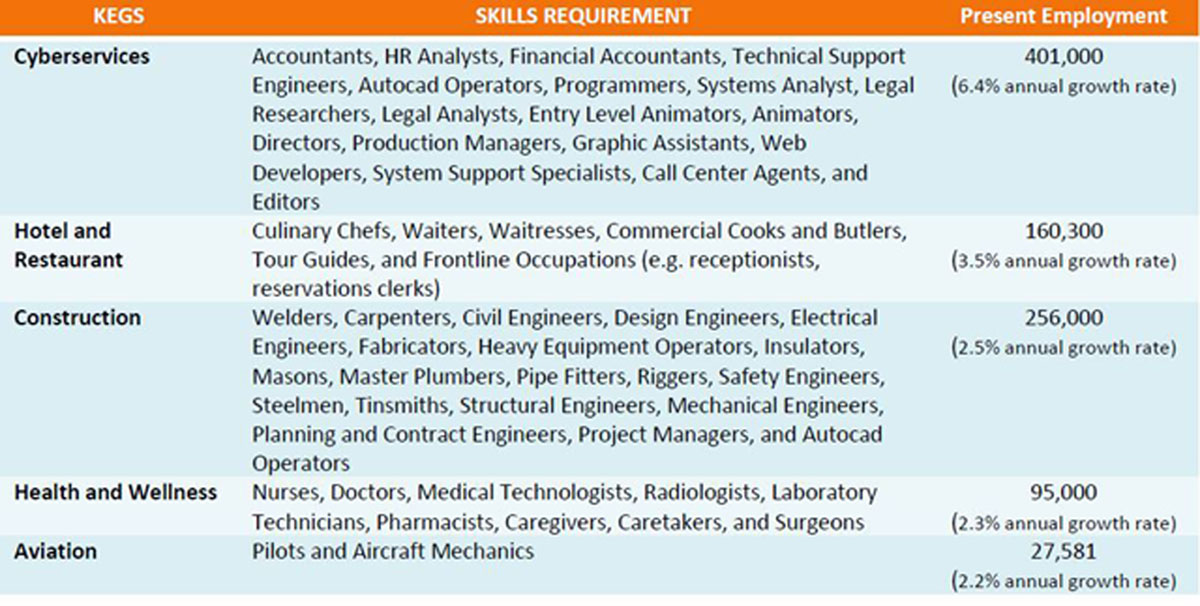 The DOLE identified five industries where employment generation has been high over the past several years (as of 2009 data). KEG stands for key employment generators. Earl Victor Rosero
New World Bank study
Only last Thursday, the World Bank released its "Putting Higher Education to Work"
report
which urged the Philippines and other lower middle income countries of East Asia to, among others, invest in developing skills of students. WB economists Emanuela di Gropello and Prateek Tandon said countries' limited resources must be spent smartly on activities that directly result in higher returns such as improving labor market information and availability thereof, as well as linkages with industry and other stakeholders. Di Gropello also called for more scholarships and study loans to enable more students to go to higher education. She suggested that universities and colleges offer their services to industries on matters like training of employees and research that address companies' and communities' needs.
— ELR/HS, GMA News