Filtered By: Money
Money
Sen. Osmeña, Aurora residents call for zero budget for APECO
(Updated 6:28 p.m.)
The Aurora Pacific Economic Zone (APECO), a supposedly anomalous project in Aurora province led by the Angara family, would not get a single centavo from the national budget – that is, if Sen. Sergio Osmeña III and many residents of Aurora get their way. "I will move to zero the budget… tonight at the plenary," Osmeña said in a press conference Tuesday. The government spent more than P2 billion for the 12,000-hectare economic zone, and it has been a waste of public funds, the senator claimed. Asked how much is being allotted to APECO under the 2013 budget, Osmeña could not say other than noting there were budget insertions for the economic zone in some departments. "The people's money have been wasted under the pretense of a project that has absolutely no chance of succeeding in the next 50 years," he said. APECO is on the typhoon belt, is too far from major cities and destinations, and is not even linked to the Luzon power grid, Osmeña noted. "APECO really has nothing to offer. There's no businesses…" he added. If the location were to attract any attention at all, it would likely be for ecotourism rather than industrial activity, the senator noted.
In a statement Tuesday, APECO president and CEO Malcolm Sarmiento said residents of Casiguran "strongly support" economic zone.
He cited the November 22 launch of development and livelihood projects, which APECO claimed was attended by 2,500 residents from Dumagat, Dinalungan, Casiguran, and Dilasag.
"Clearly, a far greater majority of Casiguran locals – the actual stakeholders here – are with us," Sarmiento said. "We work with them and consult them. We support them and they support us."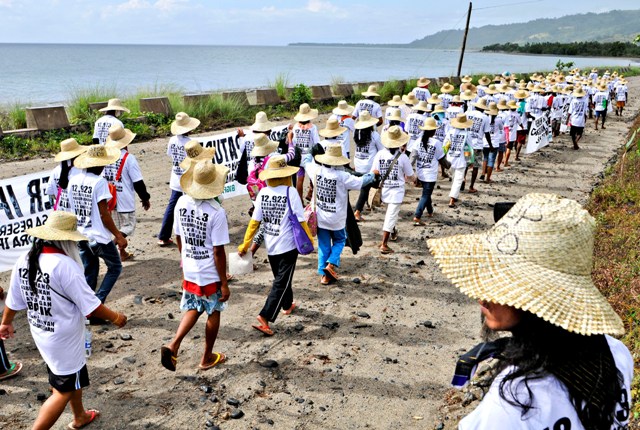 Six years after
When APECO was conceptualized in 2006, Osmeña said the authors expected a return on investment in three years. Six years later, APECO has some roads and a P200-million airstrip supposedly used only by the Angaras, according to the senator from Cebu. Sen. Edgardo Angara and his son, Aurora Rep. Jun Edgardo "Sonny" Angara, co-sponsored Republic Act No. 10083, the law that created APECO. The younger Angara and Aurora Gov. Bellaflor Angara-Castillo, the senator's sister, sit on the APECO board. "We have here an example how a whole town can be oppressed by a political dynasty," Jerik Cruz, communications coordinator of Task Force Anti-APECO, said during the same press briefing. Cruz claimed that some of the land bought for P40,000 per hectare from residents were sold to APECO for P700,000 per hectare. Farmer Adarlina Constantino of Baler alleged that the Angaras – through APECO – are trying to buy 105 more hectares of farmland from local residents. "Pinipilit nilang kinukuha [kahit] more than 50 years na kami dun. Ang APECO ay walang matuwid na daan, maniwala na po kayo sa amin," she said. Elmer Gonzales, president of the Bicolano Ilocano Casiguran Farmers Association, said that APECO is wasting people's money. "Kami ay nandito po para tutulan po ang pondo na ibibigay sa APECO... ginagamit ito sa pangsariling kapakanan, lalo na ng mga Angara family," he said during Tuesday's press briefing. Cruz said this is also the plea of 125 marchers representing 3,000 farmers, fishermen, and indigenous families from Casiguran who are on a 21-day march toward Metro Manila.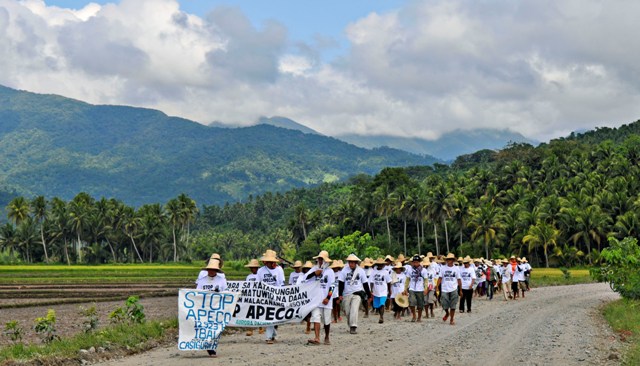 The 370-kilometer march will culminate on December 13 in Malacañang with the farmers expecting to have a dialogue with President Benigno Aquino III. "They... are calling for zero-budget allocation for APECO for 2013," said Cruz.
Claims Claims that the anti-APECO movement enjoys wider base of support are "greatly exaggerated," said Sarmiento.
APECO also claimed that Barangay Esteves chairwoman Madonna Corbadura said those in the march to Metro Manila were not originally from Casiguran.
Joel "Katol" Guerra, head of the Council of Dumagat chieftains, was likewise quoted as saying that they support APECO.
"Sa katunayan ang dami pong proyekto ng mga Dumagat na sinusuportahan ng APECO. Simula sa rattan, bamboo, at seaweeds malaki ang suporta ng APECO sa amin para maumpisahan ang mga ito," he said.
According to a fact sheet handed out by Task Force Anti-APECO during the briefing, the Angara-led project has been involved in several supposedly anomalous projects, including:
The P35-million San Ildefonso Core Housing Subproject The P30-million Calabgan River Flood Control Project The P10-million Casiguran Mariculture Park Project The P25-million Eco-Market Solutions Biomass Gasifier Plant The P120-million Purchase of IDC IFMA Rights


Asked if there is evidence of corruption on the part of the Angaras, Osmeña said they will talk to the contractors involved in those projects. He cited the case filed by architect Felino Palafox Jr., who was initially tapped to draw the master plan for APECO and who then alleged that the Angaras violated Presidential Decree 1445 for failing to submit APECO funds for scrutiny by the Commission on Audit. Sustainable green industries Sen. Angara has yet to issue a statement on the matter, but a staff member who works for him at the Senate told reporters on Tuesday the senator will definitely air his side on the matter. In a 2010 statement, Angara denied any wrongdoing. "In all my public life, I have strived for honor and never used my position in government for private gain. I intend to continue and keep that," he said. The goal of APECO is to improve the livelihood of the people of Casiguran and nearby areas, as well as preserving its rich environment, the senator continued. "APECO will pave the way for sustainable green industries that will give jobs and livelihood to Casiguranins and IPs [indigenous peoples]. It will also preserve the natural environment. Mariculture, dairy, and coco coir are only a few examples of the industries being set up, which will employ locals and give alternative livelihood and additional income to the community," he said. There will be no displacement of residents and indigenous peoples, contrary to the allegations by those opposing APECO, Angara noted. "The manner of the resettlement is purely voluntary. It is just and humane. Unlike what APECO's opposers claim, nobody is being forced to move... In fact it will provide them better living conditions and more sustainable livelihood," he said. APECO has even designed a relocation and housing plan for the residents, Angara noted. But Pakisama farmers' federation chairman Vic Fabe said they will make sure that the Angaras get a zero vote in their area. "Wala po silang makukuhang boto. Wala po kami nakikitang tuwid na daan sa kanilang pamilya," Fabe claimed. Sen. Angara is gunning for the Aurora gubernatorial seat in the 2013 polls and his son Rep. Angara is running for a Senate seat. — VS/BM, GMA News Photos courtesy of OXFAM/VEEJAY VILLAFRANCA